Addition of NaBH4 to aldehydes to give primary alcohols
Description: Addition of sodium borohydride (NaBH4) to aldehydes gives primary alcohols (after adding acid)

Examples: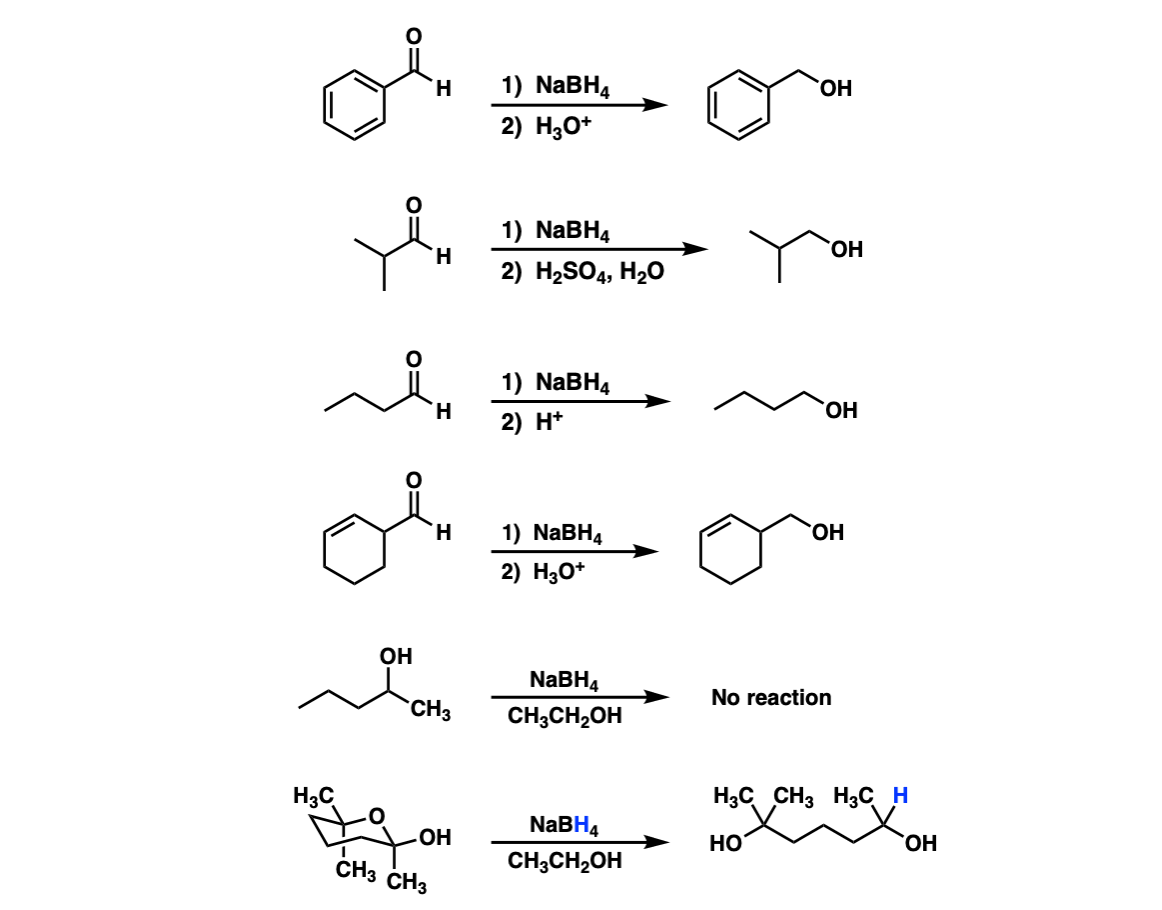 Notes: Lots of different acids can be used in the last step. It's not important which specific acid is used, just that something is present that can form the alcohol.
In the fifth example there is no aldehyde present so no reduction can occur. The sixth example is a hemiacetal that opens into an aldehyde and is then reduced by NaBH4.
For another example of this see Ring-Chain Tautomerism
Mechanism:
NaBH4 is a source of hydride (H-) and the reaction begins with the addition of hydride to the carbonyl to the aldehyde (Step 1, arrows A and B). Upon addition of acid, the oxygen is protonated (Step 2, arrows C and D) to give the neutral primary alcohol.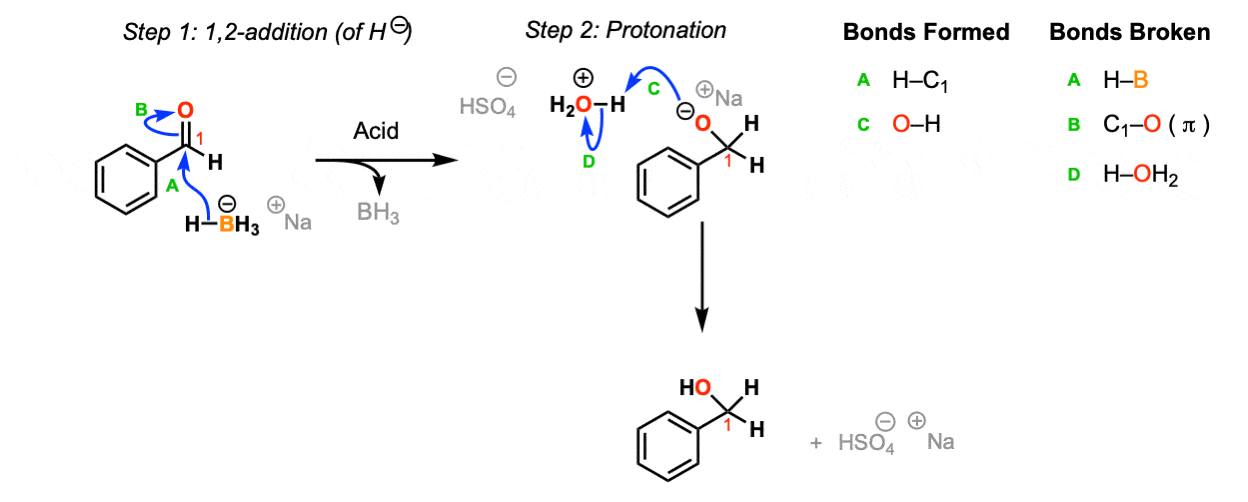 Notes: The choice of H2O / H2SO4 as acid isn't crucial – this is just an example. Any source of proton (including water) will do.
Quiz Yourself!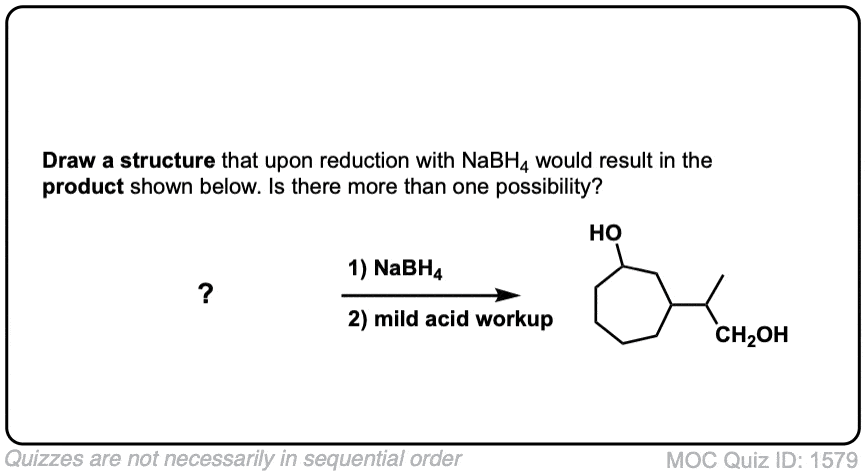 Click to Flip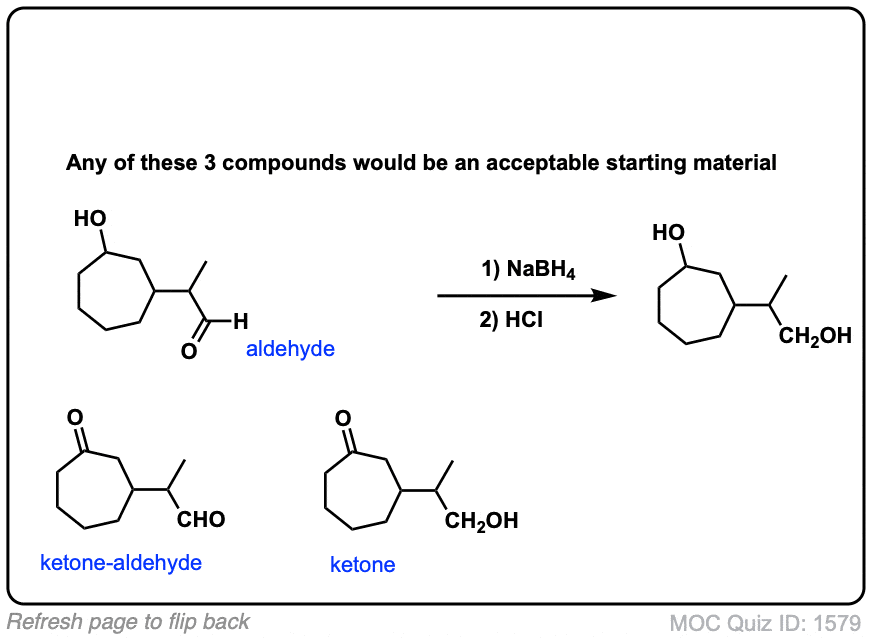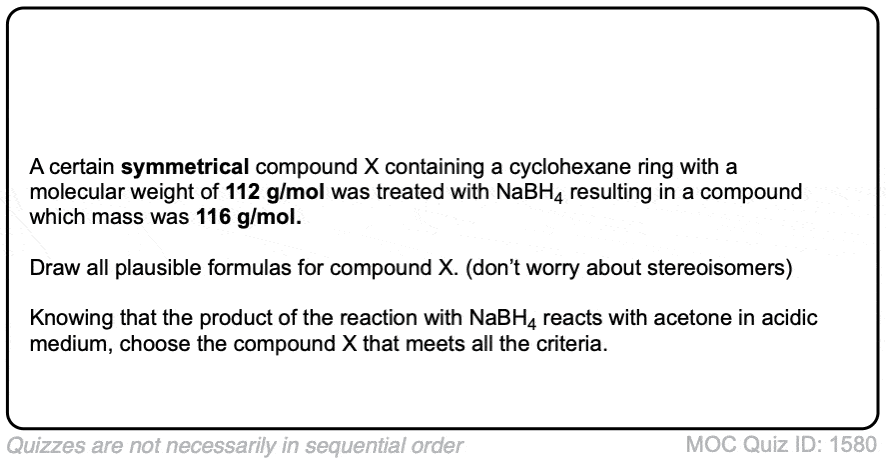 Click to Flip
---
(Advanced) References and Further Reading:
First example
Brown, H.C.; Wheeler, O.H.; Ichikawa, K.
Tetrahedron 1:214 (1957)
DOI: 10.1016/0040-4020(57)88041-7
Early paper by Nobel Laureate H. C. Brown describing the reactivities of simple aldehydes and ketones to reduction by NaBH4, in which it is shown that aldehydes are more reactive than ketones to nucleophilic reactions.
Mechanistic studies
Brown, H. C.; Ichikawa, K.
Tetrahedron 1:221 (1957)
DOI: 10.1016/0040-4020(57)88042-9
This paper and the above are both mechanistic studies on the reduction of carbonyls – this paper investigates the effect of ring size on the reduction of cyclic ketones (e.g. reduction of cyclobutanone vs. cyclopentanone, cyclohexanone, etc.).
Reference To An Experimental Procedure
Antonio Bermejo Gómez, Nanna Ahlsten, Ana E. Platero-Prats and Belén Martín-Matute
Org. Synth. 2014, 91, 185
DOI: 10.15227/orgsyn.091.0185
The first step in this procedure uses NaBH4 to reduce a cinnamyl ketone to the alcohol.