Conversion of carboxylic acids to esters using acid and alcohols (Fischer Esterification)
Description: When a carboxylic acid is treated with an alcohol and an acid catalyst, an ester is formed (along with water). This reaction is called the Fischer esterification.

Notes: The reaction is actually an equilibrium. The alcohol is generally used as solvent so is present in large excess. Many different acids can be used; it's common to see just "H+", although H2SO4 (sulfuric acid) and TsOH (tosic acid) are also often used.
Examples: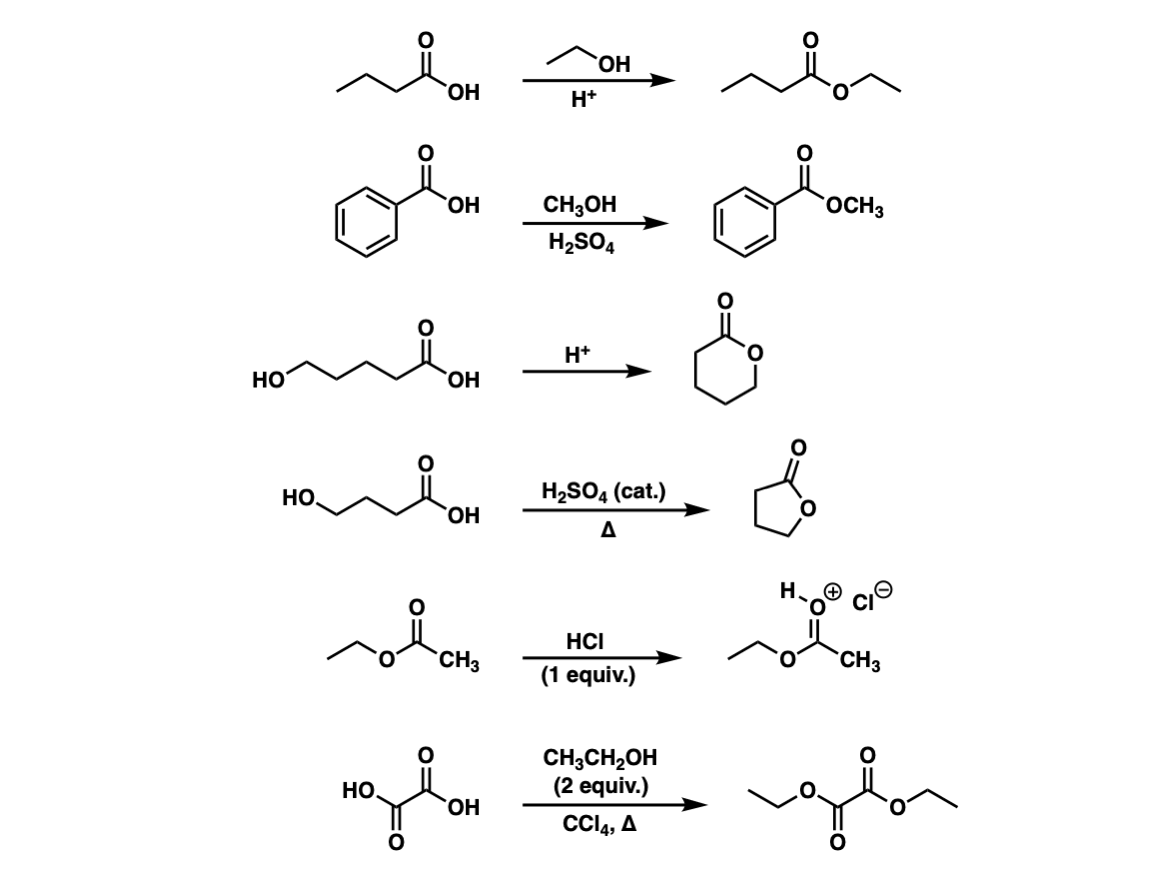 Notes: The byproduct of each of these reactions is water. Note that the third and fourth examples are intramolecular reactions that form a cyclic ester. Cyclic esters are also called lactones.
The fifth example shows that without any added alcohol, the only thing that happens is protonation of the carbonyl!
The sixth example is a double Fischer esterification.
Mechanism:
For such a seemingly simple reaction (replacement of OH by OR) there are actually a lot of steps. Protonation of the carbonyl oxygen by acid (Step 1, arrows A and B) makes the carbonyl carbon a much better electrophile. It undergoes 1,2-addition by the alcohol (Step 2, arrows C and D) whereupon the proton from the alcohol is transferred to one of the OH groups (Step 3, arrows E and F). Subsequent 1,2-elimination of water (Step 4, arrows G and H) leads to the protonated ester, and the ester is then deprotonated (Step 5, arrows I and J).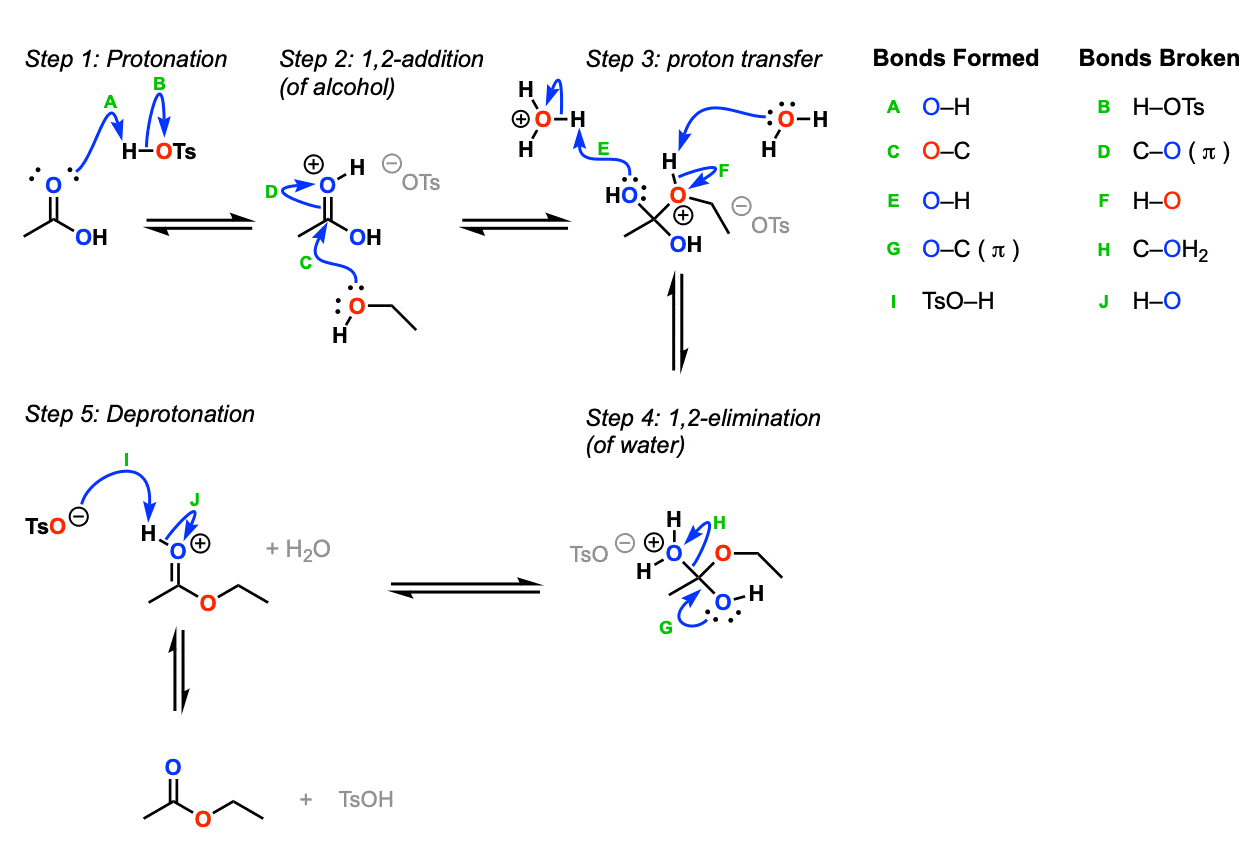 Notes:
All of these steps are in equilibrium
Note that the acid is a catalyst here (regenerated at the end) and serves two purposes. First, it makes the carbonyl carbon a better electrophile (Setting up step 2) and also allows for the loss of H2O as a leaving group (much better leaving group than HO–)
---
(Advanced) References and Further Reading
First example
Emil Fischer, Arthur Speier (1895). "Darstellung der Ester".
Chemische Berichte. 28: 3252–3258
DOI: 1002/cber.189502803176
Original paper by Emil Fischer and Arthur Speier describing acid-catalyzed esterification of carboxylic acids and alcohols.
Protonic States and the Mechanism of Acid‐Catalysed Esterification
Dr. H. Zimmermann Dr. J. Rudolph
Angewandte Chemie Int. Ed., Volume 4, Issue 1, January 1965, Pages 40-49
DOI: 10.1002/anie.196500401
Considerations of proton mobility in the condensed phase suggest a two-step mechanism of esterification, which proceeds via a tetrahedral intermediate.
Ethyl Adipate
M. Micovic
Org. Synth. Coll. Vol. 2, 264
DOI: 10.15227/orgsyn.000.0001
One of the first procedures in Organic Syntheses, a reliable source for reproducible organic transformations. This uses a Fischer esterification to convert adipic acid, a diacid and precursor to nylon-6,6, to ethyl adipate.