SN2 reaction of alkoxide ions with alkyl halides to give ethers (Williamson synthesis)
Description: Alkyl halides (or tosylates) will react with alkoxy ions to form ethers. This reaction is called the Williamson ether synthesis.

Notes: X here is a halide (Cl, Br, I) or sulfonate (OTs, OMs). The counter-ion on the alkoxy ion can be any alkali metal (e.g. Li, Na, K)
Examples: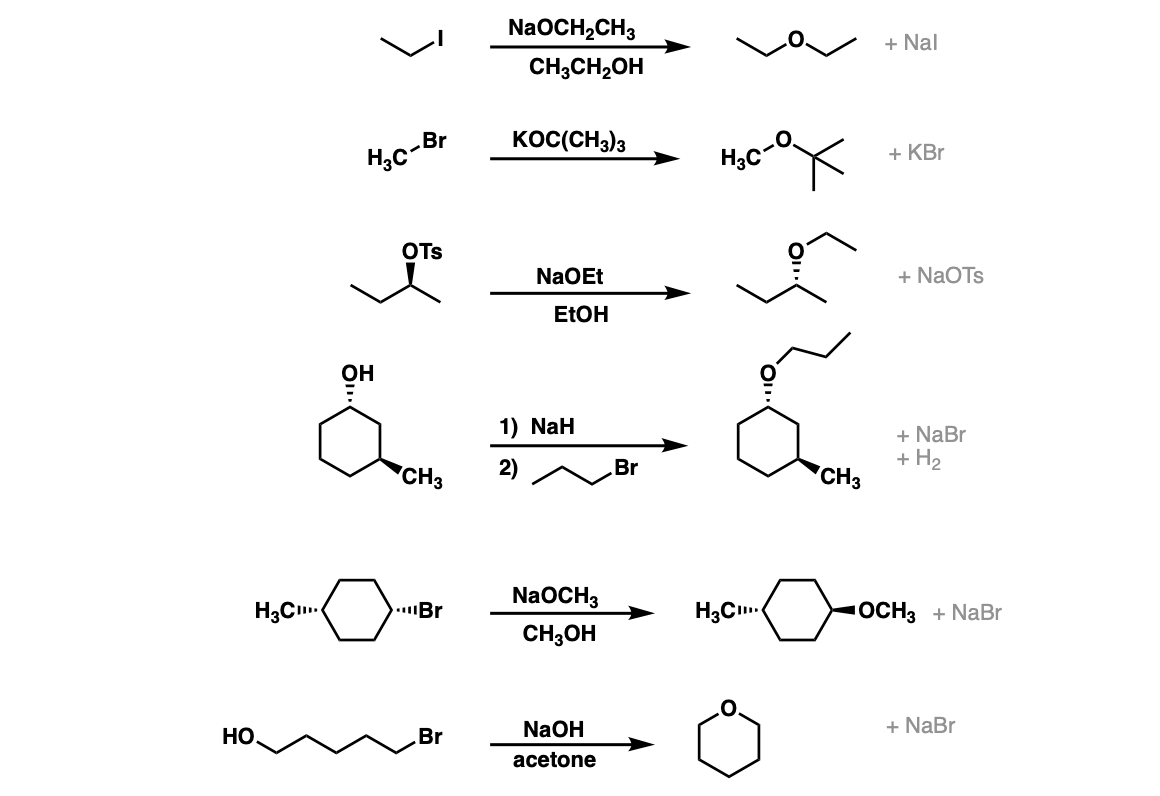 Notes: Note that since this is an SN2 reaction and proceeds via backside attack, there will be inversion of configuration at the carbon (note the last two examples). The best choice of solvent is usually the conjugate acid of the alkoxide.
Note that in the second example that this ether would be difficult to make the opposite way (CH3O- attacking a tertiary alkyl bromide) since SN2 reactions don't work on tertiary centers.
Example 4 shows a deprotonation with NaH to give the alkoxide followed by addition of the alkyl halide. The sixth example is an intramolecular Williamson ether synthesis! Watch out for these types of examples as they are common exam questions.
Mechanism: In the SN2 reaction the nucleophile (RO-) attacks the carbon with the good leaving group, forming a C–O bond and breaking the C–Br bond (Step 1, arrows A and B).

Notes: Again, the Na(+) is not crucial here, it's just a spectator ion.
Test Yourself!

Click to Flip


Click to Flip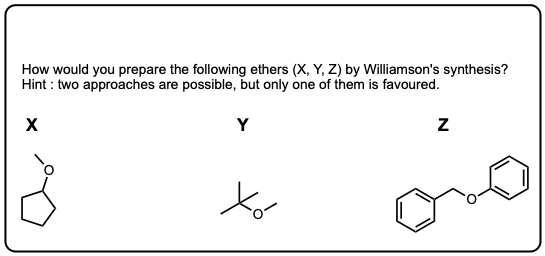 Click to Flip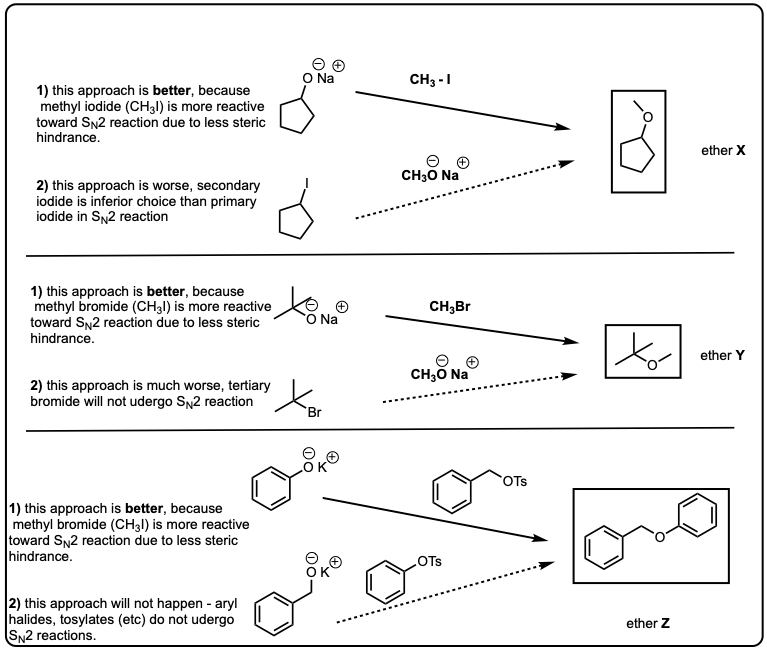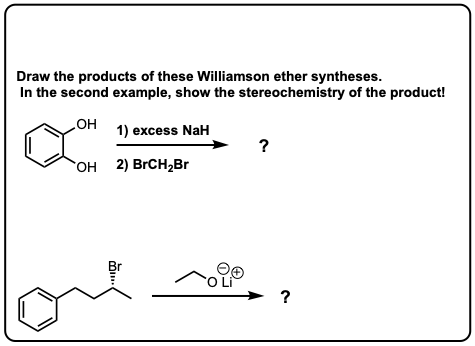 Click to Flip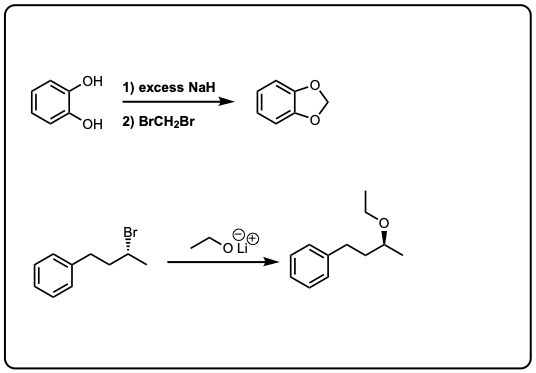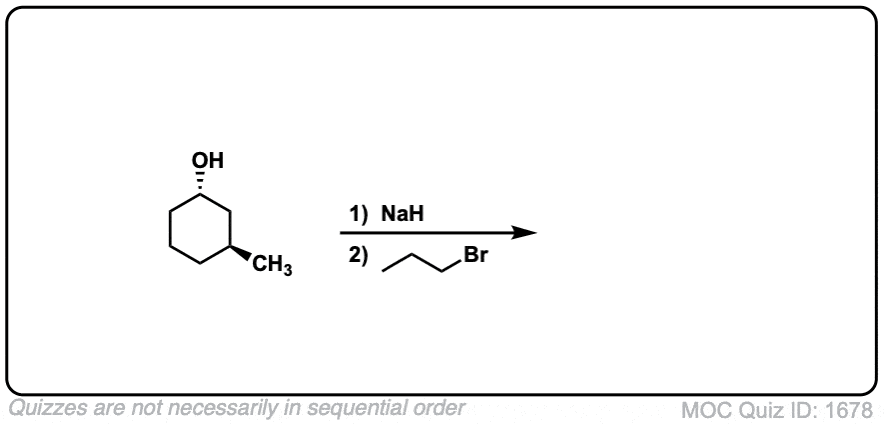 Click to Flip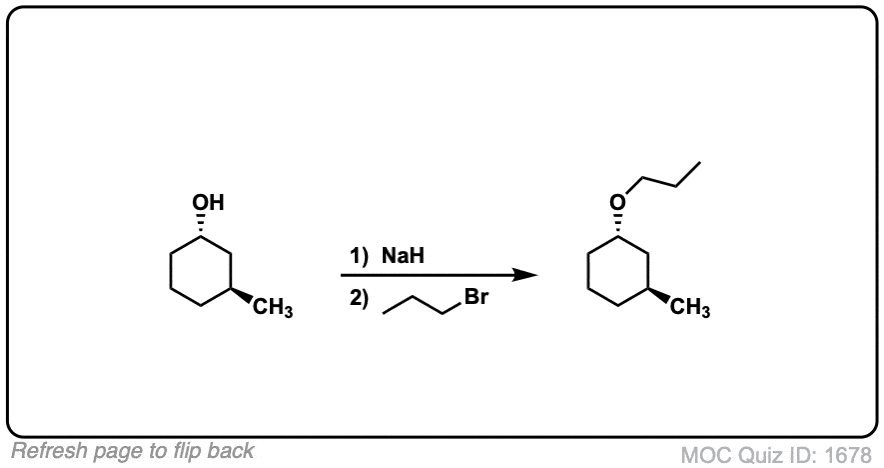 ---
(Advanced) References And Further Reading:
XLV. Theory of ætherification.
Alexander Williamson (1850) , The London, Edinburgh, and Dublin Philosophical Magazine and Journal of Science, 37:251, 350-356,
DOI:1080/14786445008646627
The original Williamson paper.
Equilenin 3-Benzyl Ether
M. Hoehn, Clifford R. Dorn, and Bernard A. Nelson
The Journal of Organic Chemistry 1965 30 (1), 316-316
DOI: 10.1021/jo01012a520
One of the reactions in this paper is a classic Williamson reaction – protection of the alcohol in dehydroestrone as a benzyl ether, using benzyl chloride.
Total Synthesis of (+)-7-Deoxypancratistatin: A Radical Cyclization Approach
Gary E. Keck, Stanton F. McHardy, and Jerry A. Murry
Journal of the American Chemical Society 1995 117 (27), 7289-7290
DOI: 1021/ja00132a047
In modern organic synthesis, the Williamson reaction is used for the protection of reactive alcohols in a substrate. Common protecting groups include methoxymethyl (MOM) and 2-methoxyethoxymethyl (MEM). MOM protection is employed in this total synthesis by Prof. Keck and coworkers.
---
Real-World Examples:
Org. Synth. 1926, 6, 48
DOI Link:10.15227/orgsyn.006.0048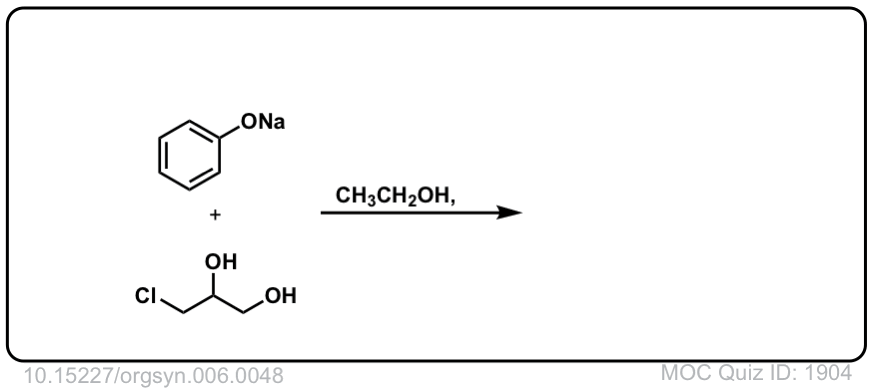 Click to Flip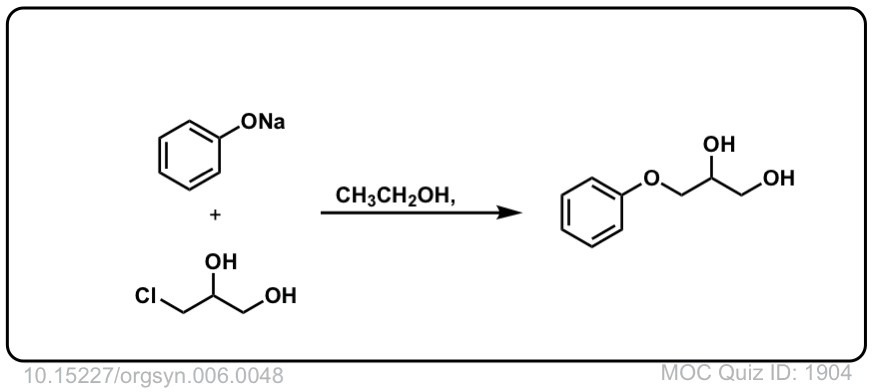 Org. Synth. 1929, 9, 72
DOI Link:10.15227/orgsyn.009.0072


Click to Flip

Org. Synth. 1933, 13, 42
DOI Link: 10.15227/orgsyn.013.0042


Click to Flip

Org. Synth. 1945, 25, 49
DOI Link: 10.15227/orgsyn.025.0049


Click to Flip

Org. Synth. 1943, 23, 52
DOI Link: 10.15227/orgsyn.023.0052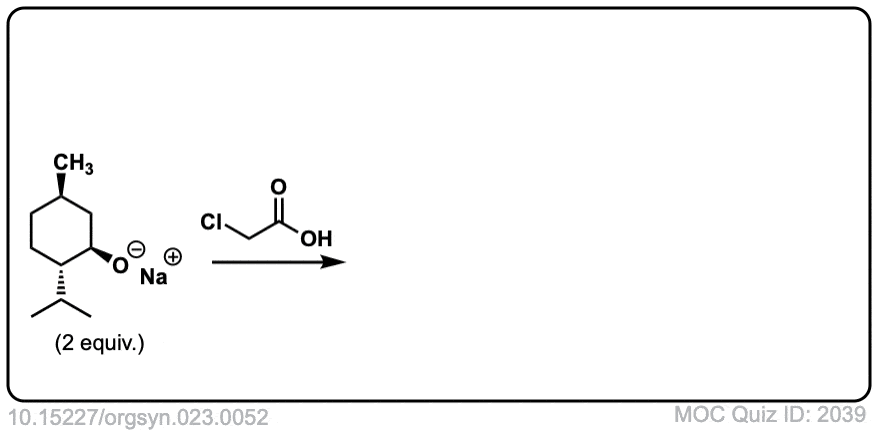 Click to Flip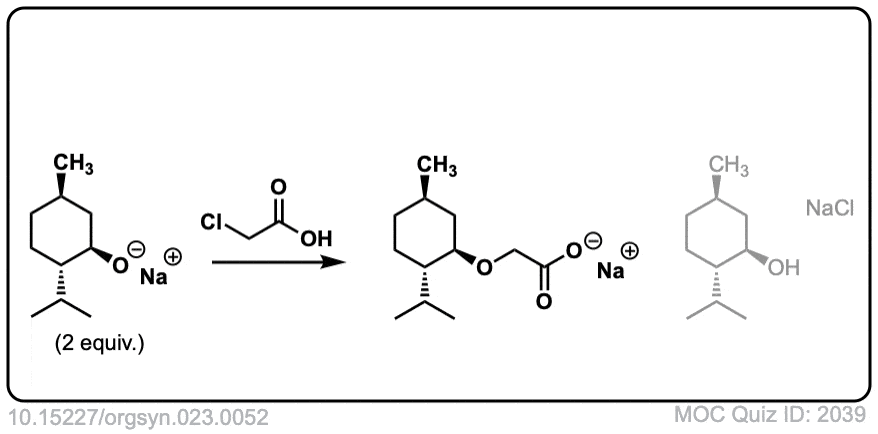 Org. Synth. 1951, 31, 90
DOI Link: 10.15227/orgsyn.031.0090


Click to Flip