Master Organic Chemistry Membership
MOC Membership – Quizzes, Reaction + Mechanism Guide, Flashcards & Summary Sheets
Welcome to Master Organic Chemistry!
If you're looking for help beyond the 400+  free articles on MOC, consider joining the membership program. 
As a member of Master Organic Chemistry, you'll have access to a wealth of premium resources to help you succeed in your organic chemistry course, including:
Practice quiz questions: Over 2000 graphical practice quiz questions with answers, covering all key topics in organic chemistry. Get instant feedback on your understanding of the course material. Prepare yourself for exam questions.
Reaction and Mechanism Guide: Our Reaction and Mechanism Guide is a mini-encyclopedia covering over 180 reactions and reaction mechanisms commonly covered in Org 1 and Org 2, including reactions you'll need to know for the ACS exams. Each mechanism you will need to know is covered.
Reaction Flashcards: Over 200 full-color downloadable (PDF) and printable reaction flashcards that let you instantly test yourself on all the key reactions you'll need to know in Org 1 and Org 2.
Summary Sheets (PDF): Our Org 1 and Org 2 summary sheets (PDF) each condense the contents of an entire organic chemistry semester into about 20 pages. Also includes the Spectroscopy Pack PDF for coverage of NMR, IR, UV-Vis and other spectroscopy topics.
Whether you're a student looking to ace your exams, a professional looking for a refresher, or someone who simply wants to learn more about organic chemistry, our member resources have everything you need to get to the next level in your organic chemistry learning journey.
Features and Conditions
Gain access to members-only content on Master Organic Chemistry, including all Quiz Questions and the Reaction + Mechanism Guide, and downloadable Reaction Flashcards
Includes Org 1 Summary Sheets PDF, Org 2 Summary Sheets PDF, and Spectroscopy Pack PDFs (a $50 value if purchased separately)
Membership is monthly and recurring 
Cancel and still get access through the end of your billing cycle
All for $10/month.
Ready for the next step?
Click the purple button below:
Join Master Organic Chemistry Membership Today
How The MOC Membership Can Help You: 1000+ Practice Quiz Questions
On MOC, we have over 400 free articles on a huge number of topics in introductory organic chemistry that will help you think through these types of questions.
However, reading articles and memorizing facts is not enough to get an outstanding grade in an organic chemistry class.
As you're probably aware, organic chemistry isn't tested like biology. In organic chemistry, success depends not on being able not to recall information, but to apply it.
The true key to understanding is to do a lot of practice problems.
For example, here's some common problems students encounter during their introductory organic chemistry courses:
Learning a vast number of reactions and their mechanisms.
Understanding if reactions proceed through SN1/SN2/E1/E2 pathways
Identifying pairs of molecules as enantiomers, diastereomers, or constitutional isomers
Classifying molecules as aromatic or nonaromatic, and identifying substitutents as ortho- para- or meta– directors
Doing multi-step synthesis questions
The resources included in the MOC membership were designed to help you with all these problems and more.
I've gone through hundreds of individual midterms and exams and pulled out the most commonly covered types of questions over a two-semester organic chemistry course and built quizzes around these questions.
As a MOC member, you'll have access to over 1000 practice quizzes spread over 30 sections that cover the most important concepts in each chapter. Including lots of commonly used "trick" questions.
After all, if you've seen the trick question before, it's no longer a trick.
Our quizzes let you test your knowledge and give you instant feedback on whether you're on the right track. This is much more than you'd get from just reading an article.
Reaction and Mechanism Guide
Organic chemistry courses are famous (infamous?!) for expecting you to learn a lot of reactions and mechanisms.
To prepare for the ACS exam, for example, it's not unusual to be responsible for knowing over 130 different reactions and their mechanisms, and being able to apply the pattern of bonds that form and break to molecules you haven't seen before.
There's a lot to learn!
When you join the MOC membership you get access to our Reaction and Mechanism Encyclopedia with detailed individual pages on over 180 reactions in introductory organic chemistry along with mechanisms, examples, and quiz questions.
A few examples that are open-access to everyone, just to give you an idea:
For more, see the Reaction + Mechanism Guide page.
Printable, Ready-Made Reaction Flashcards
Some students find that making flashcards helps them learn reactions.
If you're one of those people, you might like our downloadable (PDF) full-color printable flashcards, which are included with your MOC membership.
You can print out our ready-made flashcards and easily glue them onto conventional index cards.
Each flashcard contains a link to the mechanism (from the Reaction and Mechanism guide) on the back of each card.
Summary Sheets – Org 1, Org 2, and Spectroscopy
One of the main challenges with organic chemistry is trying to deal with the huge amount of information that's thrown at you. With textbooks being over 1200 pages or longer, it can be tough to sort out the key concepts and facts you really need to understand.
Instructors often suggest making your own "cheat sheets" or "summary sheets" that summarize the key information you need on a few sheets of paper.
This will give you increased confidence, improved organization, better retention, and an increased ability to identify key patterns.
If you have the dedication to make these sheets for yourself, encourage you to do it!
But just in your other courses get in your way, we've got you covered.
Signing up for the MOC membership gives you access to 3 packs of organic chemistry summary sheets (PDFs)  designed to summarize the key concepts from first-semester organic chemistry, second-semester organic chemistry, and a special unit on spectroscopy.
Org 1 Summary Sheets PDF – a 20 page PDF containing summaries on the following topics: Bonding & Hybridization • Formal Charge, Boiling Points, Curved Arrows • Alkane Nomenclature • Conformations and Newman Projections • Cycloalkanes • Resonance • Free Radicals • Acids and Bases • Substitution and Elimination • SN1/SN2/E1/E2 Decision • Alkene Reactions • Alkyne Reactions • Alcohols • Introduction to Synthesis
Org 2 Summary Sheets PDF – a 20 page PDF containing summaries on the following topics: Alcohols and Ethers • Reactions of Dienes • Molecular Orbitals • Diels-Alder Reactions • Aromaticity • Reactions of Aromatic Compounds • Aldehydes and Ketones • Carboxylic Acid Derivatives • Organometallics • Enols and Enolates  • Amines • Carbohydrates • Amino Acids
Spectroscopy Pack PDF – a 15-page PDF containing summaries on: UV-Vis Spectroscopy • Mass Spectrometry • IR Spectroscopy • 1H NMR • 13 C NMR • Problem Solving
Hundreds of hours went into the preparation of these premium study materials. Sold separately on our online store, these are a $50 value.
For more information on these sheets, see these pages:
Join the membership by clicking the purple button below:
Join Master Organic Chemistry Membership Today
MOC Membership Has Helped Thousands of Students Succeed In Organic Chemistry (And Can Help You Too!)
Here's what some of our members have to say about the benefits of MOC membership.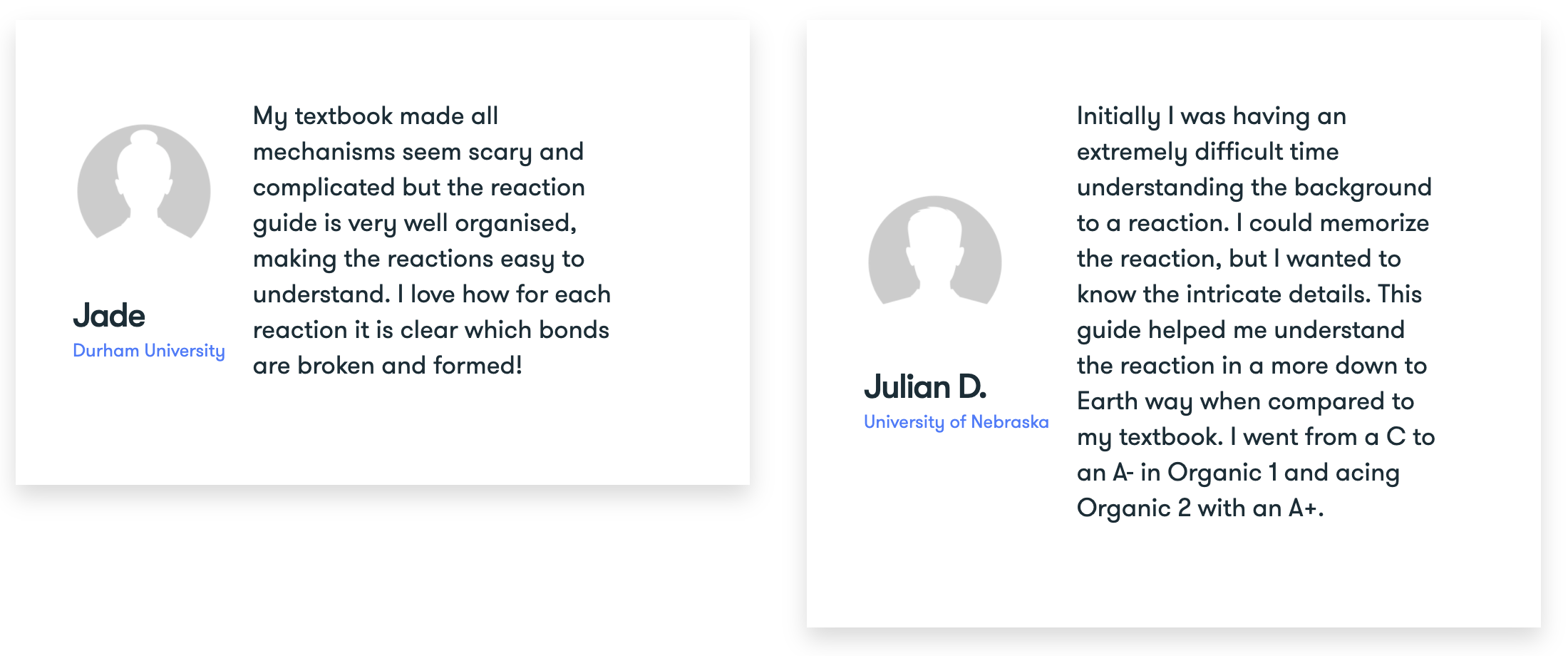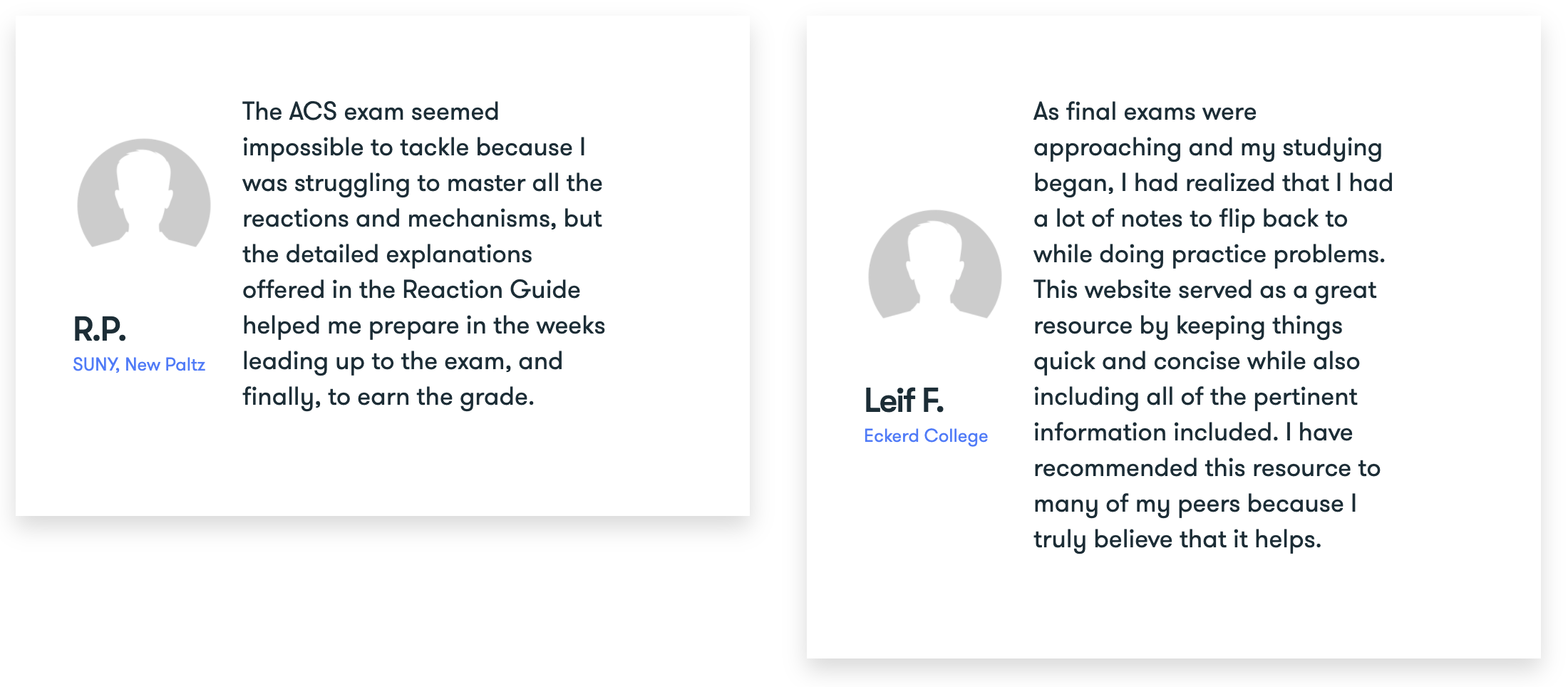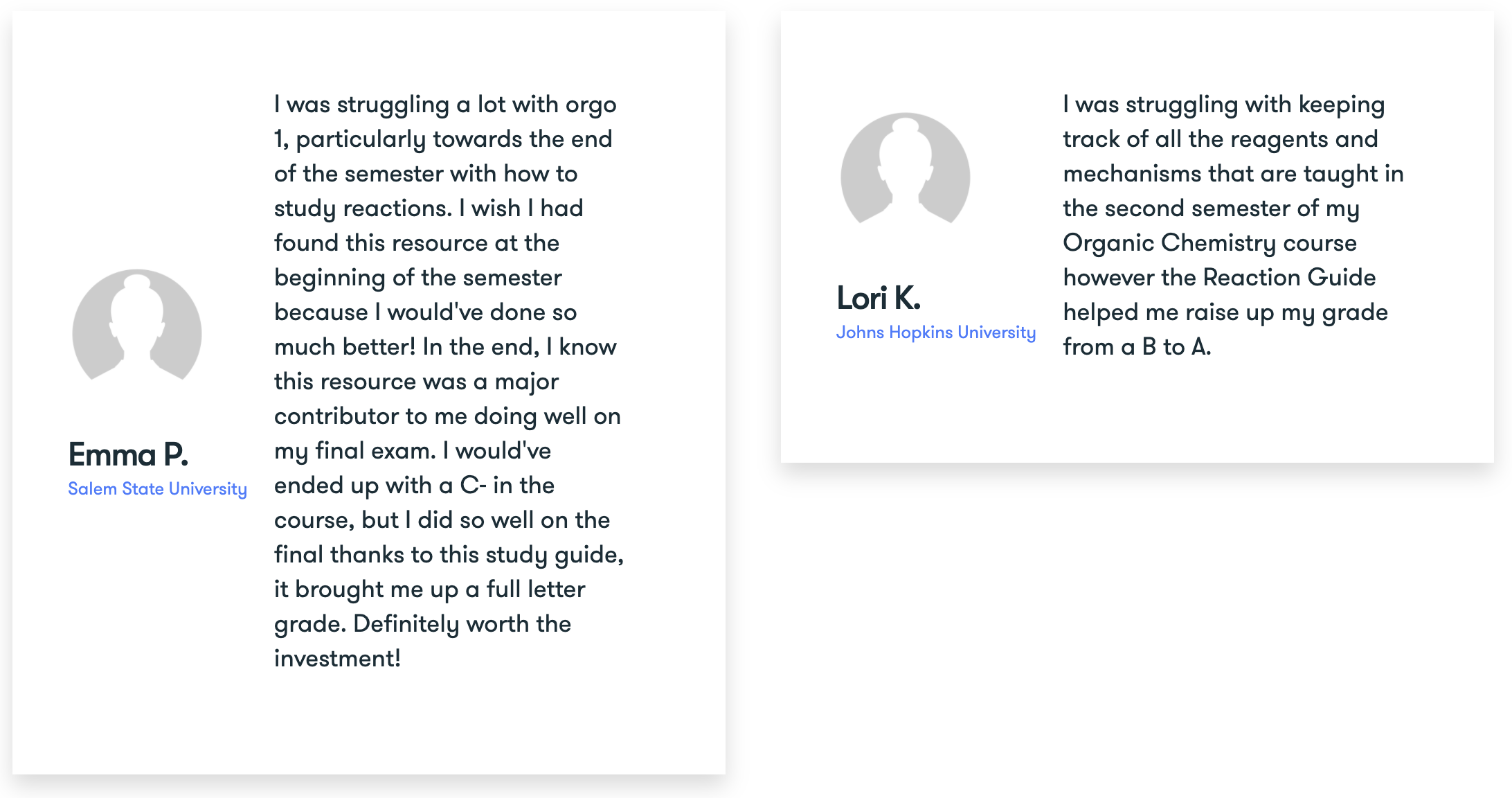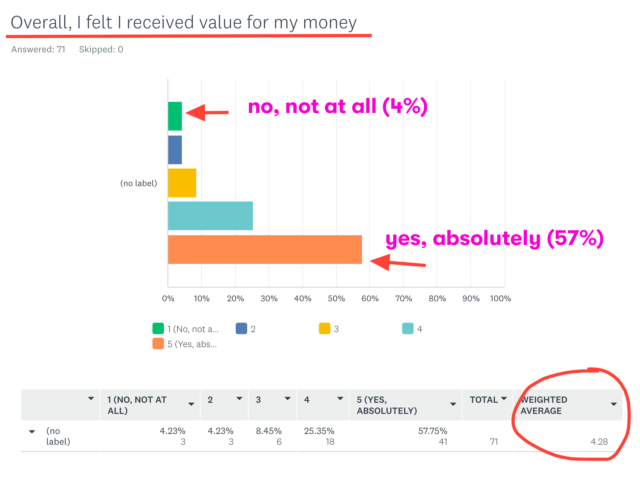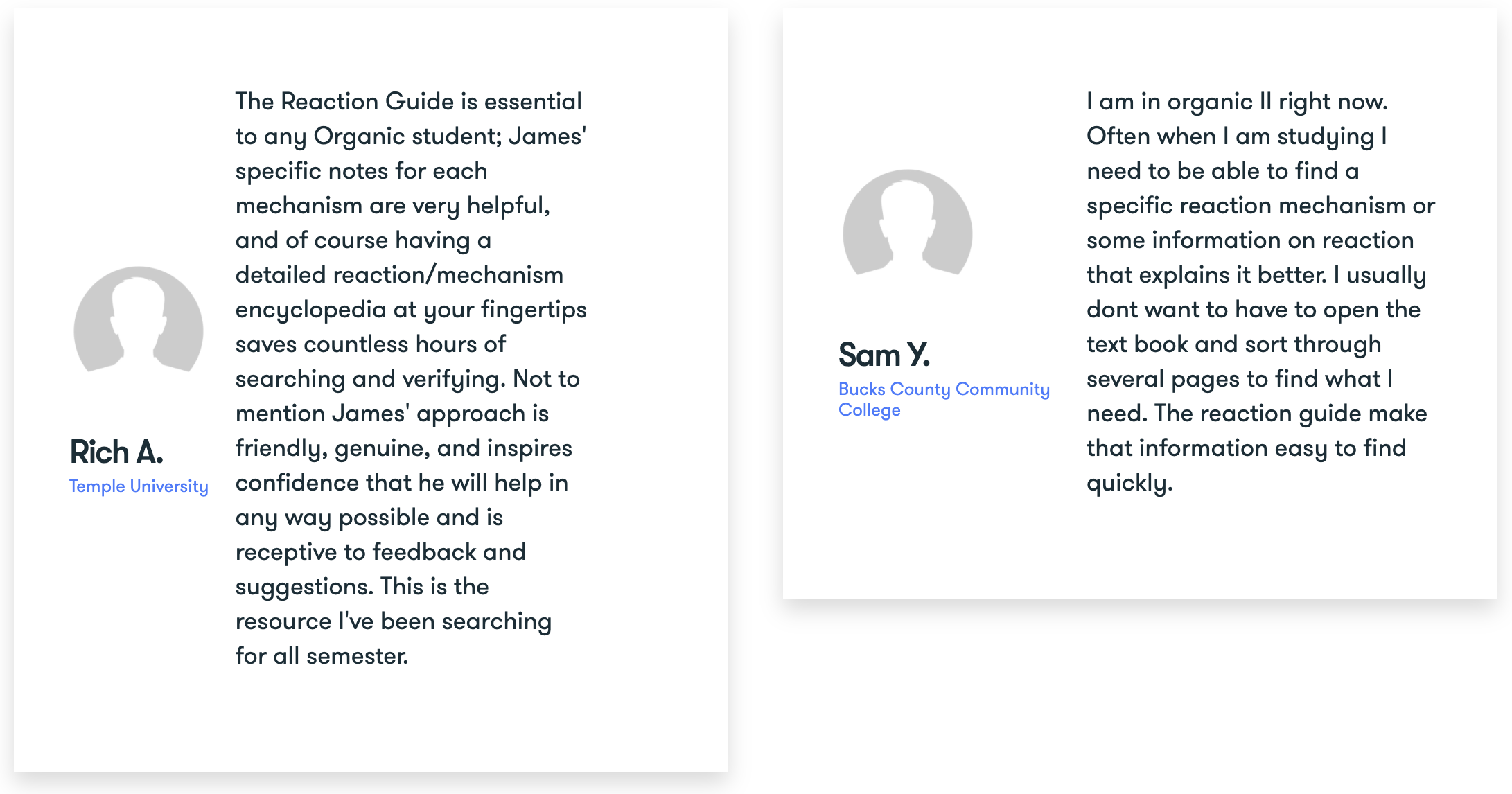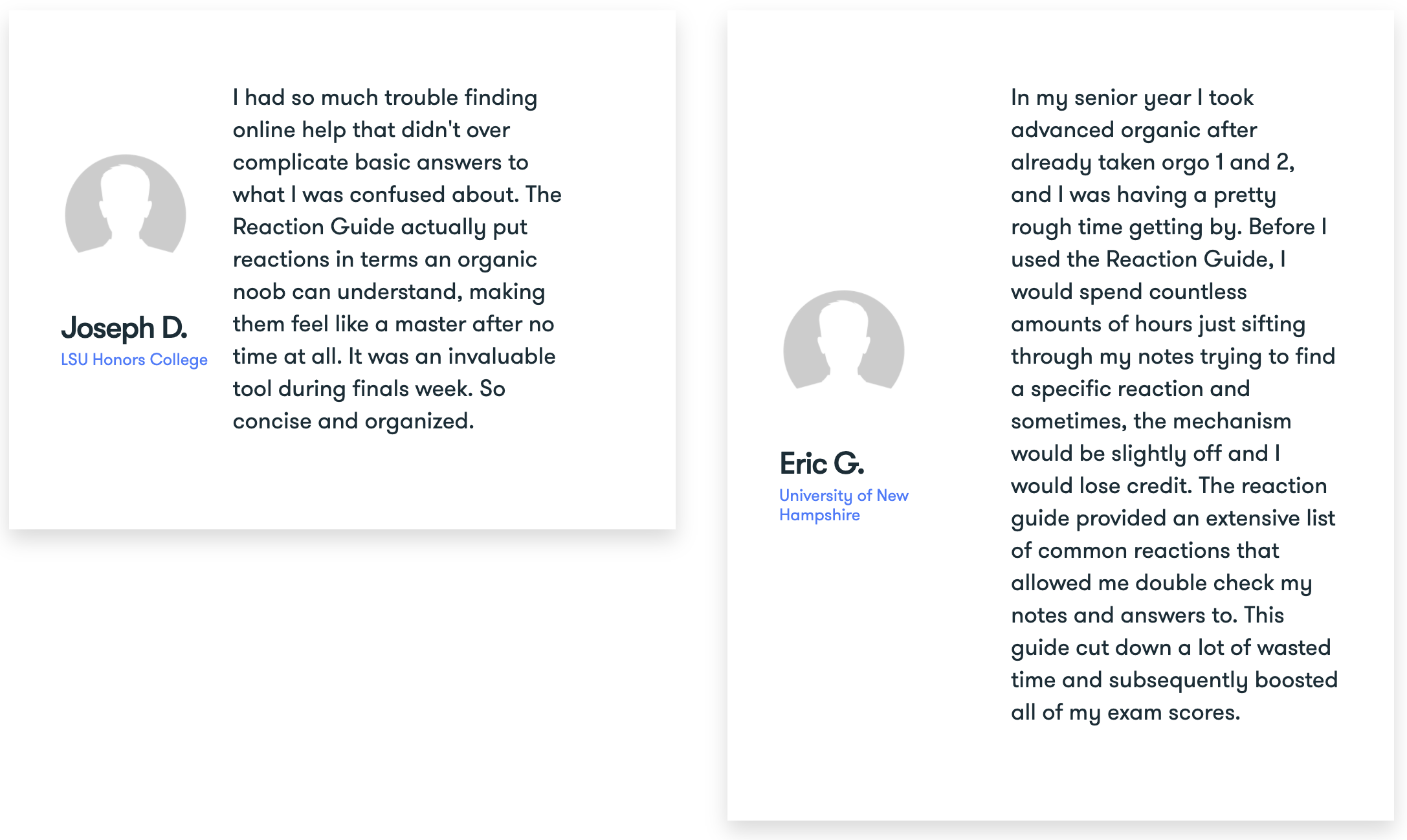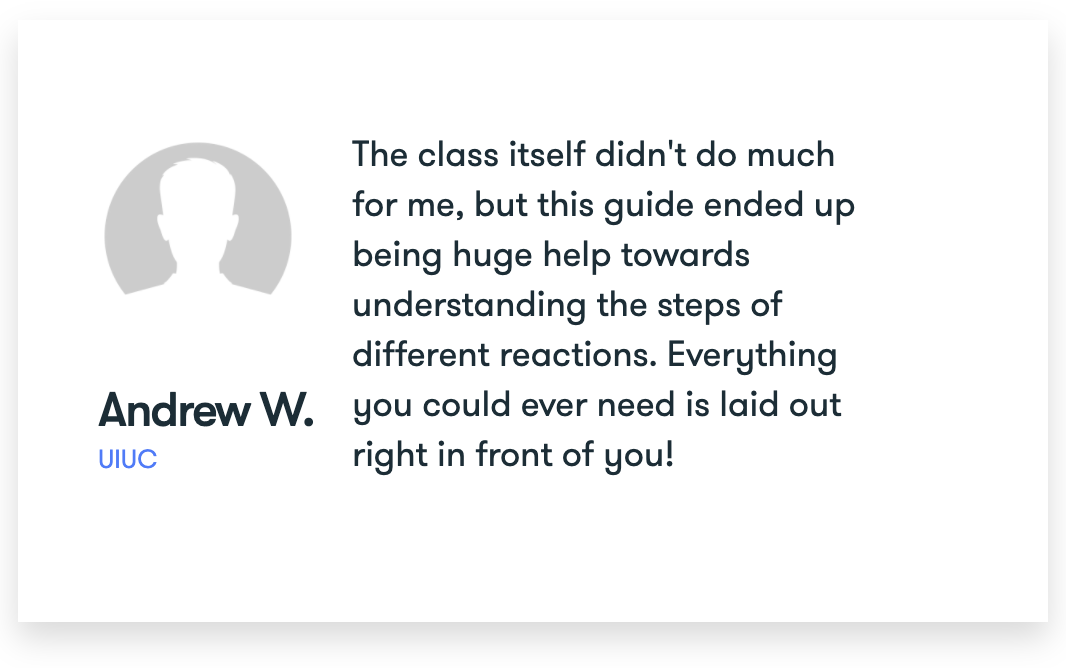 If you're ready to take the next step in your organic chemistry learning journey, click on the button below.
Join Master Organic Chemistry Membership Today
Frequently Asked Questions (FAQ's)
Q. Are the summary sheets included with MOC Membership? 
Yes! The Org 1 Summary Sheets, Org 2 Summary Sheets and the Spectroscopy Pack are now included with membership. This was not always the case.
Note: the Reagent Guide PDF and Reaction Maps PDF are not included.  Those are sold separately. 
Q. What does a Reaction Guide page look like? 
See this page and click on the red examples for examples of Reaction Guide pages that are open-access.
Q. What are the Quizzes?
The quizzes have a front and a back with the question on one side and the answer on the other. You can flip the quiz by clicking to give you the answer.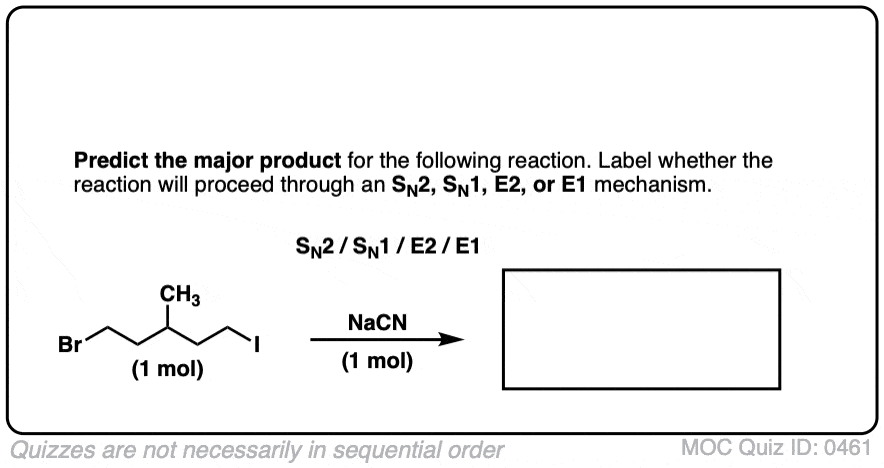 Click to Flip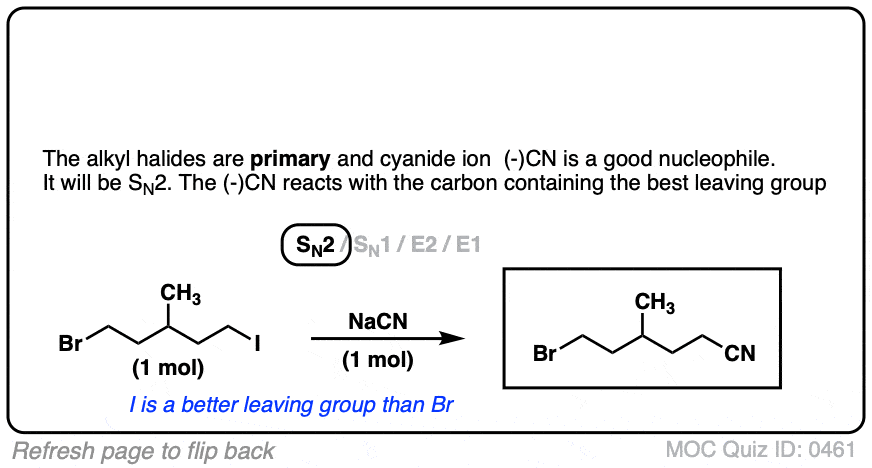 Each "quiz" is one question. In total, on the website, there are about 2400 total quiz questions (as of April 2023).
Q. Is this useful for the ACS Org 1 or Org 2 exams?
Yes! This was actually designed for helping students with the ACS exams.  One of the students I was tutoring needed to learn 130 reaction mechanisms for her ACS exam, and since Wikipedia was of very uneven quality for introductory organic chemistry students, the logical solution was to build a dedicated mini-Wikipedia just for reactions and mechanisms that helped to walk students through each reaction.
---
"The ACS exam seemed impossible to tackle because I was struggling to master all the reactions and mechanisms, but the detailed explanations offered in the Reaction Guide helped me prepare in the weeks leading up to the exam, and finally, to earn the grade." -R.P., SUNY New Paltz
---
Q. I'm not from North America. Will this help me?
Hard to say. These resources were made with North American introductory organic chemistry classes in mind. If you're taking an advanced graduate course in organic chemistry, you'll probably find these resources to be too basic.
I suggest looking around the site for the free examples of quizzes, Reaction Guide pages, and more to get a sense of the level at which the site aims to teach at. If you find those resources useful, chances are you'll find the membership useful too.
Q. Can I cancel my membership myself?
Yes, you can cancel your membership yourself. When you join the MOC membership, you'll get access to the members' area. From within the members area, you can access your downloads, manage your account, and cancel your recurring subscription.
One note – if you subscribe by Paypal, you will have to unsubscribe yourself through Paypal's website. The "Account" page on MOC has a link that shows you how to do this. 
If you find that you're having problems cancelling your membership yourself for whatever reason (rare)  you can always reach out and email me [support@masterorganicchemistry.com]
Q: If I cancel, will I still have access through the rest of the billing cycle? 
Yes. For instance, if you pay on Dec. 1 and cancel on Dec 2. , you will still have access until January 1, the end of the billing cycle. If you ask for a refund, however, you'll lose access. 
Q: What if I lose my password?
You can reset your password anytime through asking for a  reset password link. Make sure you check the email you used to register. If your email isn't correct then this won't work and you'll have to contact me directly. 
Q. How much does it cost?
Membership to Master Organic Chemistry costs $9.95 / month, recurring. This includes access to all quiz questions, the Reaction and Mechanism Guide, downloadable Flashcards, and the Org 1 + Org 2 Summary Sheets as well as the Spectroscopy Pack.
Q: OK, how do I sign up? 
First, you can click on one of the purple links above or below.  Then, you'll be prompted for a payment method (either Credit Card or Paypal). After processing, within several minutes you will be sent a link that lets you choose a membership name and password. Once you do that, you're in!
Make sure your email address doesn't include a typo. 
Q: What if I don't get the email?
Make sure you check the email you use for Paypal/payment. If you don't get the email within 30 min, check the spam filter. If you still don't get it, email me [support@masterorganicchemistry.com] and I'll set you up.
It's really important that you include the email you use to sign up with because that will be your account ID.
Q: Do I need a Paypal account?
No, you can also use a credit card, which uses a payment provider called Stripe.  It's super easy.
Q: What if I pay for this and I decide I don't want it. What can I do?
If you don't find it useful, tell me 72 hours within signing up and you can ask for a full refund.
Q: Where do I sign up?
Just click on the purple button below!
Join Master Organic Chemistry Membership Today
P.P.S. Questions? Problems?
You can call me on my cell at 615.708.8289 (yes that is my personal number). I don't have a team of people helping with support – it's just one person. But if you do have any questions about membership, please feel free to reach out.
– James