Home / Grignard Reagents For Addition To Aldehydes and Ketones
Aldehydes and Ketones
Grignard Reagents For Addition To Aldehydes and Ketones
Last updated: December 1st, 2022 |
Grignard Reagents: Their Formation, Reactions, And Reaction Mechanisms

Today's reagent is one that most students have experience in making at some point or another. Grignard reagents are formed by the reaction of magnesium metal with alkyl or alkenyl halides. They're extremely good nucleophiles, reacting with electrophiles such as carbonyl compounds (aldehydes, ketones, esters, carbon dioxide, etc) and epoxides. They're also very strong bases and will react with acidic hydrogens (such as alcohols, water, and carboxylic acids).
Similar to or the same as: very similar to organolithium reagents.
Formation Of Grignard Reagents
Grignard reagents are made through the addition of magnesium metal to alkyl or alkenyl halides. The halide can be Cl, Br, or I (not F). It's slightly easier to make Grignards from the iodides and bromides, however. Note what's happening here – the magnesium is "inserting" itself between the carbon and the halide. This halide the "X" referred to when we refer to Grignard reagents as "RMgX".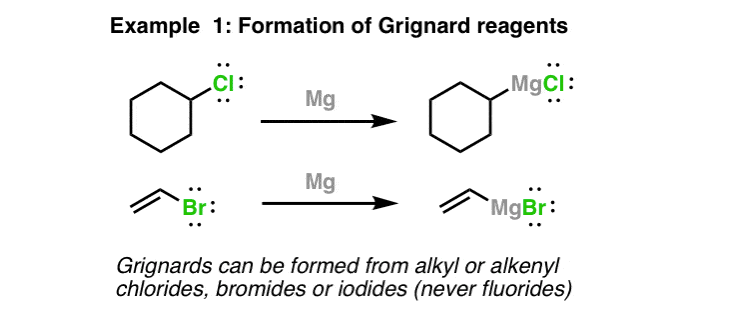 Reaction Of Grignard Reagents With Aldehydes To Give Secondary Alcohols
One of the most common uses of Grignard reagents is in their reaction with aldehydes and ketones to form alcohols. In the first step, the Grignard forms the carbon-carbon bond. This results in an alkoxide (the conjugate base of an alcohol). To form the alcohol, it's necessary to add acid at the end of the reaction (in what's called the "workup" step). This is shown here as "H3O+" (the "X" is just the counter-ion, a spectator here)

Reaction Of Grignard Reagents With Ketones To Give Tertiary Alcohols
The reaction behaves similarly with ketones. Again, there's nothing special about the Cl here – it all depends on how you made the Grignard in the first place.

Grignards Add Twice To Esters And Acid Halides
Grignard reagents will also add to esters. What makes these reactions a little more complicated is that they add twice. The net result (after addition of acid) is a tertiary alcohol. This is also the case for acid halides (acyl halides) and anhydrides. One notable exception is carboxylic acids (more on that below).


Addition Of Grignard Reagents To Epoxides
Another important reaction of Grignard reagents is that they will add to epoxides to form carbon-carbon bonds. One thing to keep in mind here is that the tendency is for them to add to the less substituted end of the epoxide – that is, the less sterically hindered end. You can think of this reaction as being essentially similar to an SN2 reaction. After addition of acid, an alcohol is obtained.

Reaction Of Grignard Reagents With Carbon Dioxide To Give Carboxylic Acids
Grignard reagents also add to carbon dioxide (CO2) to form carboxylates, in a reaction similar to their reactions with ketones and aldehydes. The carboxylates are converted to carboxylic acids after addition of acid (such as our trusty H3O(+) ).

Grignard Reagents Are Strong Bases – Protonation (And Deuteration)
Finally, since Grignard reagents are essentially the conjugate bases of alkanes, they're also extremely strong bases. This means that sometimes acid-base reactions can compete with their nucleophilic addition reactions. One common situation where this crops up is when Grignard reagents are added to carboxylic acids. It's easy to forget that carboxylic acids… are acids. This means that instead of adding to the carbonyl, they react with the proton instead and form the carboxylate salt.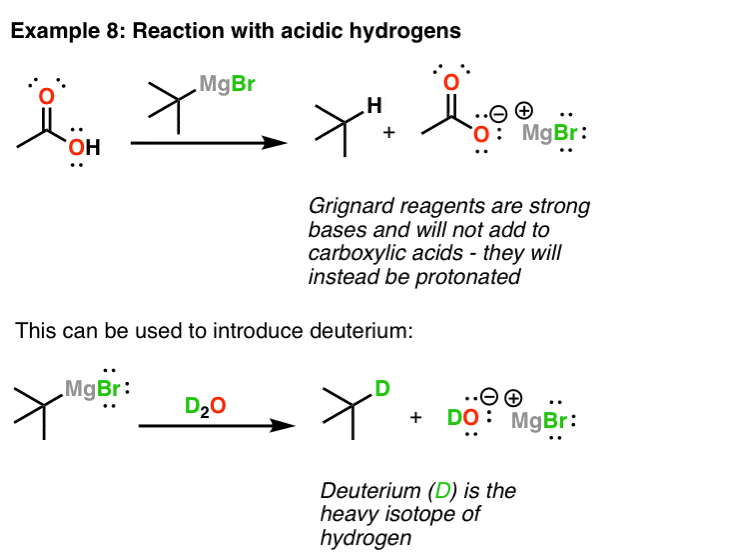 This can also be used to convert alkyl halides to alkanes. First you treat it with magnesium, and then you treat the Grignard with a strong acid. This gives you the alkane. You can also use this to introduce deuterium (D) into molecules! The first step is to make the Grignard reagent. The second is to treat that Grignard with a deuterated acid such as D2O. This gives you the deuterated alkane!
Mechanism: Addition Of Grignard Reagents To Aldehydes And Ketones
So how does it work? The key to the Grignard reagent is actually very simple. When you think about the relative electronegativities of carbon (2.5) and magnesium (1.1), the bond between carbon and magnesium is polarized toward carbon. That means that carbon is more electron rich than magnesium and is actually nucleophilic! Here's a closer look.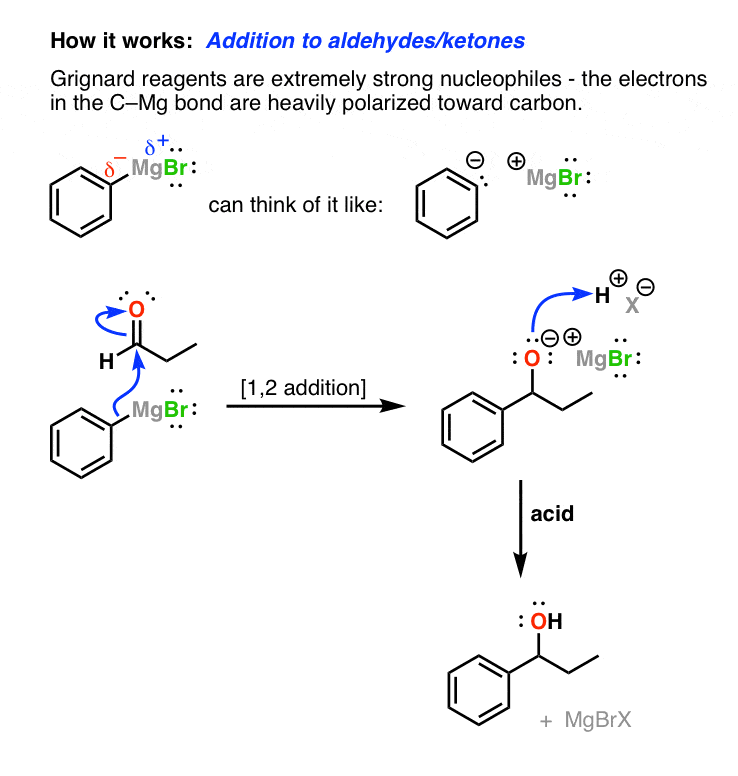 In the reaction of Grignards with aldehydes, the carbon attacks the carbonyl carbon and performs a 1,2-addition to give an alkoxide. In the second step, acid is added to give you the alcohol.
---
(Advanced) References and Further Reading
Grignard, V. C. Acad. Sci. 1900, 130, 1322-1324
The original paper by Victor Grignard describing a new method for alcohol synthesis from hydrocarbons.
Victor Grignard and Paul Sabatier: Two Showcase Laureates of the Nobel Prize for Chemistry
Henri B. Kagan
Chem. Int. Ed. 2012, 51, 2-9
DOI: 10.1002/anie.201201849
For those interested in the history of science, this is a historical perspective on the lives of Victor Grignard and Paul Sabatier, and gives insight into their lives, how they made their seminal discoveries, and the impact of their work, among other things.
Mechanical activation of magnesium turnings for the preparation of reactive Grignard reagents
Karen V. Baker, John M. Brown, Nigel Hughes, A. Jerome Skarnulis, and Ann Sexton
The Journal of Organic Chemistry 1991 56 (2), 698-703
DOI: 10.1021/jo00002a039
Sometimes the formation of a Grignard reagent using Mg metal can be challenging, and various methods for activating the metal surface have been developed, including mechanical activation by dry-stirring Mg turnings under an inert atmosphere for several hours.

The following 3 papers are mechanistic studies on the formation of Grignard reagents:
The Mechanism of Formation of Grignard Reagents: Trapping of Free Alkyl Radical Intermediates by Reaction with Tetramethylpiperidine-N-oxyl
Karen S. Root, Craig L. Hill, Lynette M. Lawrence, and George M. Whitesides
Journal of the American Chemical Society 1989 111 (14), 5405-5412
DOI: 10.1021/ja00196a053
Mechanism of Grignard Reagent Formation. The Surface Nature of the Reaction
M. Walborsky and Janusz Rachon
Journal of the American Chemical Society 1989 111 (5), 1896-1897
DOI: 10.1021/ja00187a063
Mechanism of Grignard Reagent Formation. Comparisons of D-Model Calculations with Experimental Product Yields
John F. Garst and Brian L. Swift
Journal of the American Chemical Society 1989 111 (1), 241-250
DOI: 10.1021/ja00183a037
4-METHOXY-4′-NITROBIPHENYL
K. Stille, Antonio M. Echavarren, Robert M. Williams, and James A. Hendrix
Org. Synth. 1993, 71, 97
DOI: 10.15227/orgsyn.071.0097
The second step in this procedure includes the synthesis of p­-anisylmagnesium bromide, which can be a tricky Grignard reagent to prepare and requires special activation of Mg with methyl iodide.