Home / Thionyl Chloride (SOCl2)
Carboxylic Acid Derivatives
Thionyl Chloride (SOCl2)
Last updated: May 22nd, 2023 |
Thionyl Chloride, SOCl2 – Reaction With Carboxylic Acids to Give Acid Halides
Thionyl chloride (SOCl2) is a useful reagent for converting carboxylic acids to acid chlorides.
Can also  be used to convert alcohols to alkyl halides, covered in this post (See article: SOCl2 and PBr3  – also good to be aware of the SNi mechanism – SOCl2 and the SNi Mechanism)
Acid halides can be converted into a great number of other functional groups (esters, amides, anhydrides, and also aldehydes and ketones) through nucleophilic acyl substitution, so this reagent is extremely useful in synthesis.
Other reagents that perform the same transformation are PCl3, PCl5, oxalyl chloride, and the related bromine reagents.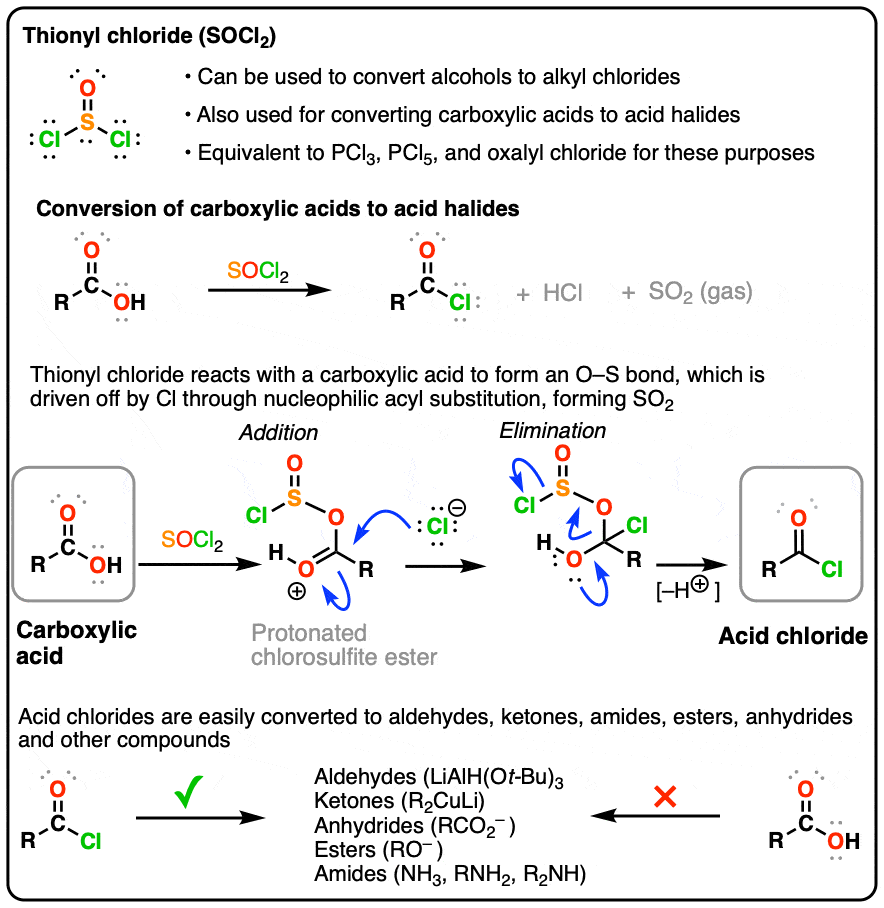 Table of Contents
---
1. Lewis Structure of Thionyl Chloride (SOCl2)
Thionyl chloride (SOCl2) is a useful reagent for converting alcohols to alkyl halides and for converting carboxylic acids to acid chlorides. We've met it previously in the chapter on alcohols. (See article – SOCl2 and PBr3)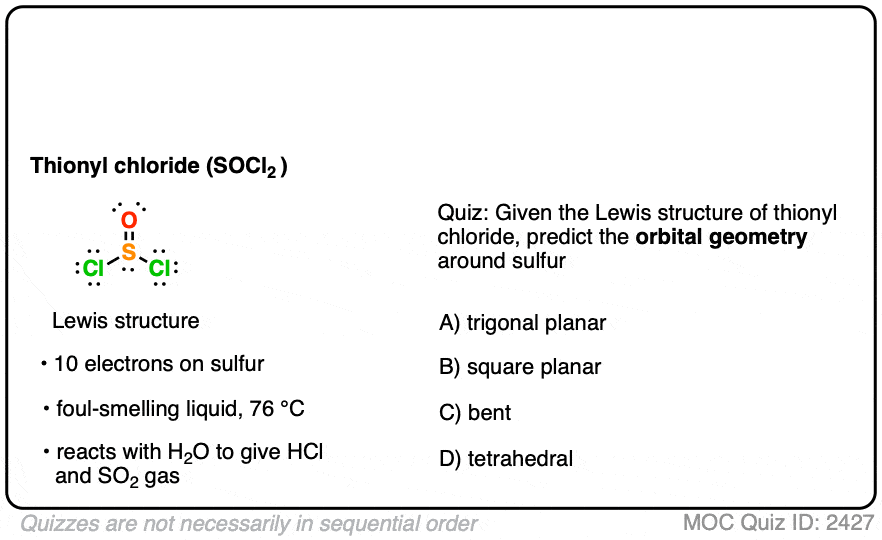 Click to Flip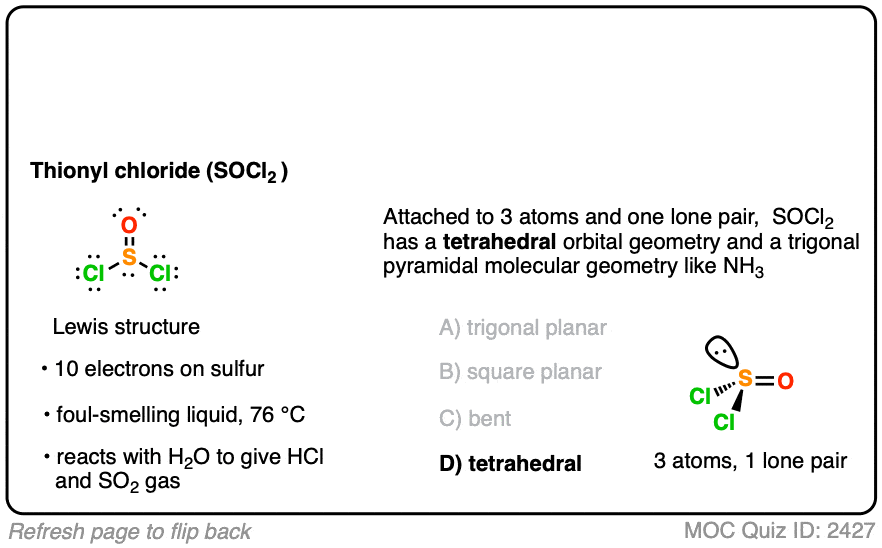 SOCl2 has a sickly-sweet odor to it, like rotten eggs that have been doused in sweetener: once experienced, never forgotten. If you've ever had the (non-)pleasure of walking next to a pulp and paper mill, it's very similar to the smell of sulfur dioxide.
The geometry of thionyl chloride is interesting. There are actually ten (10) valence electrons on thionyl chloride, and it adopts a geometry where one of the lone pairs occupies an orbital. With three attached atoms and one lone pair, this results in a tetrahedral arrangement of orbitals and a trigonal pyramidal molecular geometry (similar to NH3).
In this article we'll mainly be discussing thionyl chloride's use in converting carboxylic acids to acid chlorides, a property it shares with several other reagents such as phosphorus trichloride (PCl3), phosphorus pentachloride (PCl5), and oxalyl chloride.
We'll also show some applications of thionyl chloride in synthesis problems.
(Thionyl chloride (SOCl2) is sometimes confused with sulfuryl chloride (SO2Cl2); sulfuryl chloride performs many of the same reactions as elemental chlorine (Cl2) while being more convenient to handle.)
2. Conversion Of Carboxylic Acids To Acid Chlorides
Thionyl chloride converts carboxylic acids into acid chlorides ("acyl chlorides"). Here is a general example, along with some specific examples.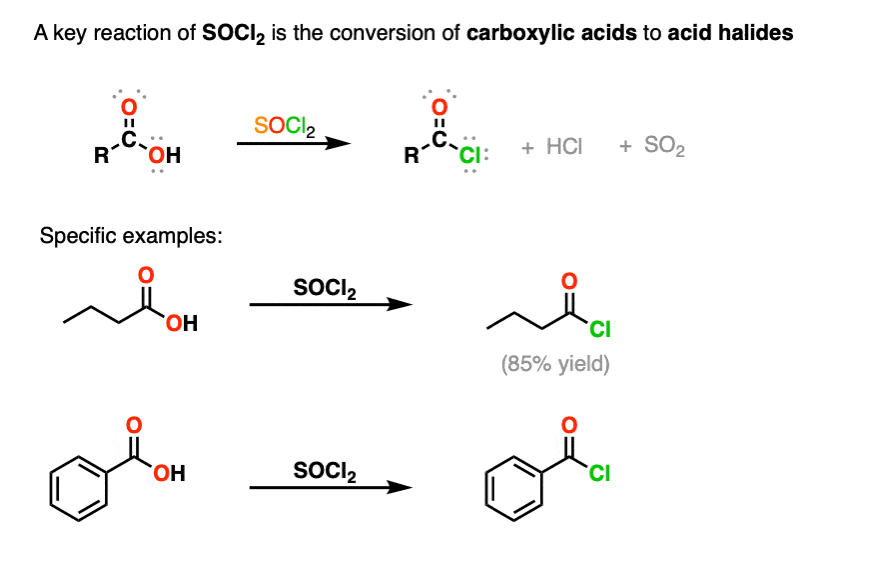 The reaction also works with the related reagents PCl3, PCl5, and oxalyl chloride, which are considered to be equivalent for our purposes.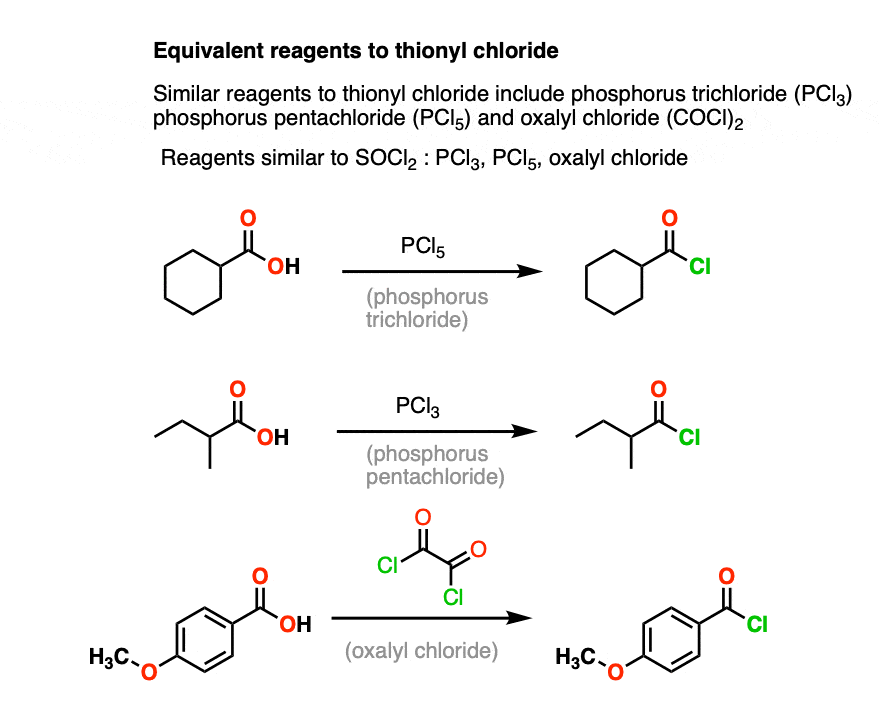 This is a useful reaction since it converts the poor leaving group HO(-) into the good leaving group Cl(-), which makes the carbonyl group much more likely to undergo nucleophilic acyl substitution reactions.   (See post: Nucleophilic Acyl Substitution Under Basic Conditions)
For specific applications, see section 4 below.
So how does it work?
3. Carboxylic Acids To Acid Chlorides With SOCl2 – The Mechanism
Thionyl chloride reacts with carboxylic acids to give an acid halide, sulfur dioxide (SO2) and HCl.
The initial reaction is between the carboxylic acid (as a nucleophile) attacking the (electrophilic) sulfur atom, resulting in replacement of H with SO2Cl. [Note 1 – this is called a "chlorosulfite ester"]
A key point of the first step is to show the carbonyl oxygen acting as the nucleophile! (Why not the OH? See  Quiz 1  )
The loss of chlorine from sulfur can be shown in two different ways.
One way to show this reaction happening is through an addition-elimination reaction at sulfur, except that the S-O (pi) bond breaks (addition) and then re-forms (elimination), driving off Cl(-) as the leaving group. [

Note 2

– not much double bond character in S-O (pi).]
To see this mechanism, hover here or click this link.
Another way to show it (below) is a direct displacement at sulfur, which is tetrahedral, after all. In this sense we can think of this reaction as being a lot like an SN2 reaction at sulfur.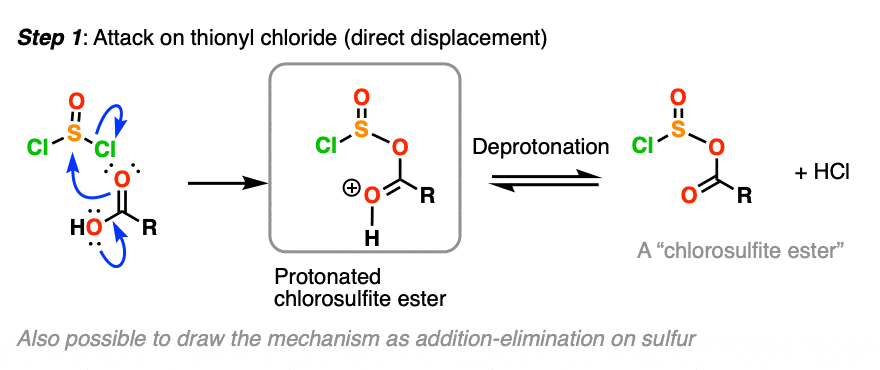 Once the chlorosulfite ester is formed, the acid chloride is formed through a classic addition-elimination mechanism.
the chloride ion then attacks the carbonyl carbon, leading to formation of C-Cl, breakage of C-O (pi).
The C-O pi bond is re-formed, and the C-O bond is broken.
The resulting (protonated) acid chloride is then deprotonated by Cl(-) to give the acid chloride.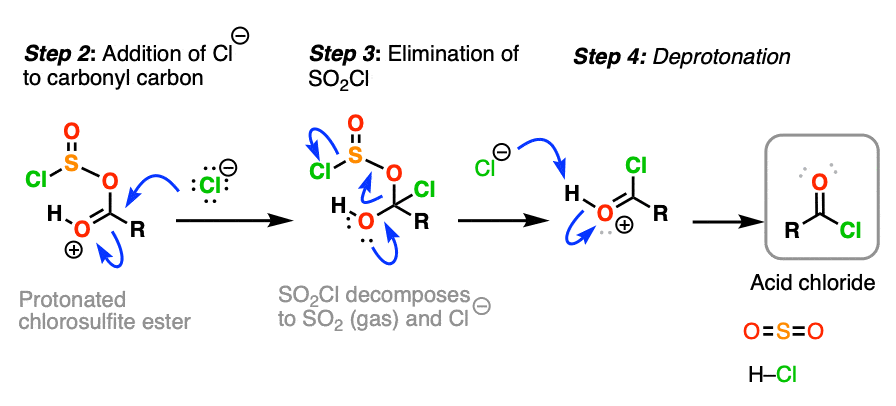 Meanwhile, the (-)O-SOCl decomposes to give foul-smelling sulfur dioxide (SO2) which bubbles off as a gas, rendering the reaction irreversible. (Reactions involving thionyl chloride should always be performed in well-ventilated fume hood – Note 3).
4. Acid Halides In Synthesis
All right. So carboxylic acids can be converted into acid halides. Now what?
Well, it opens up a whole new set of possibilities. Acyl halides undergo nucleophilic acyl substitution much more readily than carboxylic acids.
If carboxylic acids are treated with amines, alkoxides, or carboxylates (among others) the only product that will form is a deprotonated carboxylic acid (carboxylate).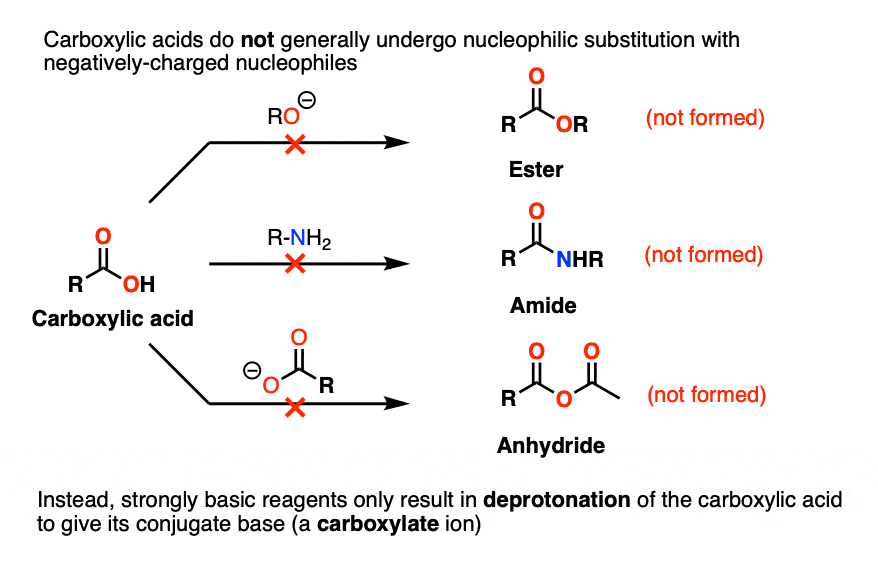 As discussed earlier, that's because under basic conditions, the leaving group of a carboxylic acid is not the hydroxide ion (HO-) but the di-anionic (and extremely basic) O(2-).
Carboxylic acids undergo nucleophilic acyl substitution under acidic conditions, but that's a different story. (See Carbonyl Mechanisms – Elimination)
Once the carboxylic acid is converted into an acid halide, however, a large number of nucleophilic acyl substitution reactions become possible.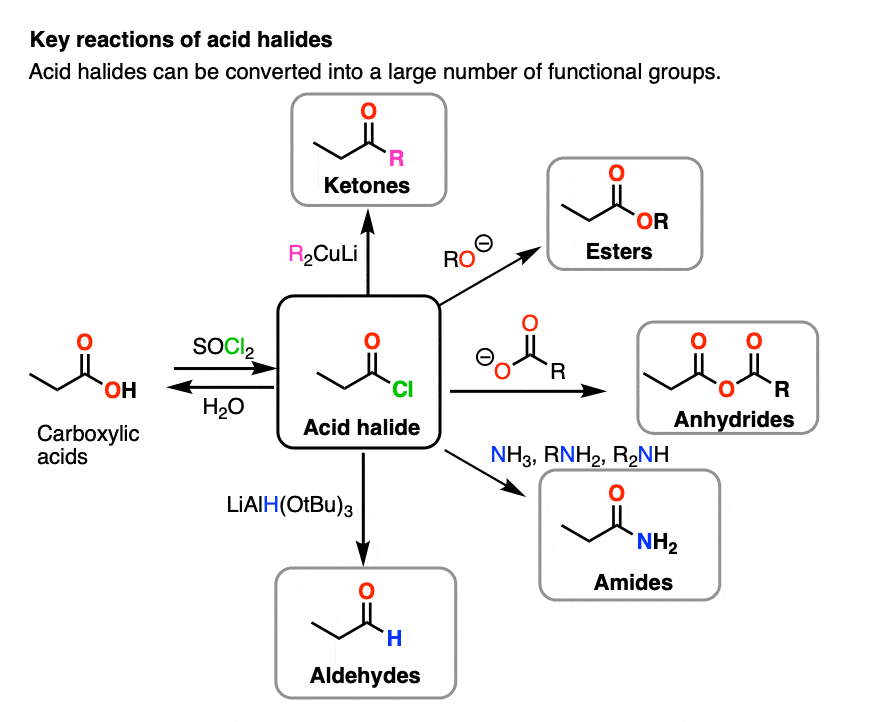 5. Applications – Synthesis Problems
Once this reaction is in your synthetic toolbox, it opens up solutions to a wide range of solutions to synthesis problems.
See if you can come up with two-step pathways to synthesize each of the three molecules below.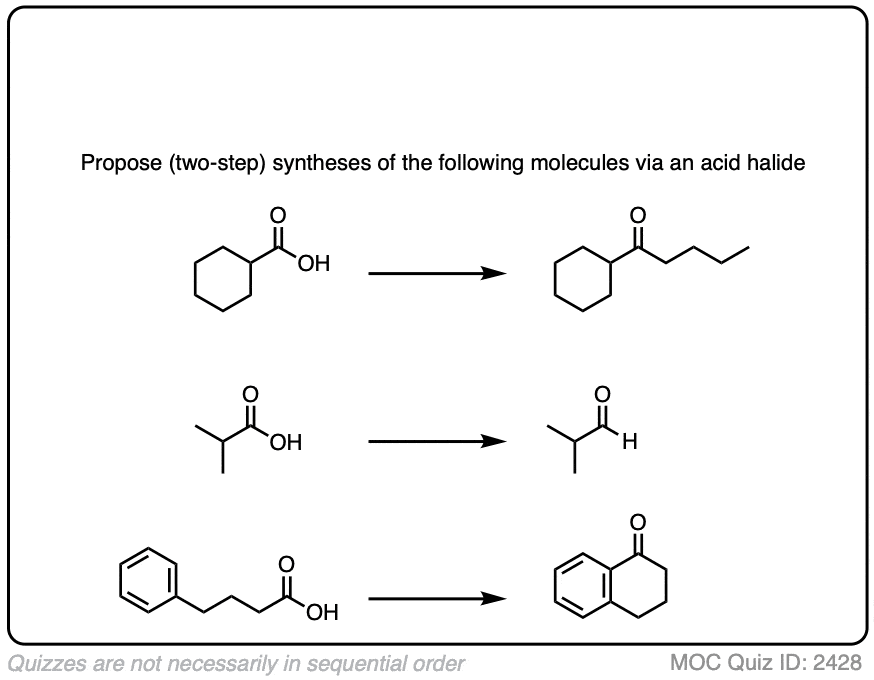 Click to Flip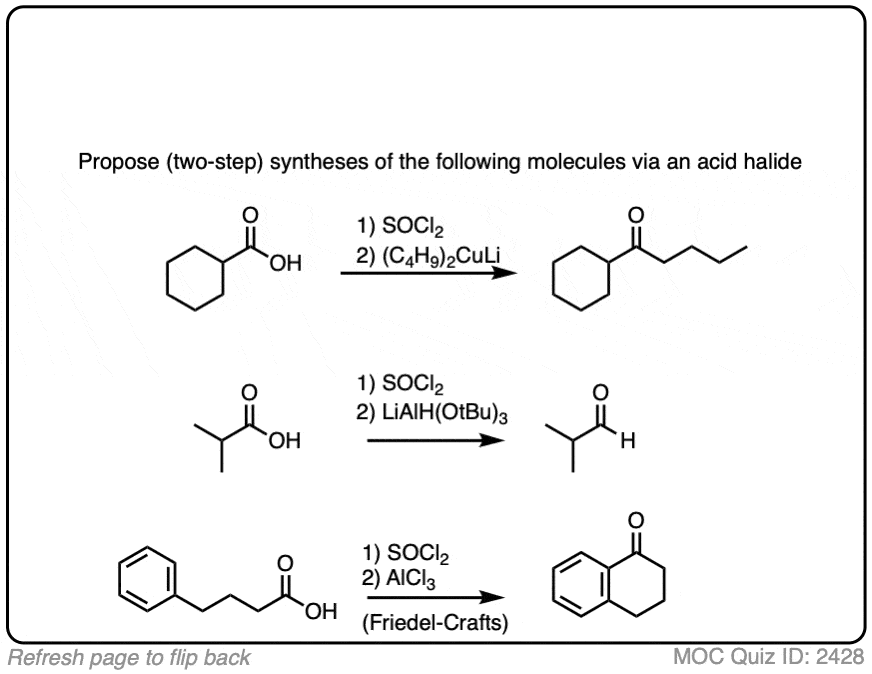 The way in which SOCl2 enables conversion of carboxylic acids to much more versatile acid halides is extremely similar to how SOCl2 allows conversion of alcohols to alkyl halides, which can subsequently be converted into a huge range of different products via SN1/SN2/E1/E2 reactions (See, for example, The Power of the SN2 Reaction)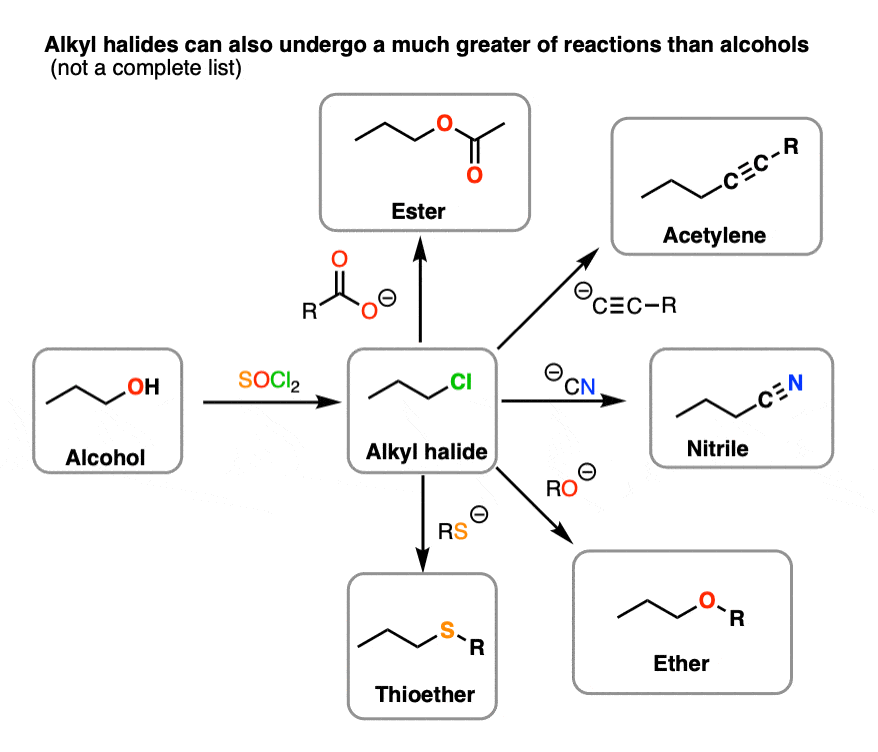 6. Summary
Thionyl chloride can convert carboxylic acids to acid halides.
The acid halides can then be converted into aldehydes, ketones, anhydrides, esters, amides or a number of other functional groups. (Including back to a carboxylic acid – just add water! )
In this way, carboxylic acids can be converted (in about 2 steps) into a large variety of different carbonyl compounds.
You must know this reaction (or others like it, i.e. PCl3, PCl5, oxalyl chloride) if you are going to successfully plan out syntheses of carboxylic acid derivatives.
---
Notes
Note 1. This has the effect of replacing the OH with the good leaving group (-)OSOCl, which is the conjugate base of the (unstable) molecule chlorosulfinic acid. As soon as (-)OSOCl is displaced, it almost immediately breaks down to sulfur dioxide (SO2) gas and chloride ion.
Note 2. It's very tempting to think of the S=O bond as behaving a lot like the C=O bond and undergoing similar reaction pathways like addition-elimination.
The correlation between C=O and S=O isn't that great however. As noted previously, the sulfur atom is tetrahedral, not trigonal planar; the energetic "penalty" for losing a leaving group on an sp2 hybridized atom is considerably less for the heavier, more polarizable sulfur than it is for carbon. Furthermore it the S-O "pi bond" does not have very much double bond character.  It is often written as S(+)-O(-) to reflect the highly polar nature of this bond.
So although you may see this mechanism written, it is an open question as to how well it corresponds to reality.
Note 3. One accident that occurred during my time as a TA involved a student dropping a flask with 5 mL of thionyl chloride into a rotovap bath outside the fume hood. The cloud of SO2 and HCl that formed cleared the teaching lab for half an hour, so you can imagine what thionyl chloride would do if exposed to the moisture in your lungs. Treat with caution, just as you would if you were working with phosgene.
---
Quiz Yourself!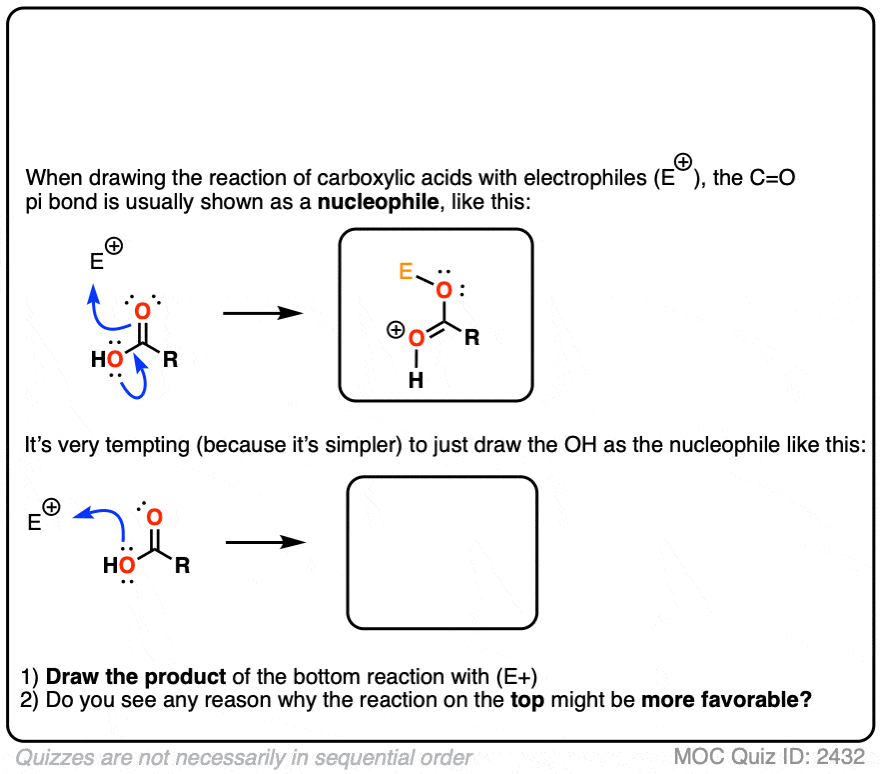 Click to Flip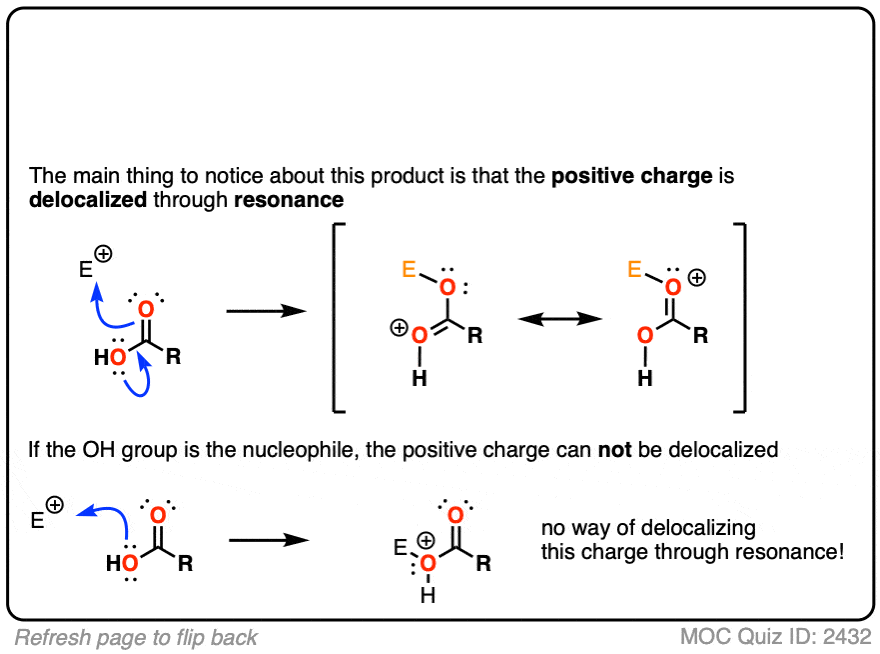 ---
(Advanced) References and Further Reading