Alcohols, Epoxides and Ethers
Cleavage Of Ethers With Acid
Last updated: November 7th, 2022 |
Acidic Cleavage of Ethers Can Proceed Through an SN2 or SN1 Mechanism, Depending On The Structure
Ethers do not undergo very many reactions.
One key reaction of ethers is that they can undergo cleavage to alcohols in the presence of strong acids, such as HI, or strong Lewis acids such as boron tribromide (BBr3) .
These reactions involve protonation of the ether oxygen, followed by either an SN1 or SN2 reaction pathway, depending on structure (ethers of primary alcohols tend to undergo cleavage via SN2, ethers of tertiary alcohols tend to undergo cleavage via SN1).
Because ethers are so unreactive to all but the most acidic conditions, they can find use as protecting groups for alcohols.
Table of Contents
---
1. All The Reactions of Ethers In One Place (har!)
I've been looking forward to today's post for a long time! We've gone through so many different ways of synthesizing ethers, and finally we get to talk about all the exciting things we get to do with them.
Here it is, the moment you've been waiting for. All the reactions of ethers in one place:

We have now covered the reactions of ethers.
Thank you for your attention.
Is that it? Yes, really: the only significant reaction of ethers you need to know…. is how to break them.
[I was just pulling your leg about the "exciting things we get to do with ethers" line.]
Does this make ethers the most boring functional group there is? Yes!!! (as long as you don't count alkanes as a "functional group").
So, you might ask – what's the point?
All I'll say for now is that there are some times when "boring is good". Ethers, as we'll learn later, can be useful as "protective groups" for masking (reactive) alcohols. But that's a later discussion. [See: Protecting Groups For Alcohols]
Right now, let's dig in to how this ether cleavage reaction works, because it actually does have its subtleties. This discussion should be pretty straightforward if you've been following along, however, because it's just going to involve the familiar mechanisms of protonation, SN1 and SN2.
2. The First Step In Acidic Cleavage Of Ethers Is Protonation Of Oxygen
Neutral ethers are generally resistant to nucleophiles in substitution reactions – that's because the leaving group would have to be RO- , which is a very strong base.
For that reason, the first step in any ether cleavage is protonation by a strong acid. Why does protonation help us? Remember that the "conjugate acid is always a better leaving group" . Protonation of the ether allows for loss of ROH as a leaving group, which is a vastly weaker base than RO- . This is going to set up our next step – cleavage of one of the C–O bonds.
The usual strong acid of choice is usually hydroiodic acid (HI). Not only is it powerful (pKa of –10), as we'll see the iodide counter-ion plays a role as well.
3. For Methyl And Primary Ethers, The Second Step Of Ether Cleavage Is SN2
After protonation, what happens next? If we start with a primary ether like diethyl ether, we will have a good leaving group (ROH) on a primary carbon in the presence of a decent nucleophile (iodide ion). Sound familiar? It should – these are ideal conditions for an SN2 reaction. And that's what happens.
The product will be ROH and R-I .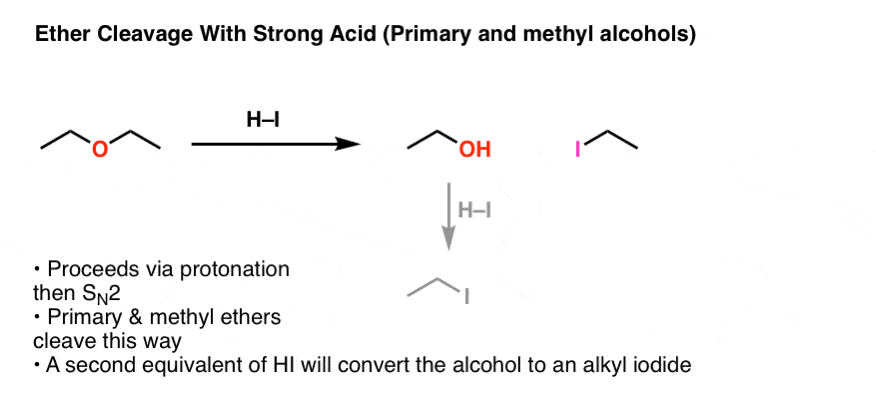 If an excess (2 equiv or more) of HI is present, that alcohol can be converted into an alkyl iodide through two subsequent steps (protonation / SN2).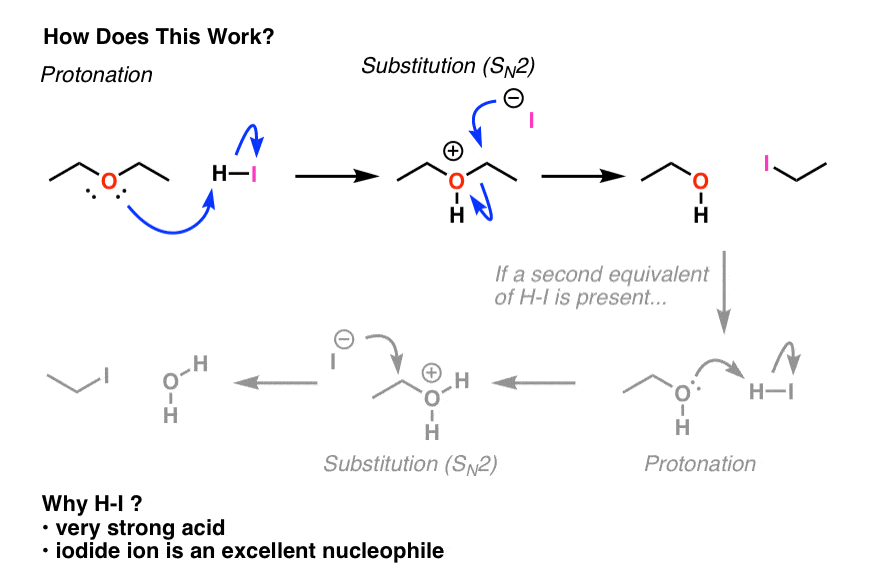 This "SN2″ pathway will be dominant for primary and methyl ethers.
4. For Tertiary Ethers, The Second Step of Ether Cleavage Is SN1
What about a symmetrical tertiary ether like di-t-butyl ether?
Clearly the SN2 is not in play here, as the tertiary carbons are much too hindered for a backside attack. However, tertiary carbocations are relatively stable – and "ionization" (i.e. loss of a leaving group) leaves us with an alcohol (R-OH) and a tertiary carbocation, which can then be attacked by iodide ion to give R-I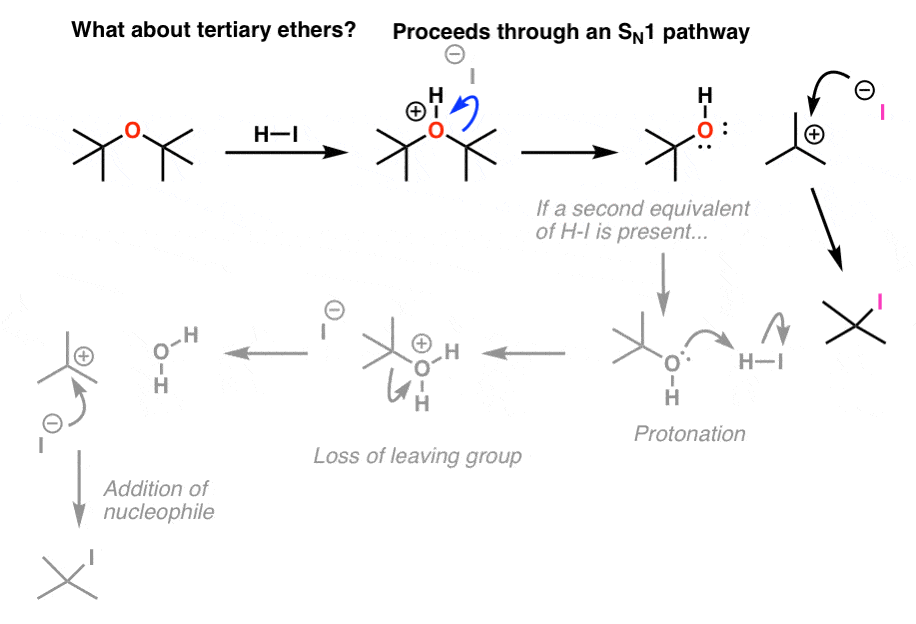 Again, if excess HI is present then that alcohol will be converted into an alkyl halide. We'll have more about that to say in a few posts actually.
5. For Secondary Ethers, The Second Step Could Proceed Through A Mixture Of Either Pathway
What about secondary ethers? I don't have a good answer. SN1 and SN2 is a continuum. You'll likely have a mixture of SN2 and SN1 pathways operating. If someone tells you they can look at an ether like di-isopropyl ether and the SN2 or SN1 pathway will be 100% dominant, that's just not true.
6. The Mechanism For The Cleavage Of Unsymmetrical Ethers Is Hard To Generalize (With One Exception!)
Just as tricky as the case of secondary ethers is the case of "mixed" ethers. What if you have two different groups attached to the oxygen ("unsymmetrical ethers"). Which way is it going to break?
For example, what about t-butyl methyl ether? When you treat it with acid, what happens first? Do you do an SN2 on the methyl group with iodide, or does it ionize to give a tertiary carbocation?
This is the type of question that is NOT easy to answer without knowing the results of experiments.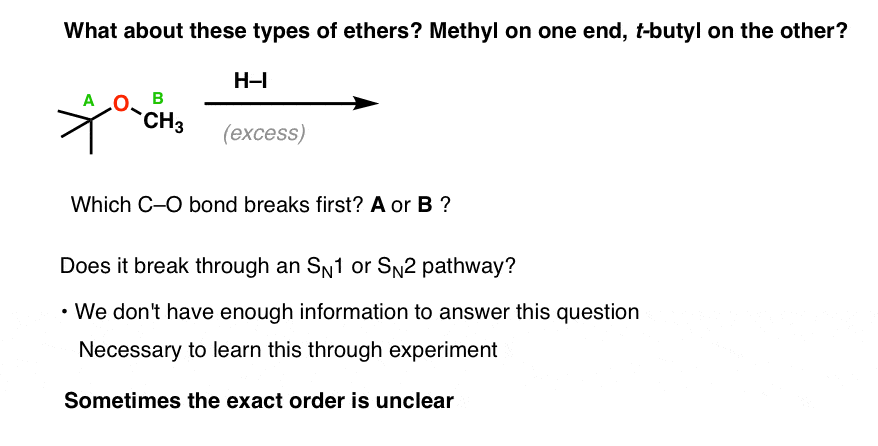 There are, however, a few cases of mixed ethers where there IS a straightforward answer.
Take this question for example. What happens? The answer is very clear and it goes 100% one way. See if you can do it.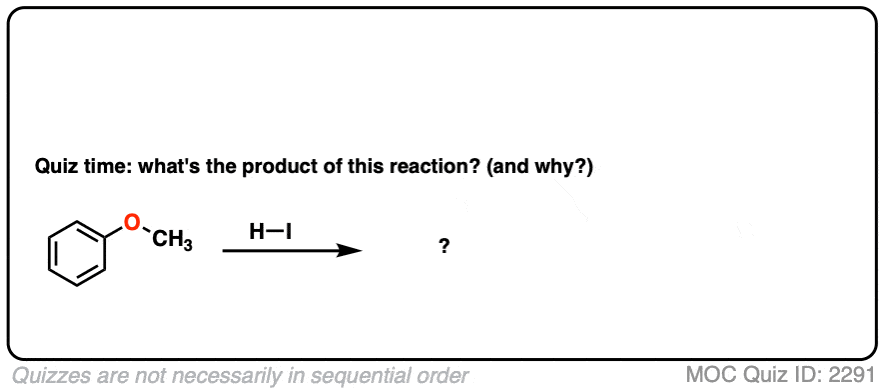 Click to Flip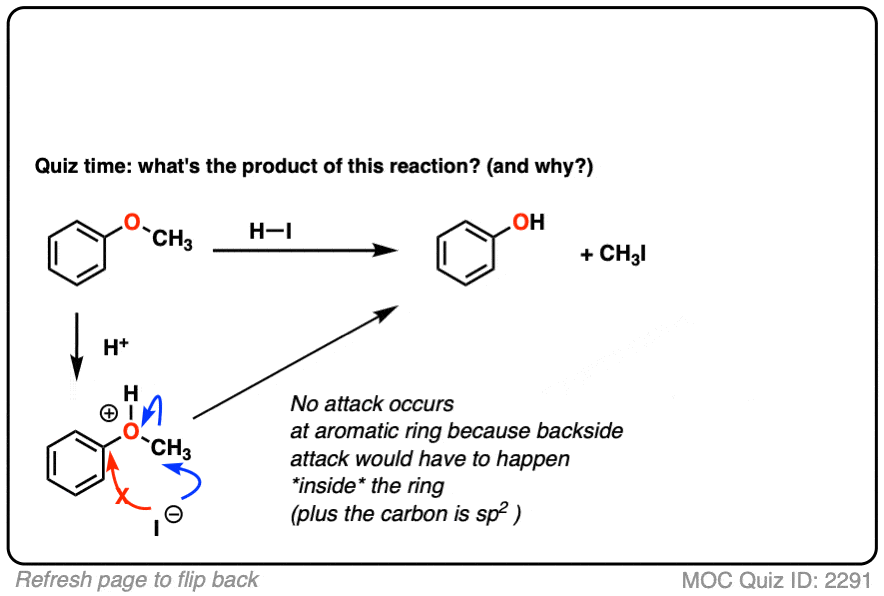 If you're curious about the answer, you'll have to leave a comment.
7. Summary: Acidic Cleavage of Ethers
OK. So ethers, as we've talked about them so far, ARE pretty boring. But (and there's always a but) – there IS a special class of ethers which is, in fact, very interesting and very reactive. If you've covered alkenes, you've seen them before – but under a different name. Can you guess what functional group I'm talking about ? Next post!
Next Post – Epoxides, The Outlier Of The Ether Family
---
Notes
---
(Advanced) References and Further Reading
Ethers are widely inert to a lot of conditions, and thus find common use as solvents (e.g. diethyl ether, THF (tetrahydrofuran), dioxane, glyme, and others). Ether cleavage generally requires strong acid and heat, which are forcing conditions. Alternatively, silane reagents can be used, which are reactive at room temperature.
A NEW METHOD FOR THE PREPARATION OF ORGANIC IODIDES
HERMAN STONE and HAROLD SHECHTER
The Journal of Organic Chemistry 1950, 15 (3), 491-495
DOI: 1021/jo01149a008
Instead of using HI, which is expensive, one can use the combination of phosphoric acid + KI for ether cleavage, which generates HI in situ.
1,4-DIIODOBUTANE
Herman Stone and Harold Shechter
Org. Synth. 1950, 30, 33
DOI: 10.15227/orgsyn.030.0033
This procedure from Organic Syntheses, a reliable source of independently tested synthetic organic laboratory procedures, demonstrates the cleavage of THF with refluxing strong acid.
The Cleavage of Ethers by Hydrogen Bromide
Robert L. Burwell and Milton E. Fuller
Journal of the American Chemical Society 1957, 79 (9), 2332-2336
DOI: 10.1021/ja01566a085
Classic paper on the cleavage of ethers with HBr.Below are a variety of papers using silane-based reagents for ether cleavage. The Nobel Laureate late Prof. George Olah did a lot of work in this area in the middle of his career.
Cleavage of Esters and Ethers with Iodotrimethylsilane
Tse‐Lok Ho Prof. Dr. George A. Olah
Angew. Chem. Int. Ed. 1976, 15 (12), 774-775
DOI: 10.1002/anie.197607741
Synthetic methods and reactions. 62. Transformations with chlorotrimethylsilane/sodium iodide, a convenient in situ iodotrimethylsilane reagent
George A. Olah, Subhash C. Narang, B. G. Balaram Gupta, and Ripudaman Malhotra
The Journal of Organic Chemistry 1979, 44 (8), 1247-1251
DOI: 10.1021/jo01322a012
Trichloro(methyl)silane/Sodium Iodide, A New Regioselective Reagent for the Cleavage of Ethers
George A. Olah, Altaf Husain, B. G. Balaram Gupta, Subhash C. Narang
Angew Chem. Int. Ed. 1981, 20 (8), 690-691
DOI: 10.1002/anie.198106901
Silane/iodine-based cleavage of esters and ethers under neutral conditions
Ho, T-L., Olah, G. A.
Proc. Natl. Acad. Sci. USA. 1978 Jan; 75 (1):4-6.
DOI: 10.1073/pnas.75.1.4
Synthetic Methods and Reactions; 32: Mild and Effective Cleavage of Esters and Ethers with Phenyltrimethylsilane/Iodine Reagent
G. A., Ho, T-L.
Synthesis 1977, 417
DOI: 10.1055/s-1977-24423
Mild cleavage of methoxymethyl (MOM) ethers with trimethylsilyl bromide
Stephen Hanessian, Daniel Delorme, Yves Dufresne
Tetrahedron Lett. 1984, 25 (24), 2515-2518
DOI: 10.1016/S0040-4039(01)81219-3
MOM ethers are commonly used as protecting groups for -OH in organic synthesis, and so strategies for selective deprotection of MOM ethers under mild cleavage are invaluable.
Synthetic Methods and Reactions; 951. Ceric Ammonium Nitrate-Catalyzed Oxidative Cleavage of Alkyl and Silyl Ethers with Sodium Bromate
George A. Olah, B. G. Balaram Gupta, Alexander P. Fung
Synthesis 1980; 1980 (11): 897-898
DOI: 10.1055/s-1980-29258
This does not use silane reagents, but is still an interesting reagent for ether cleavage.