Carboxylic Acid Derivatives
Diazomethane (CH2N2)
Last updated: May 25th, 2023 |
Reactions Of Diazomethane (CH2N2) And Their Mechanisms
Diazomethane is a useful (albeit highly toxic and potentially explosive) reagent for the conversion of carboxylic acids to methyl esters.
It can also be used for the one-carbon extension ("homologation") of carboxylic acids via the Arndt-Eistert synthesis.
The excellent leaving group (N2) makes it a potential source of carbenes, which can be used for cyclopropanation of alkenes.
Diazomethane (CH2N2) is the simplest diazo compound. A gas at room temperature (boiling point -23°C) it is generally prepared and used as a dilute solution with specialized equipment (such as flame-polished joints) that minimizes the chance of explosion. A related (and safer) reagent, trimethylsilyldiazomethane (TMSCHN2) is increasingly used in place of diazomethane.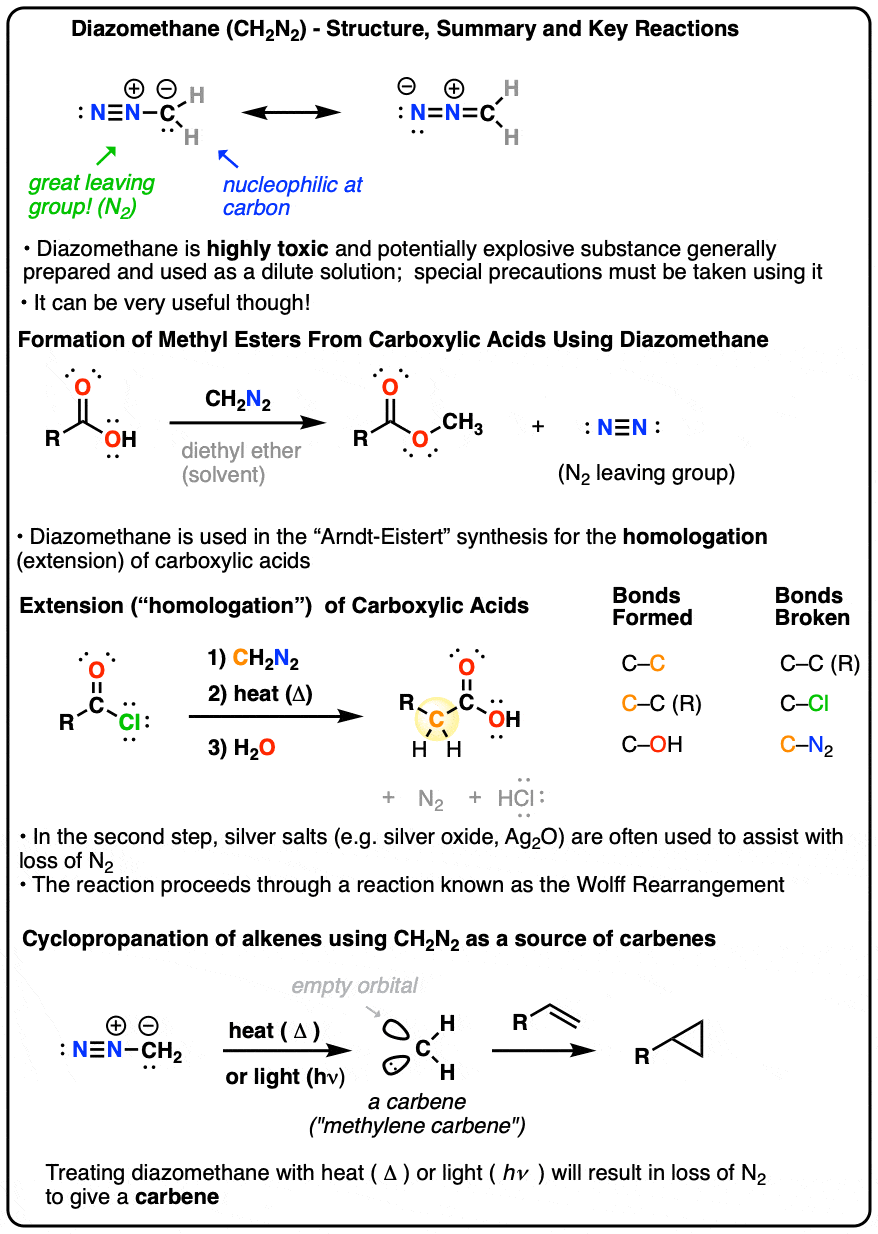 Table of Contents
---
1. The Lewis Structure of Diazomethane (CH2N2)
Diazomethane is the simplest diazo compound, consisting of a methylene carbon (CH2) bonded to dinitrogen (N2 ).
Just for fun, before we go any further, see if you can draw a proper Lewis structure for diazomethane, CH2N2.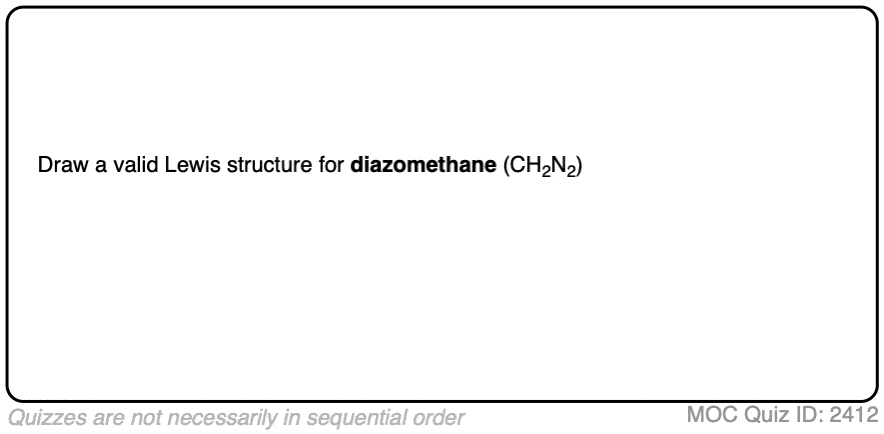 Click to Flip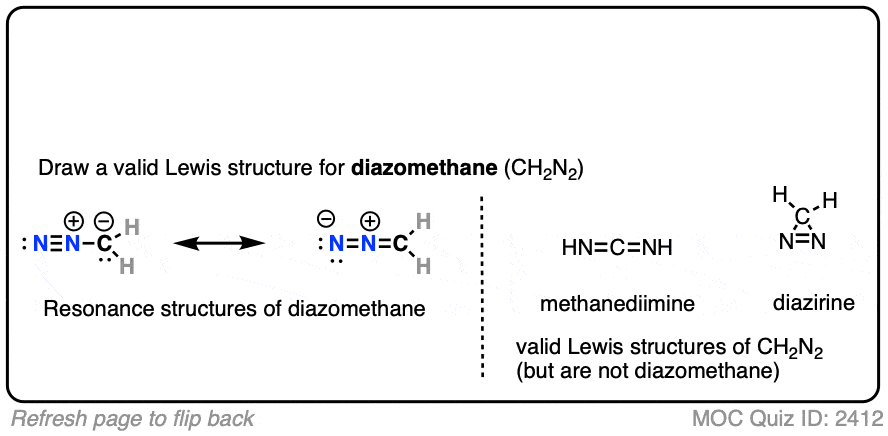 Note the two important resonance forms of diazomethane. The key resonance form for our purposes is the one on the left (on the flip side of the quiz), where carbon bears a lone pair and a negative formal charge. The other two compounds shown on the right are also valid Lewis structures for CH2N2 but are not diazomethane. [Note 1]
This provides an important clue to the potential reactivity of diazomethane; it is nucleophilic on carbon, and is also a reasonably good base. (The pKa of its conjugate acid is about 10, similar to that of NH4(+), so diazomethane is about as basic as NH3. )
The other clue to the chemical behavior of diazomethane is found in that nitrogen-nitrogen triple bond, which is the ultimate reason why diazomethane is the source of so many laboratory horror stories.
(For an example, see this article: Diazomethane – How Not To Do It)
Good leaving groups are weak bases – and dinitrogen (N2) is one of the weakest bases of all. As you might well be aware, every nitrogen atoms' goal in life is to regain the freedom it once had as a molecule of dinitrogen (N2) in the earth's atmosphere – and in diazomethane, this can be attained merely through breaking of a single carbon-nitrogen bond.
This makes diazomethane very frisky, and highly unstable towards things we would ordinarily classify as innocuous, like ground-glass joints and metal syringe tips.
Furthermore, if jostled, shocked, heated, or even treated with strong enough ultraviolet light, diazomethane will rapidly and violently give off nitrogen gas.
For these reasons [and also that it is a yellow gas at room temperature (boiling point –23 °C)] it is generally prepared and handled as a dilute solution in a solvent such as ether using special equipment (i.e. flame-polished pipettes, and no ground glass joints). [Note 2]
And oh, by the way, it is also extremely toxic. (See Note 3 for some details on handling diazomethane).
So why bother using it at all?  (Because it's the best!  Note 4 )
2. Conversion of Carboxylic Acids To Methyl Esters With Diazomethane
Well, carboxylic acids can be made into methyl esters by treating them with the reagent diazomethane, CH2N2.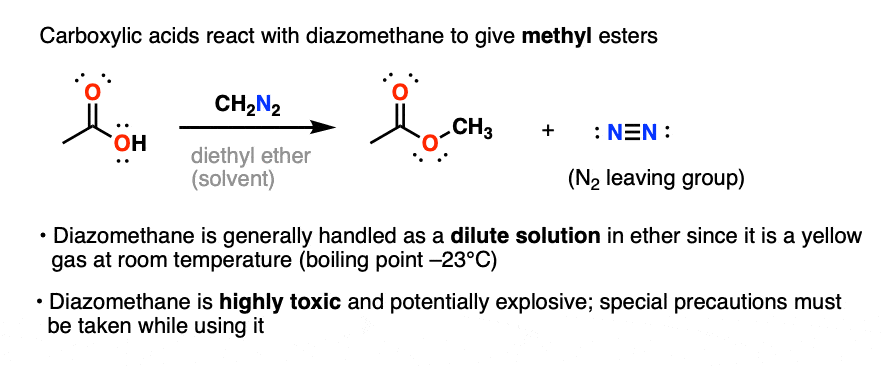 This is a very mild way of converting carboxylic acids into esters. Due to the aforementioned toxicity and explosive hazards of diazomethane, it's usually done on small scale.
An alternative (and much safer) reagent, trimethylsilyldiazomethane (TMSCHN2) is increasingly used in place of CH2N2. (Note 5)
3. Carboxylic Acids To Methyl Esters With Diazomethane – Mechanism
The conversion of carboxylic acids to methyl esters is a two-step process.
In the first step, diazomethane, a weak base, is protonated on carbon to give H3C-N2(+). This is an example of a diazonium compound, which you may have encountered if you've covered the Sandmeyer and related reactions.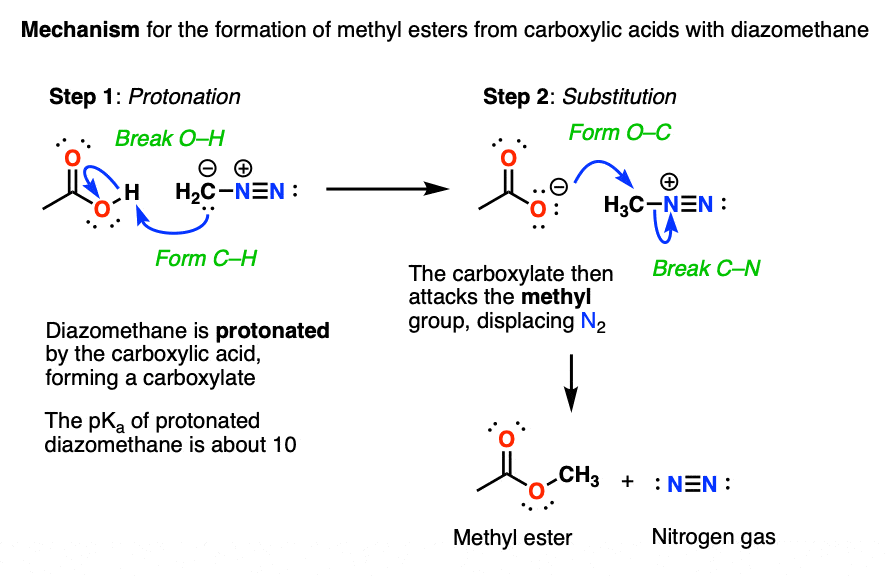 Like most diazonium compounds, CH3-N2(+) doesn't stick around for long. It quickly recombines with the resulting carboxylate anion in an SN2 reaction to give the methyl ester and liberates the molecule of N2 to join its brethren in the atmosphere.
Interestingly, while diazomethane reacts readily with carboxylic acids, it does not undergo reactions with alkyl alcohols such as ethanol and propanol.
Can you figure out why? (Hint: the pKa of H3C-N2(+) is about 10). (Note 6)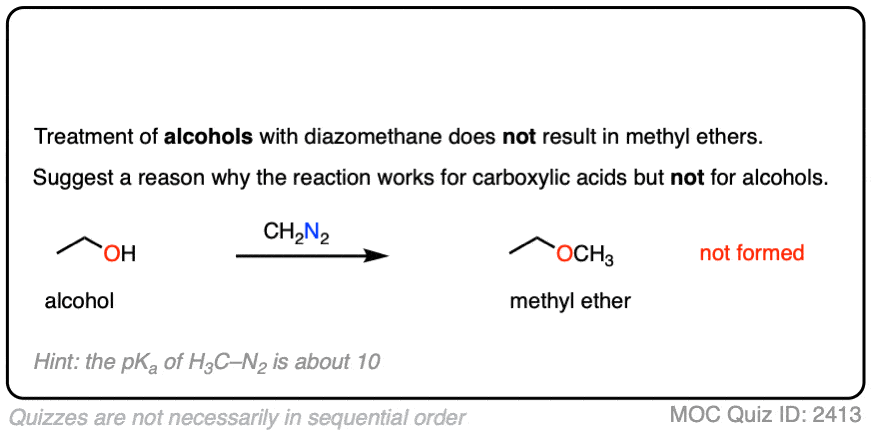 Click to Flip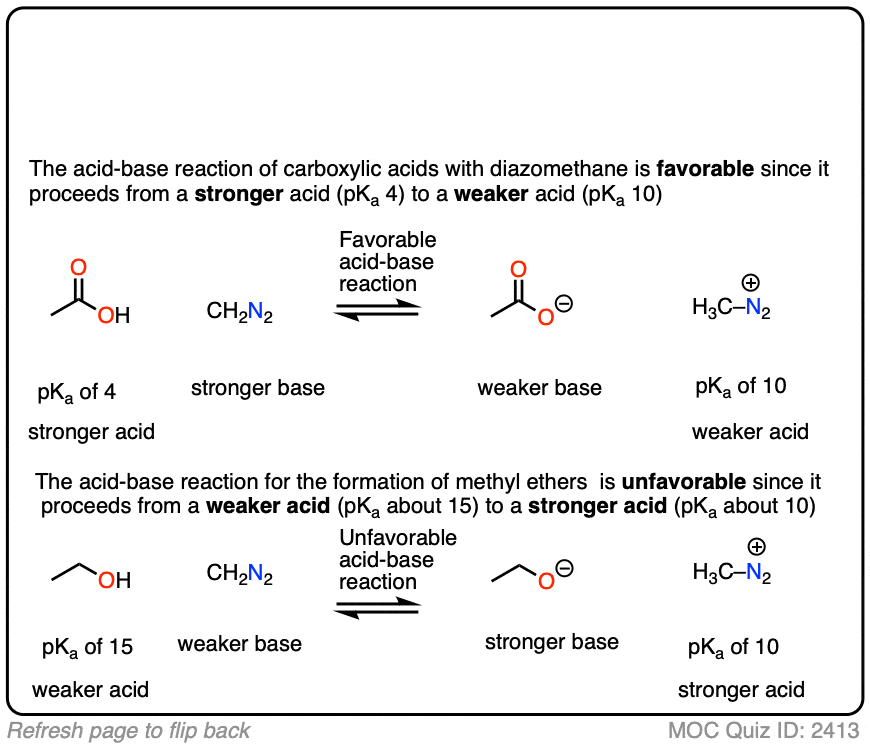 4. "Homologation" Of Carboxylic Acids With Diazomethane Using the "Arndt-Eistert Synthesis"
Diazomethane is also used for a process called the homologation of carboxylic acids, which is a fancy term for "making them one carbon longer".
In this way, one could start with, say, acetic acid (CH3COOH) and convert it to propanoic acid (CH3CH2COOH).
A handy trick!  (if you enjoy the smell of vomit – but I digress)
The source of the "extra" carbon is the CH2 of diazomethane. This process was developed about a hundred years ago and is often referred to the Arndt-Eistert synthesis.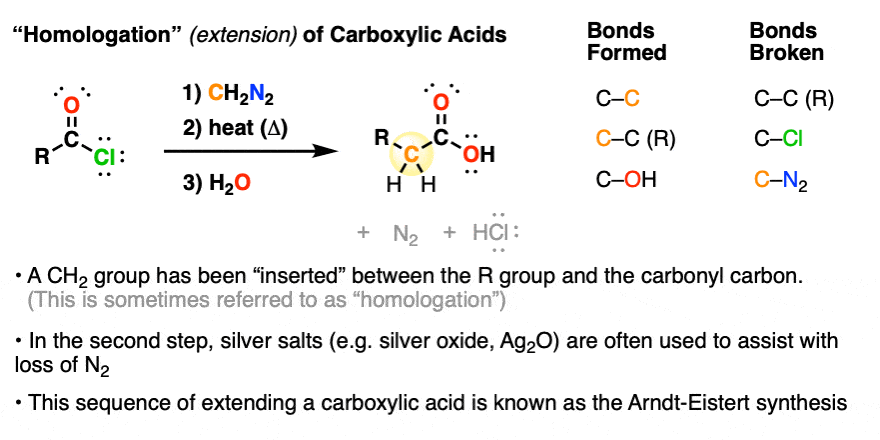 The process starts with an acid chloride (which can be made from the carboxylic acid through treatment with thionyl chloride, oxalyl chloride, PCl5 or similar reagents). (See article: Thionyl Chloride)
Then, diazomethane is added (usually at least two equivalents, although modern procedures require just one).
Heating (or more commonly, addition of a silver salt such as Ag2O) results in loss of nitrogen gas accompanied by a skeletal rearrangement known as the Wolff Rearrangement, giving an intermediate product known as a ketene.
Addition of water to the ketene gives the carboxylic acid.
5. Mechanism of the Arndt-Eistert Synthesis (and Wolff Rearrangement)
There are three main phases in the Arndt-Eistert synthesis.
The first is reaction of diazomethane with the acid halide to give a new species known as a diazoketone.
Acid halides readily undergo nucleophilic acyl substitution to give various carboxylic acid deriviates. (See article: Nucleophilic Acyl Substitution)
Diazomethane is a reasonably good nucleophile due to the presence of the lone pair on carbon.
So the first two steps are a relatively straightforward addition-elimination process that give a new diazonium compound.
We're not quite done.
Being adjacent to the carbonyl (and to N2) the alpha carbon is reasonably acidic and can be deprotonated by excess diazomethane (or an external base such as calcium oxide, see here) to give an enolate.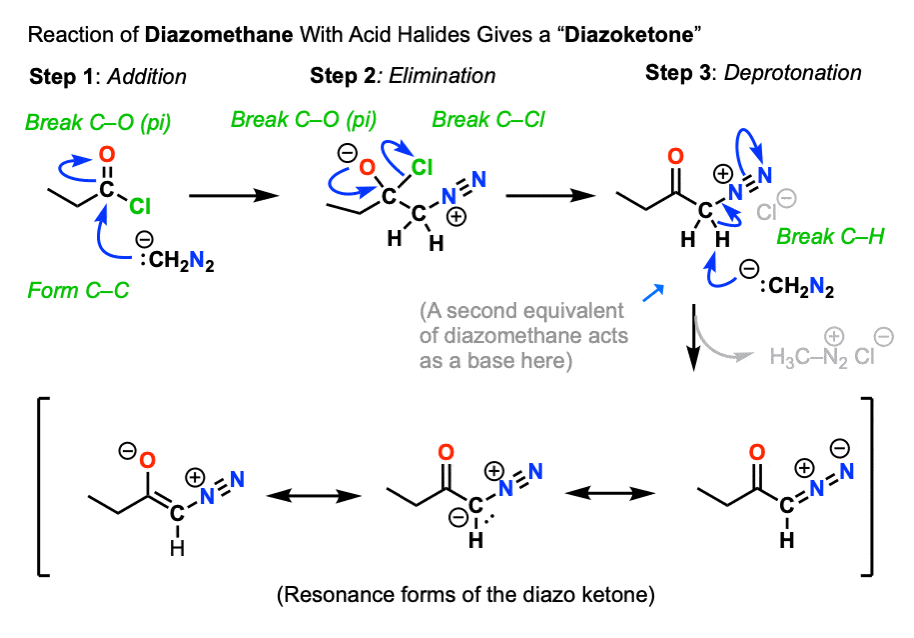 The enolate is just one of three main resonance forms of this molecule, which is often referred to as a "diazoketone".
Keep an eye on that "enolate" resonance form (far left), however.
The next step is where things get a little weird.
If you start by drawing that resonance form on the far left, you can imagine a process where
the C-O pi bond forms, while
the C-C bond breaks, and migrates to the adjacent carbon (similar to 1,2-hydride and 1,2-alkyl shifts), and
the C-N bond breaks, liberating N2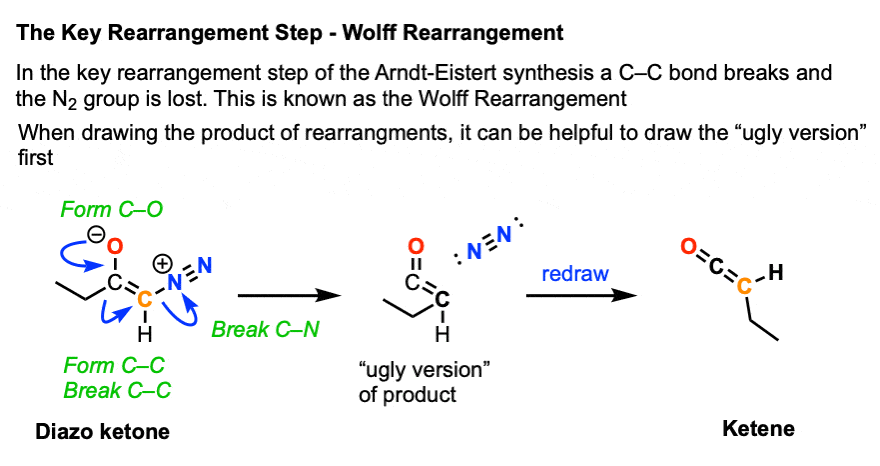 (This rearrangement bears a lot of similarities to the Curtius and Hofmann rearrangements – see article)
It can be helpful to draw an ugly looking version of this product first to get the connectivity right.
The product of this reaction is known as a ketene, which is something of an exotic species for introductory organic chemistry.
Ketenes are excellent electrophiles. The C=O carbon of ketenes undergo reactions with various nucleophiles to give carboxylic acid derivatives.
They will even react with weak nucleophiles like water, giving a carboxylic acid.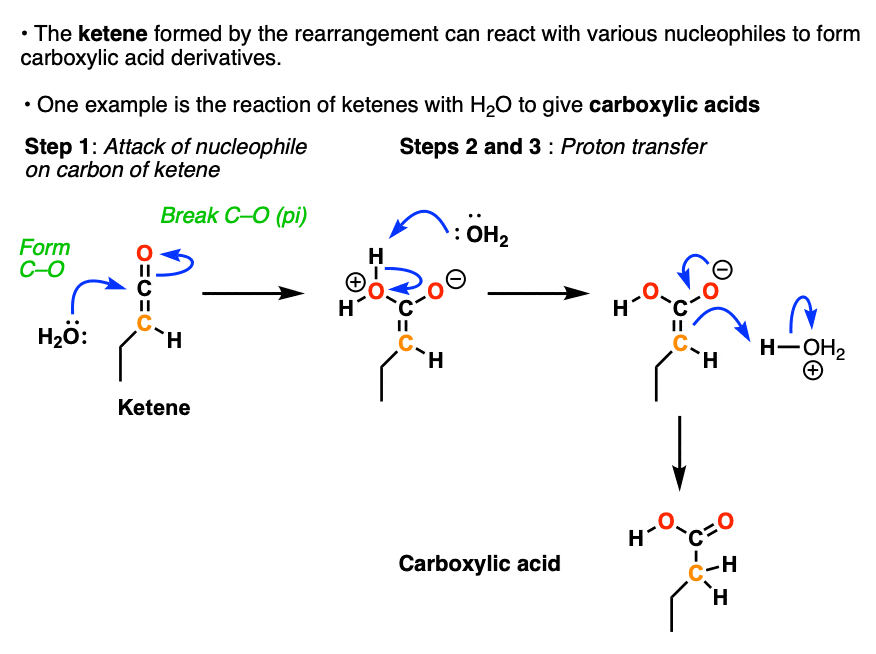 Ketenes will similarly react with alcohols to give esters and amines to give amides.
6. Cyclopropanation with Diazomethane
One final application of diazomethane in introductory organic chemistry is as a source of carbenes.
Carbenes are divalent carbon atoms (i.e. bonded to two atoms) and possess two non-bonded electrons. Like carbocations, they have six valence electrons and are electron-deficient species.
When heated, treated with light, or even in the presence of certain metals, diazomethane will lose N2 to give "methylene carbene", :CH2

In the presence of alkenes, carbenes will form cyclopropanes.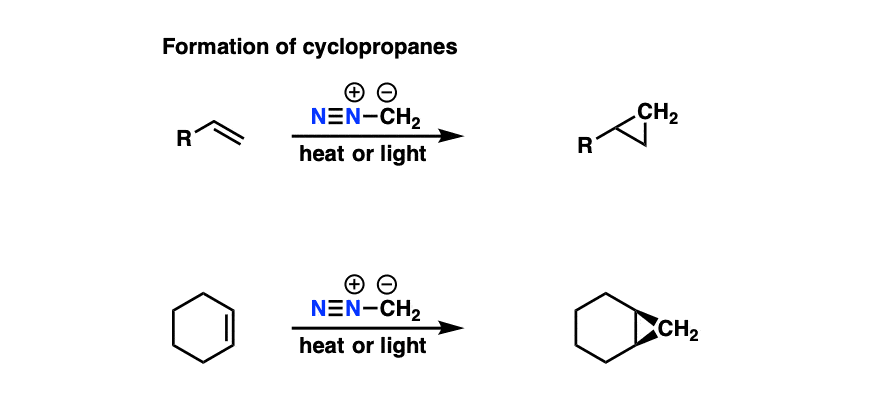 Rather than heat or light (which can be unselective), palladium and copper catalysts are often used for these reactions. (For a representative example see here. )
7. Summary
Diazomethane has its uses. In introductory organic chemistry, these are primarily:
Formation of methyl esters from carboxylic acids
In the formation of diazo ketones, and subsequent Wolff rearrangement
Cyclopropanation
It is, to say the least, highly unlikely that an undergraduate laboratory will be using diazomethane for any reason, as it is extremely toxic and potentially explosive. In the event that you are in the position of having to carry out a procedure with CH2N2, it should be done with the utmost care and only with proper training and equipment.
---
Notes
Note 1. The two other compounds are valid Lewis structures but are not diazomethane.
HN=C=NH is the simplest example of a carbodiimide, the most prominent example of which is dicyclohexylcyclodiimide (DCC).
The cyclic molecule is called diazirine. Like diazomethane, it can also lose N2 to give methylene carbene. Although it looks extremely unstable, it has been synthesized – see here (J. Am. Chem. Soc. 1962, 84, 1063).
Note 2. A common precursor for preparing diazomethane is through the basic decomposition of p-tolylsulfonylmethylnitrosamide, which is sold by Aldrich under the trade name, DIAZALD®. They also sell special kits for the preparation of diazomethane that have flame-polished glass joints. A representative procedure for making diazomethane is here.
Note 3: Tips on working with diazomethane.  Man, there are so many. Here's one: don't ever, ever work with diazomethane unless you have been trained by someone who has worked with it themselves. Although generally never used neat (it boils at –23 °C) and typically handled as a dilute solution in ether, diazomethane has a nasty tendency to explode when in the presence of high-surface-area materials (such as ground-glass joints, or, God forbid,  metal syringes).  If dispensing with a pipet, it's crucial to flame-polish the edges for safety. Work behind a blast shield.
This article has useful tips on safe handling of diazomethane.
Furthermore, diazomethane is acutely toxic: people have died from inhaling it. And if it doesn't kill you in the short term, there's always the long term. See, diazomethane, being an alkylating agent, has a tendency to react with (i.e. alkylate) your DNA, leading to base-pair mismatches, mutations, and – eventually – cancer.
Check out the amount of red ink  on this preparation from Organic Syntheses. That should tell you a lot.
Note 4: Why bother using diazomethane at all?  Because it's the best. The formation of methyl esters from the reaction of carboxylic acids with diazomethane is one of my favorite reactions. You make a solution of your carboxylic acid in ether,  dispense the bright yellow diazomethane solution by pipet – slowly – until the yellow color persists, wait about 5 minutes to be sure that all the N2 has bubbled off, kill the excess diazomethane with a few drops of acetic acid, and concentrate. No column required. Easiest reaction ever.
Note 5. What about using, say, diazoethane to make ethyl esters, or diazopropane to make propyl esters? It can be done – see here – the problem is getting a good yield of the diazoalkanes (30% is typical for older procedures). One more recent paper has better yields. (See reference 10)
Note 6. The reaction works better with more acidic alcohols like phenols (pKa 10). The reaction can be made to work with alkyl alcohols if a Lewis acid like BF3 is added.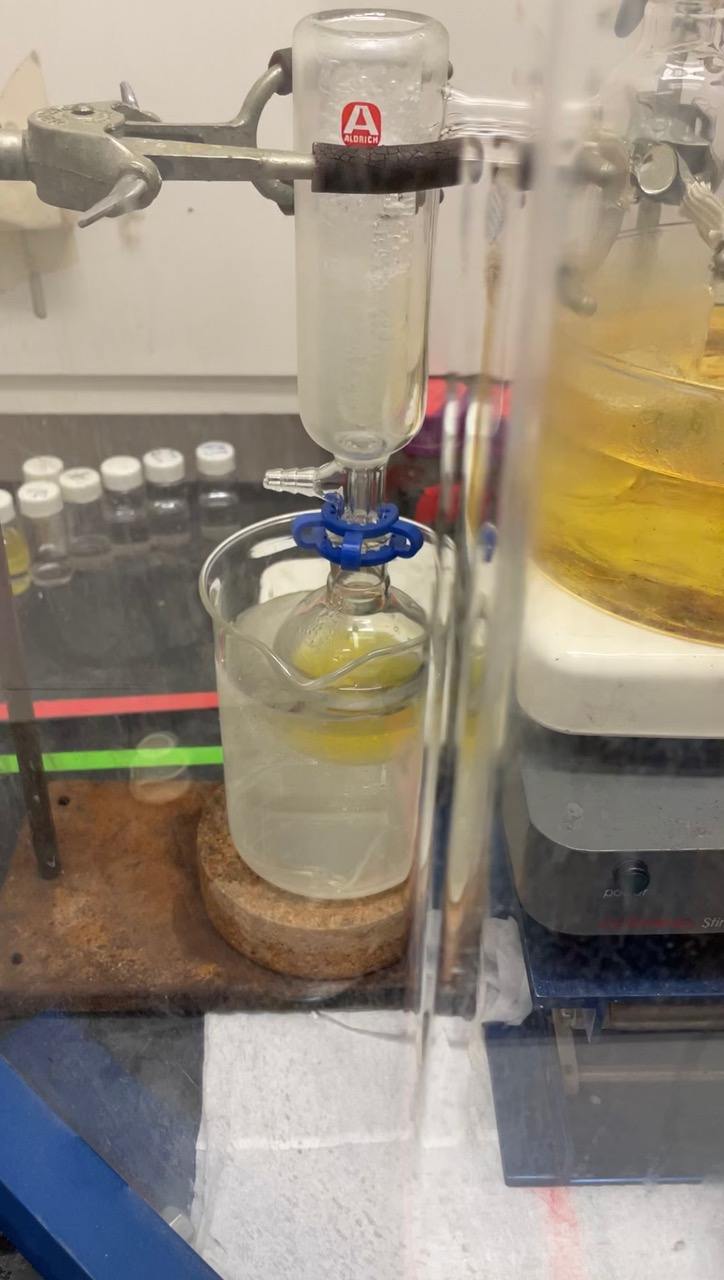 ---
Quiz Yourself!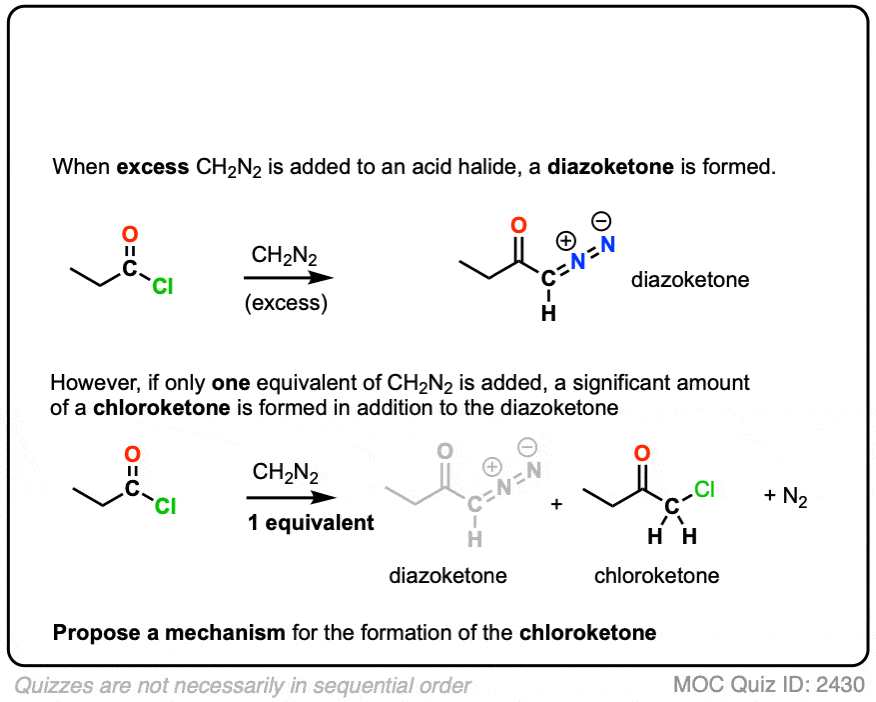 Click to Flip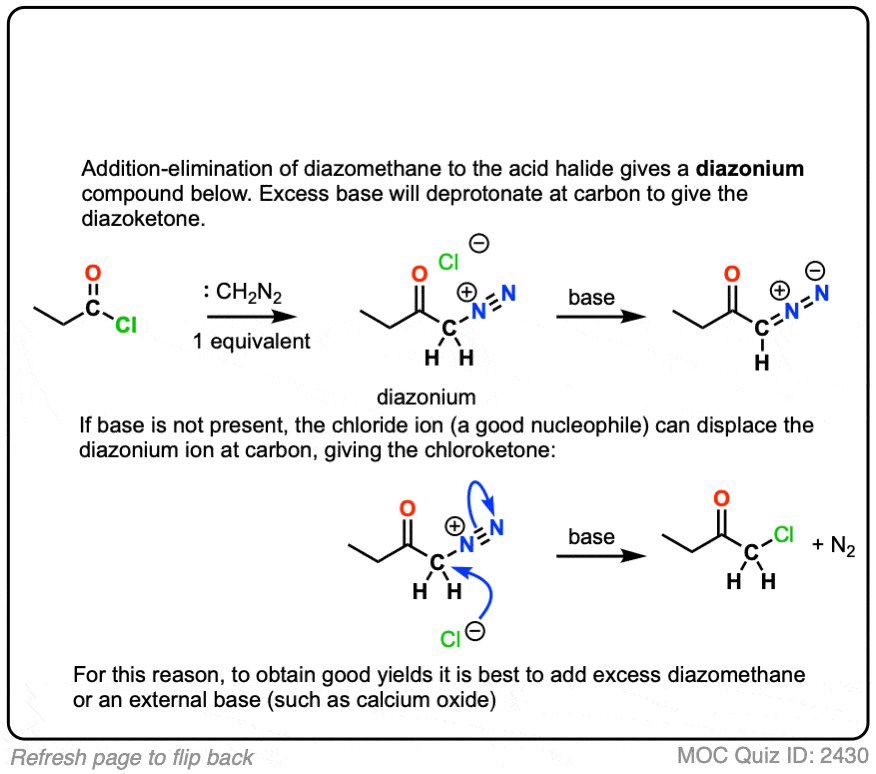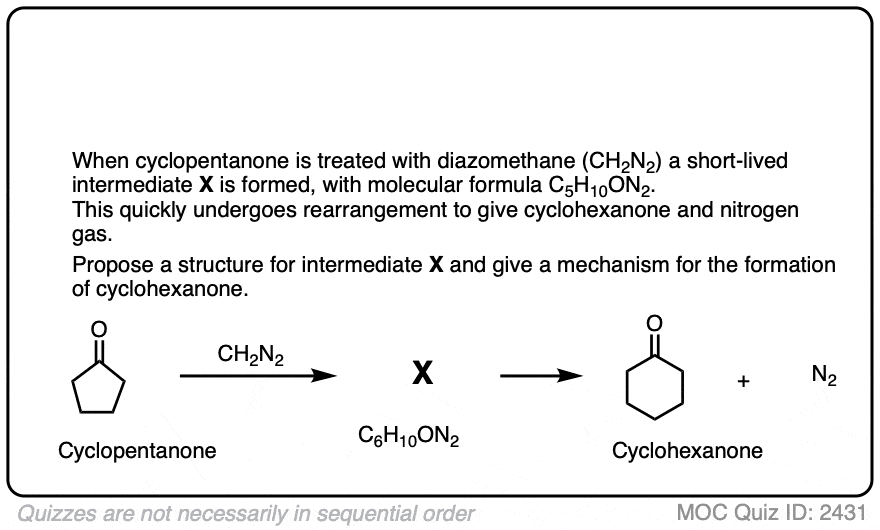 Click to Flip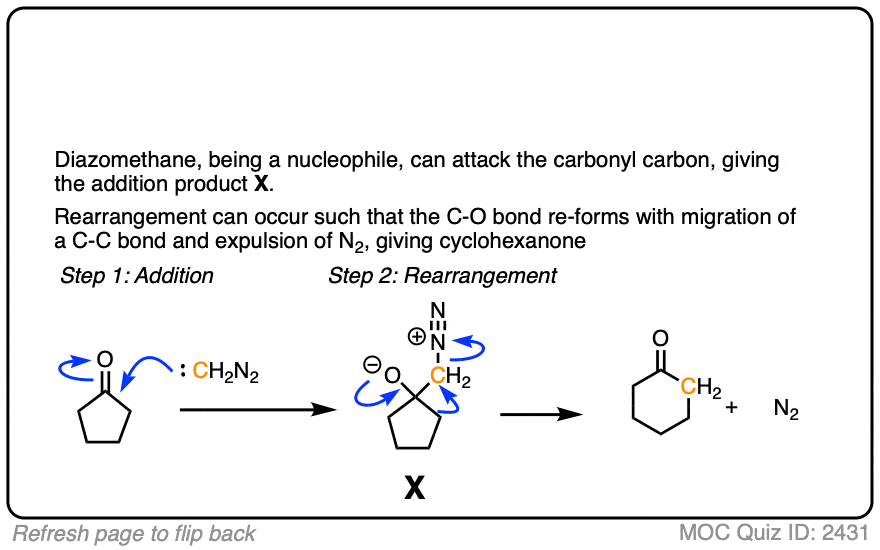 (Advanced) References and Further Reading
For some riveting, mouth-agape horror stories of diazomethane in the lab, check out this thread from In the Pipeline : Diazomethane: How Not To Do It.
Diazomethane is a reagent commonly used in organic chemistry for a variety of transformations. It is too reactive to be sold as a pure compound; it is generated from precursors in solution and used immediately.