Home / Common Mistakes with Carbonyls: Carboxylic Acids… Are Acids!
Organic Chemistry Study Tips
Common Mistakes with Carbonyls: Carboxylic Acids… Are Acids!
Last updated: October 31st, 2022 |
Carboxylic acids… are acids.
I know that seems obvious. But it's a near certainty that students taking Org 2 for the first time will forget this occasionally.
Here are two common mistakes that I see *all the time*.
1) Reactions of Grignard reagents with carboxylic acids.
Grignard reagents (with the general structure RMgBr) are great nucleophiles. They add to ketones, aldehydes, esters (twice), acid halides (twice), epoxides, and a number of other carbonyl-containing compounds.
For students getting their feet wet with carbonyl chemistry, it can be tempting to also draw Grignard reagents adding to carboxylic acids.
They don't.
That's because carboxylic acids are… acids, and Grignard reagents are very strong bases. So instead of adding to the carbonyl  carbon, the Grignard is simply protonated first. And the resulting conjugate base of the carboxylic acid (a carboxylate) is too unreactive to react further.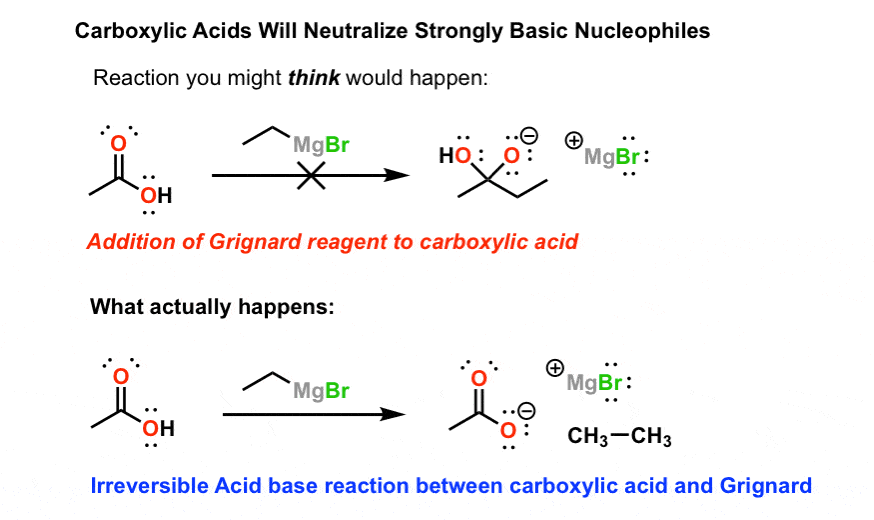 2) Reaction with alkoxides (deprotonated alcohols)
Carboxylic acid derivatives like esters, anhydrides, and acid halides react well with good nucleophiles like HO- and RO- . The pattern becomes familiar quite quickly: 1,2 addition, followed by 1,2 elimination. Seeing this pattern, students get lulled into a false sense of security that carboxylic acids will react this way as well.
They don't – for the same reasons that Grignard reagents don't. Carboxylic acids are acids. They protonate strong bases (such as alkoxides) and leave behind the carboxylate, which – again – is unreactive.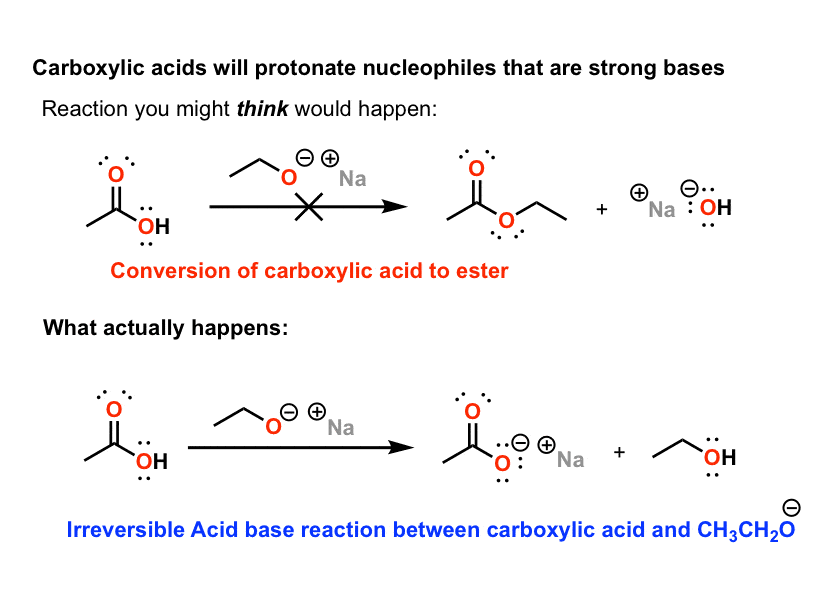 It seems silly to repeat this a third time, but it happens *all the time*. You might not think you will do this. Chances are, at some point, you will. It's an easy mistake to make. So let's say it one last time:
Carboxylic acids…. are acids!
———-
Note below: It's a pretty good rule of thumb to assume that acid-base reactions will happen faster than reactions that involve nucleophilic attack, such as addition to carbonyls. If you're keen, there's a name for this: the principle of least motion.  That's why we see protonation of the Grignard reagent before it has time to add to the carbonyl carbon.