Home / Di-isobutyl Aluminum Hydride (DIBAL) For The Partial Reduction of Esters and Nitriles
Carboxylic Acid Derivatives
Di-isobutyl Aluminum Hydride (DIBAL) For The Partial Reduction of Esters and Nitriles
Last updated: November 2nd, 2022 |
DIBAL (Di-isobutyl Aluminum Hydride) – A Bulky Reducing Agent For The Partial Reduction Of Esters and Nitriles
DIBAL (also known as DIBAL-H or DIBAH) is a strong, bulky reducing agent.
It's most useful for the reduction of esters to aldehydes.
Unlike lithium aluminum hydride, it will not reduce the aldehyde further provided that only one equivalent is added and the reaction mixture is kept cold.
It will also reduce other carbonyl compounds such as amides, aldehydes, ketones, and nitriles.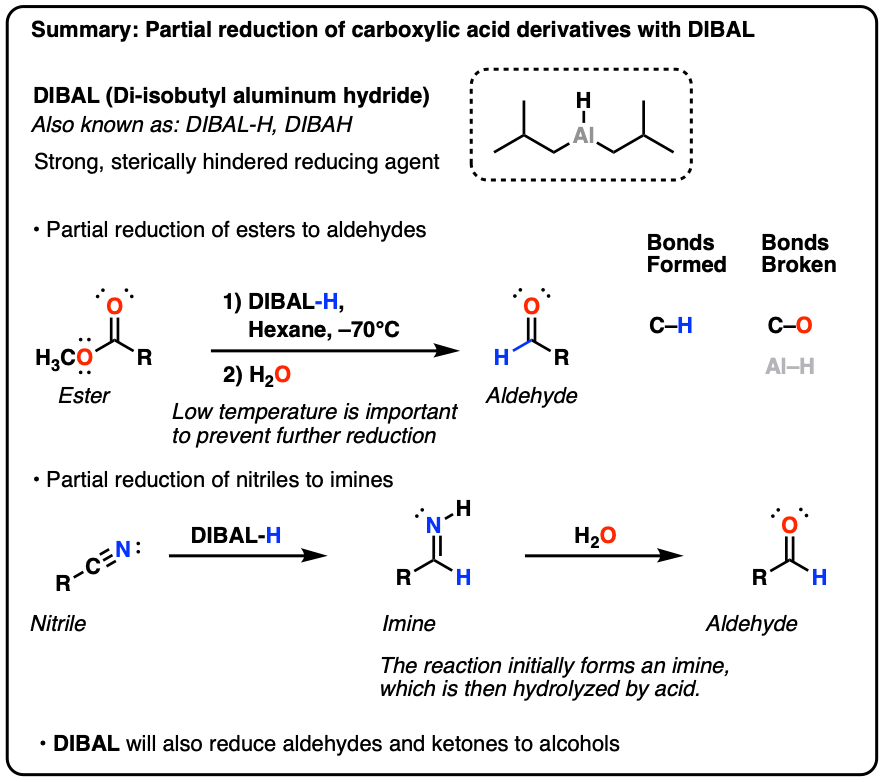 Table of Contents
---
1. Structure of Di-isobutyl Aluminum Hydride (DIBAL)
DIBAL is a strong, bulky reducing agent. Reactivity-wise, it bears a lot of similarity to lithium aluminum hydride.
Unlike LiAlH4 which can (in theory) deliver four equivalents of hydride, DIBAL bears only a single Al-H bond.

This makes the stoichiometry of its reactions much easier to control.
2. Reduction Of Esters To Aldehydes With DIBAL
The most notable reaction of DIBAL is the reduction of esters to aldehydes. Unlike lithium aluminum hydride (LiAlH4), which reduces esters to primary alcohols, reductions with DIBAL can stop at the aldehyde stage if the temperature is kept very low.

The advantage of DIBAL here is that it is more efficient. If we use LiAlH4, we obtain a primary alcohol, which we would then have to oxidize up to the aldehyde using a reagent such as PCC, Dess-Martin periodinane, or the Swern oxidation. (See post: Alcohol Oxidation)
3. Reduction Of Esters To Aldehydes By Di-Isobutyl Aluminum Hydride: Mechanism
The mechanism for reduction of esters to aldehydes with DIBAL is roughly similar to the familiar addition-elimination mechanism of nucleophilic acyl substitution, with a slightly modified first step. (See post: Nucleophilic Acyl Substitution)
DIBAL-H is neutral, and aluminum, being in the same column of the periodic table as boron, has an empty p-orbital. This makes it a Lewis acid.
The carbonyl oxygen of esters is a Lewis base. So the first step is coordination of the Lewis basic carbonyl oxygen to the Lewis acidic aluminum, to give a species with a negative formal charge on aluminum.
Then comes nucleophilic addition of a hydride (H-) to the carbonyl carbon alongside breakage of the C-O pi bond (form C-H, break C-O pi). (See post: Nucleophilic Addition to Carbonyls)
This forms a new tetrahedral intermediate which is essentially a hemiacetal coordinated to aluminum. (See post: Acetals and Hemiacetals)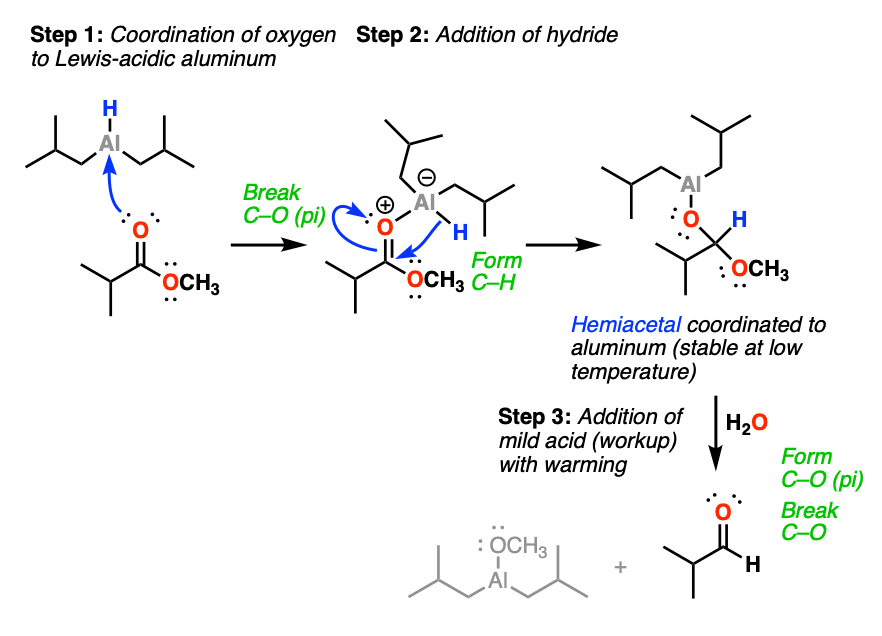 If the temperature is kept low (the convenient dry ice-acetone bath of –78°C is often quoted) , a reaction quenched with acid at this stage will give a neutral hemiacetal which quickly loses ROH to give an aldehyde.
(Note:  getting the reaction to stop at the aldehyde stage looks great on paper but can sometimes be difficult to achieve in practice)
4. Reduction Of Nitriles To Imines With DIBAL (And Subsequent Hydrolysis To Aldehydes)
DIBAL will also do partial reductions of nitriles to imines. The imines are then hydrolyzed to aldehydes upon addition of water. (See post: Imines – Properties, Formation and Mechanisms) In this respect DIBAL again differs from LiAlH4, which will reduce nitriles all the way to primary amines.

5. Reduction Of Nitriles To Imines: Mechanism
Reduction of nitriles follows a similar mechanism to that for the reduction of esters. Coordination of the Lewis-basic nitrile nitrogen to aluminum is followed by delivery of hydride to the nitrile carbon (form C-H, break C-N (pi) ). This is another example of an addition mechanism.
From this point, quenching the reaction with water results in protonation of the nitrogen and then hydrolysis of the imine to give an aldehyde.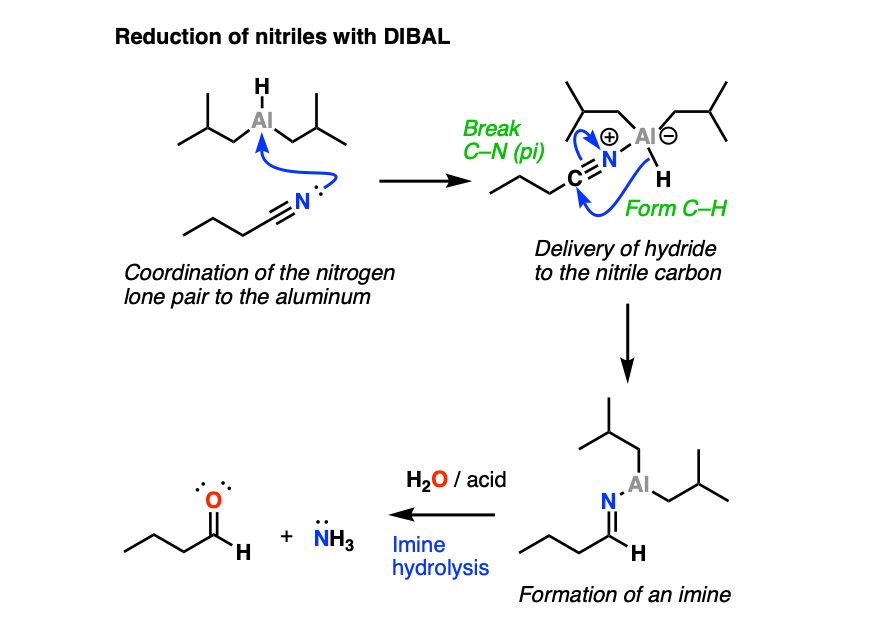 6. Reduction Of Ketones And Aldehydes To Alcohols With Di-IsobutylAluminum Hydride (DIBAL)
Although not often used this way, it's worth noting that DIBAL can do all the reductions that NaBH4 does, so ketones and aldehydes are reduced to secondary and primary alcohols, respectively.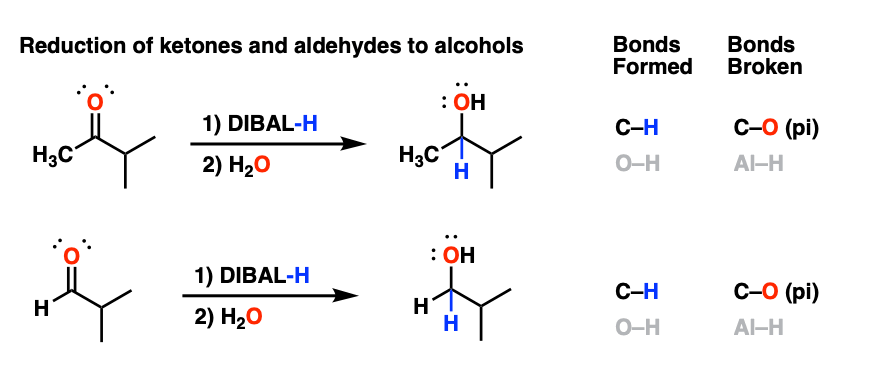 What this means is that DIBAL will not selectively reduce an ester in the presence of an unprotected aldehyde or ketone – those groups will get reduced too.
7. Summary: DIBAL
DIBAL is a useful reagent for the partial reduction of carboxylic acid derivatives. A successful DIBAL reduction of an ester to an aldehyde will save an extra step relative to LiAlH4 followed by oxidation.
Likewise, DIBAL reduction of nitriles gives us a route to aldehydes (after hydrolysis) that is not available through reduction with LiAlH4, which completely reduces nitriles to amines.
---
Notes
Note 1. What about other functional groups?
From this article  (abstract is freely available):
Alcohols and thiols react with the hydride to give H2 and their corresponding conjugate bases
Conjugated aldehydes and ketones reduce at C=O to give the allylic alcohols
Carboxylic acids liberate H2 to give the carboxylates
Alkyl halides are inert.
Epoxides are reduced primarily at the less hindered position to give alcohols
Tertiary amides are reduced to amines, but primary amides only reduce slowly.
Note 2. You can read about the chemistry of DIBAL and more than 80 other reagents in undergraduate organic chemistry in the "Organic Chemistry Reagent Guide", available here as a downloadable PDF.
---
Quiz Yourself!
[Quizzes]
---
(Advanced) References and Further Reading