Home / Alkyne Reaction Patterns – Hydrohalogenation – Carbocation Pathway
Alkyne Reactions
Alkyne Reaction Patterns – Hydrohalogenation – Carbocation Pathway
Last updated: September 15th, 2023 |
Alkyne Hydrohalogenation – Addition of HX To Alkynes – HCl, HBr, and HI
In the previous three posts on alkynes we've introduced some new reactions that are specific to alkynes (versus alkenes):
With all the focus on the ways in which alkyne chemistry can differ from alkene chemistry, it's helpful to be reminded of all the ways in which they are similar.
In this post we'll go back to a key reaction mechanism pattern we observed with alkenes: the so-called, "carbocation pathway" that includes addition of HX and H3O+ and explore how many of the reactions of alkenes we're familiar with can also be used with alkynes.
Table of Contents
---
1. Addition of Hydrogen Halides To Alkynes (Once) – Hydrohalogenation
The three major examples in this category are the reaction of hydrohalic acids (H-Cl, H-Br, and H-I) with alkynes. If you recall, when added to alkenes, these reagents were:
attacked by the π bond of the alkene to give a carbocation on the most substituted carbon, giving "Markovnikov" regioselectivity (See Post: Markovnikov's Rule) followed by
attack of halide ion on the carbocation.
Since alkynes merely differ from alkenes in the addition of a second π bond, we would expect that these reactions would also work for alkynes as well – and they do!
If we treat an alkyne with a single equivalent of H–Cl [note – we'll just use H-Cl in all of these examples, but HBr and HI work in exactly the same way] we end up forming an alkenyl chloride.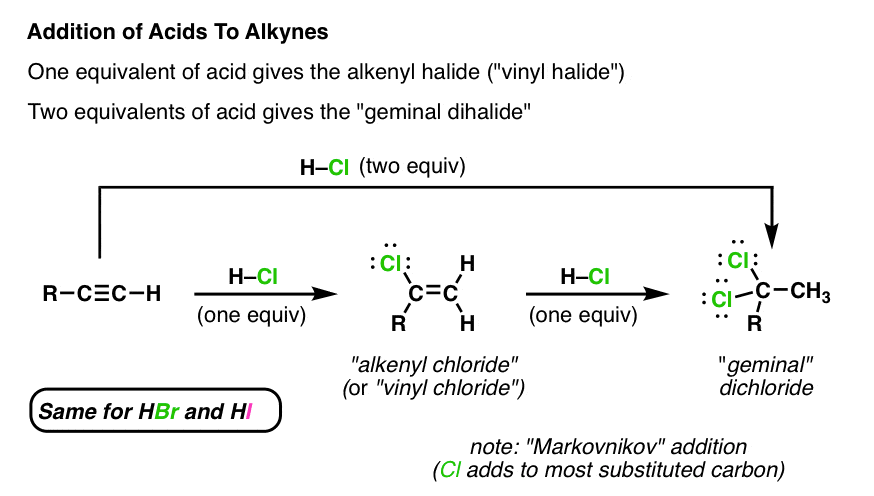 Note that the chlorine atom ends up attached to the most substituted carbon of the alkene ["Markovnikov" regioselectivity].
If we just use one equivalent of HX, we can get the reaction to stop at the alkenyl halide stage.
2. Addition Of A Second Equivalent Of HX To An Alkyne
You might be wondering if it's possible to for this π bond to react with a second equivalent of H-Cl. The answer is yes. [Note – it is possible to just "stop" the reaction at this stage if we use just one equivalent, because the product (alkenyl chloride) is less reactive towards HCl than the starting alkyne].
Indeed, if we add a second equivalent of H-Cl, it adds to either side of the C-C π bond, giving us the product where two chlorine atoms are on the same carbon. By the way, we call this a "geminal" dichloride (think Latin – "gemini" = twins).
We can also get this product if we simply add two equivalents of H-Cl to the starting alkyne.
3. Addition of Hydrogen Halides To Alkynes – The Mechanism For Hydrohalogenation
So how might this reaction work? In a very similar fashion to how H-Cl adds to alkenes.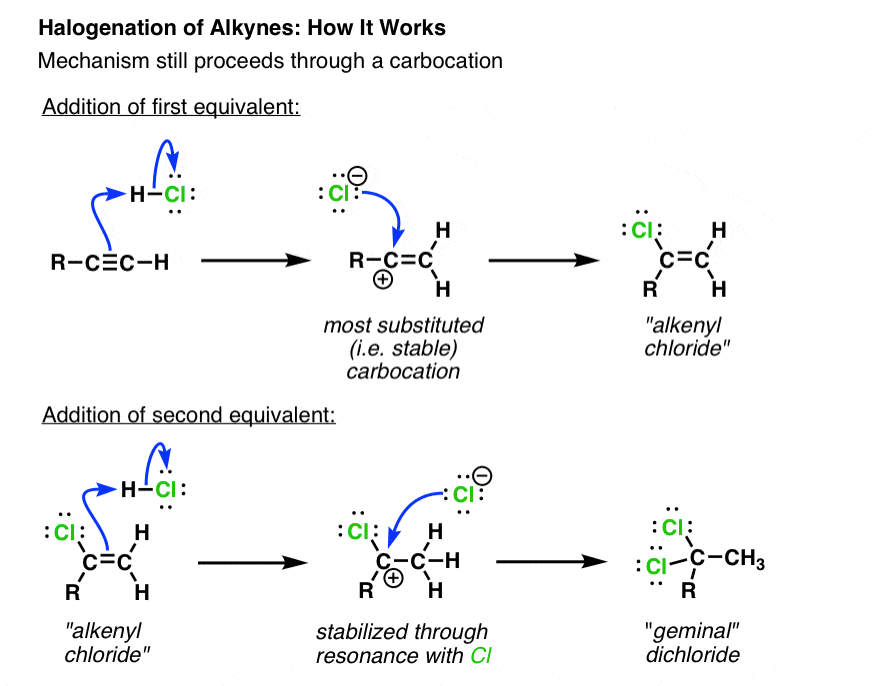 The first step is protonation of the alkyne with H-Cl in such a manner as to give the most stable carbocation intermediate.
Since carbocations are stabilized to a greater extent by electron releasing alkyl substituents than by hydrogen, the new carbocation will form at the end of the alkyne bearing the carbon substituent.
In the next step, the carbocation is attacked by the chloride ion to give the alkenyl chloride.
What about the second equivalent of H-Cl ? Given the fact that the geminal dichloride is the product here, the most reasonable mechanism for its formation is merely a repeat of the steps from the first reaction (as shown).
However it's worth pointing out one interesting feature. Note that the carbocation in this case bears a chlorine substituent. Since carbocations are electron poor, and chlorine is quite an electronegative element, it's interesting to point out that the electron releasing ability of the alkyl group [and the ability of chlorine to donate a lone pair to the carbocation] "win out" here over the electron-withdrawing character of the chlorine.
[If you go on to second-semester organic chemistry and cover the reactions of aromatic rings, you'll see that Cl and other halide ions act as pi-donors toward adjacent carbocations. See post: Why Are Halogens Deactivating ortho-para Directors?]
As mentioned above, the reactions of alkynes with HBr and HI (as well as HF, just in case you're curious) follow the exact same pathway.
[Note: there is considerable evidence to suggest that this reaction in fact proceeds not through a carbocation intermediate, but through a "termolecular" reaction incorporating two equivalents of H-X and the alkyne. This is covered inconsistently in courses and textbooks. I strongly suggest you double check your textbook to verify how it is taught in your course. See Note 1].
4. Comparing Alkenes and Alkynes In The "Carbocation Pathway"
It's probably worth tying back this post to the post on alkenes and the carbocation pathway, noting the similarities and differences between the chemistry of alkenes and alkynes. Hopefully this table will prove useful:

5. Summary: Addition of Hydrogen Halides To Alkynes (Hydrohalogenation)
As with alkenes, reactions that follow this pathway proceed through a carbocation intermediate and provide the "Markovnikov" products as major.
The key difference in this pathway is that hydration of alkenes gives alcohols, whereas hydration of alkynes gives carbonyl derivatives (i.e. ketones/aldehydes) after keto-enol tautomerism of the intermediate enol.
In the next post, we'll explore the "3-membered ring" pathway with alkynes.
Next Post: Alkynes – The 3-Membered Ring Pathway
---
Notes
Note 1.  The "termolecular" pathway for hydrohalogenation of alkynes
The intermediacy of vinyl carbocations in addition to alkynes seems to belong in the bucket of "mechanisms that are oversimplified for an introductory audience", with the hope that textbooks will reach consensus in the future.
Prof. Hilton Weiss of Bard College writes:
I've done a lot of work on this and, of course, I believe my own results. My initial paper denying the vinyl cation intermediate (before doing any research) was in JChemEd 1993, p 873… You might look at Maitland Jones's textbook or Carey and Sundberg. Actually my current belief is that the vinyl cation is EXTREMELY RARE in additions to alkynes. In Stang's paper on the rearrangement of the "t-butyl vinyl cation" by solvolysis of the corresponding triflate, he made the triflate ester by adding trifluoromethane sulfonic acid to t-butylacetylene. This addition occurred with NO rearrangement. If triflic acid (pKa =-10) won't protonate an alkyne, nothing will. Conjugated alkynes (e.g. phenylacetylene) can form conjugated vinyl cations but only in strong acids. Aqueous acids are not even close. (H3O+ =-1.7, HBr = -9, HCl = -7). I would not be surprised if the strongest acids add via a short-lived ion pair but even that is rare. Most textbooks say that alkenes and alkynes react by the same mechanism: it's easier for students as long as you don't look too close. By the way, the termolecular mechanism does not involve a proton and a halide ion attacking the alkyne at the same time; too improbable. First there is a reversible pi complex between acid and alkyne followed by a halide attached anti periplanar at the more positive carbon.
Thank you to Prof Weiss for writing. A link to the J. Chem. Ed. article is here.
---
(Advanced) References and Further Reading
The addition of HX to alkynes is believed to go through a vinyl cation after initial protonation of the alkyne.
Electron transmission study of the splitting of the p* molecular orbitals of angle-strained cyclic acetylenes: implications for the electrophilicity of alkynes
Lily Ng, Kenneth D. Jordan, Adolf Krebs, and Wolfgang Rueger
Journal of the American Chemical Society 1982, 104 (26), 7414-7416
DOI: 1021/ja00390a005
Another possible explanation for the lower reactivity of alkynes relative to alkenes has to do with the availability of the unfilled orbital in the alkyne. It has been shown that a p* orbital of bent alkynes (e.g. cyclooctyne) has a lower energy than the p* orbital of alkenes, and it has been suggested that linear alkynes can achieve a bent structure in their transition states when reacting with an electrophile.