Alkene Reactions
Palladium on Carbon (Pd/C) for Catalytic Hydrogenation
Last updated: October 2nd, 2023 |
Catalytic Hydrogenation of Alkenes With Pd/C (And Friends)
Alkenes (and alkynes) will undergo addition of hydrogen (H2) in the presence of a metal catalyst such as Pd, Pt, Ni, or Rh.
These metals are typically finely divided and adsorbed on the surface of a high surface-area material such as activated carbon (most common) or alumina (Al2O3) , hence Pd/C, Pt/C, Rh/Al2O3 and so on.  Since these do not dissolve in solution they are called heterogeneous catalysts.
Since addition results in a new C-H bond at the expense of a C-C bond the oxidation state of carbon decreases. These reactions are commonly referred to as reductions.
Reduction of alkenes and alkynes generally occurs with high selectivity for syn addition products.
The mechanism (only covered vaguely) involves transfer of hydrogen to alkene on the metal surface
Alkynes can be hydrogenated selectively over alkenes, which in turn can be hydrogenated selectively over ketones and aldehydes.
Wilkinson's catalyst, RhCl(PPh3)3 is a homogeneous catalyst often used for selective hydrogenations.
[0-summary image]
Table of Contents
---
1. Catalytic Hydrogenation of Alkenes With Pd, Pt, and Other Metals
Alkenes (and alkynes) will undergo addition of hydrogen (H2) to C-C pi bonds in the presence of a metal catalyst in a reaction known as "catalytic hydrogenation".
Discovered in the 1890s by Sabatier, and now used industrially on massive scale for the hydrogenation of vegetable oils. [Note 1] 
In this reaction a C-C pi bond (bond dissociation energy [BDE] of about 60 kcal/mol) and a H-H bond (BDE about 104 kcal/mol) are broken, and two C-H sigma bonds (BDE about 98 kcal/mol) are formed, making it exothermic by about 30 kcal/mol.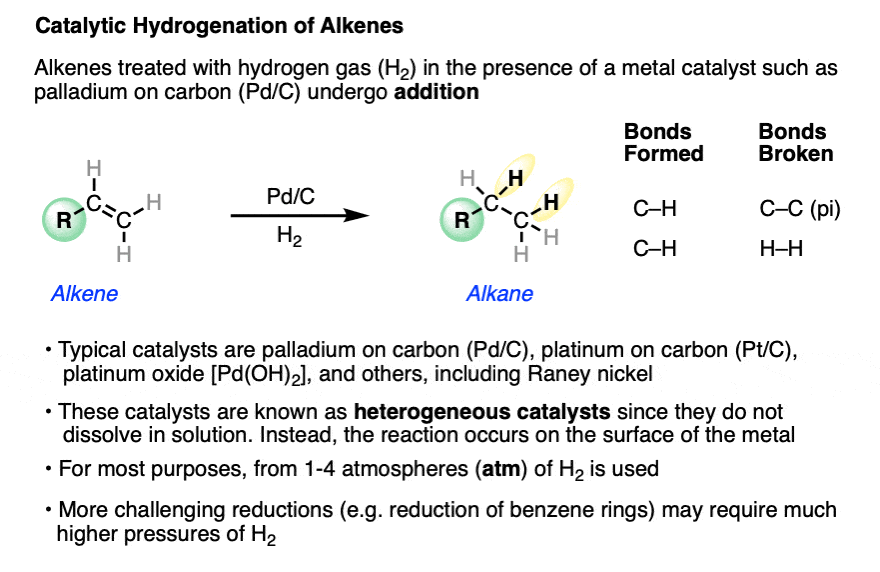 Since C-H bonds are formed at the expense of C-C bonds, hydrogenation reactions of alkenes and alkynes result in a lowering of the oxidation state of carbon and are often described as "reductions". See: Oxidation and Reduction in Organic Chemistry.
Despite the significantly greater stability of the products, no reaction between the alkene and H2 typically occurs in the absence of the metal.
The metal catalyst is typically palladium (Pd) or platinum (Pt),  although other metals with similar properties such as nickel (Ni) and rhodium (Rh) can also be used. These relatively electron-rich "late" metals react with H2 to form metal-bound hydrides (e.g. H-Pd), which are more reactive towards alkenes than H2 itself. Furthermore, late metals readily adsorb alkenes and other molecules with pi bonds onto their surface.  The resulting hydrogenation products, lacking a pi bond, are not bound as strongly to the metal and typically dissociate after hydrogenation, freeing up a site on the metal surface for further reaction.
Think of the surface of Pd/C as kind of like a singles bar, where hydrogen and alkenes (or other organic compounds) meet, react, and leave together. As a catalyst,  Pd/C is a lot like a matchmaker who brings couples together, but never gets married himself.
Since the reaction takes place on the metal surface, high surface area is important for reasonable reaction rates. The metal is typically finely divided and adsorbed onto a solid support such as activated carbon or alumina. [Described here].  The result is typically a black powder typically containing 5%-10% metal by weight, e.g. 5% Pd/C or 10% Pt/C.
Since powders do not dissolve in organic solvents, they are referred to as heterogeneous catalysts. 

Photo credit. The first time I saw palladium on carbon (Pd/C) and platinum on carbon (Pt/C) I was expecting to see something more traditionally shiny and metallic, rather than a fine black powder. 
On small scale, hydrogenation is usually carried out by adding pre-formed, commercially available catalyst (e.g. palladium on carbon, Pd/C) to a solution of the starting material in an inert atmosphere. After H2 is introduced (often via balloon), it's party time. [Note 2]
Source: Org Prep Daily 
Since three phases of matter are involved (gaseous H2, liquid solvent, solid catalyst), vigorous stirring or shaking is necessary for good reaction rates.
Parr shaker apparatus. Source.
When the reaction is complete, the catalyst is separated from the reaction mixture by filtration (note: care must be taken to avoid exposing dry, hydrogenated catalyst to oxygen – fires can result.)
2. Catalytic Hydrogenation of Alkenes: Examples
Both alkenes and alkynes will readily undergo catalytic hydrogenation. Reactions are generally carried out with a molar excess of hydrogen gas, although it is possible to regulate the number of molar equivalents of H2 by using a gas buret or similar device if desired.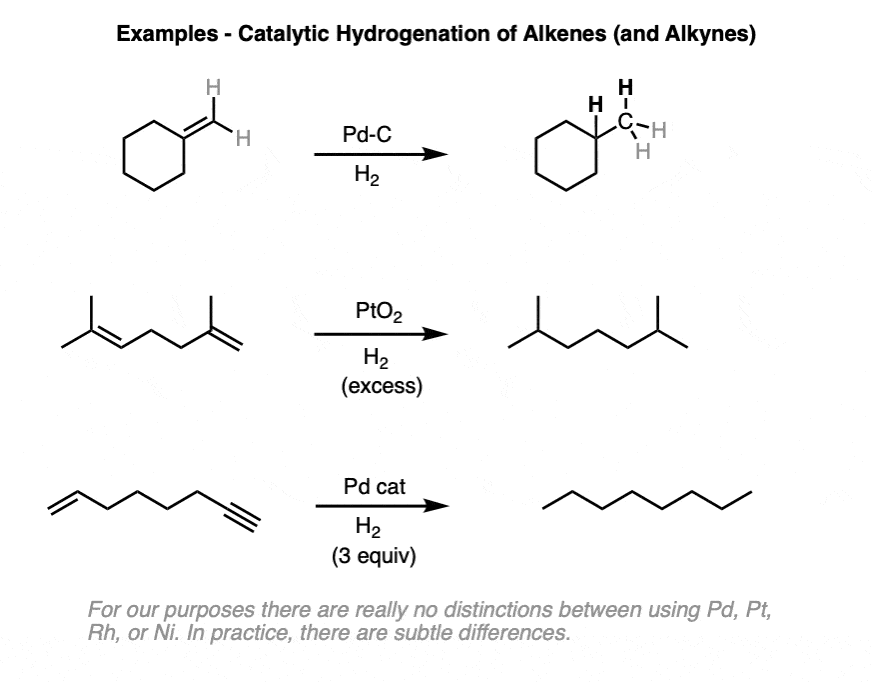 (There is a lot of variety in the specific identity of the metal – for example, one can use palladium (Pd), palladium hydroxide (Pd(OH)2, platinum (Pt), platinum oxide (PtO2), rhodium (Rh), nickel (Ni), Raney Nickel, and more. This covers the most common cases but is not exhaustive! For our purposes (introductory organic chemistry) these can be treated as equivalent. For more specific cases see Note 3. )
The specific pressure of H2 is not always indicated, but is typically 1-4 atmospheres (atm) of hydrogen (15-60 psi). Difficult hydrogenations may require pressure vessels at up to 100 atm.
For example, the benzene ring is generally inert towards many reagents that add to alkenes, a topic that we explore in more detail in the chapter on aromaticity (See article – Introduction to Aromaticity).
Hydrogenation of the benzene ring is possible, but typically requires higher pressures of hydrogen gas than do normal alkenes.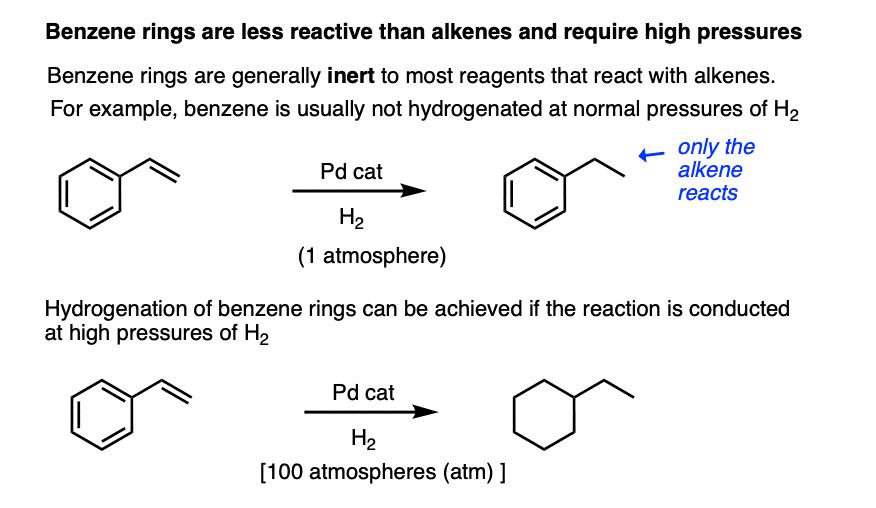 When an alkene is hydrogenated to an alkane, the hybridization at carbon goes from sp2 to sp3. Be alert for the formation of stereoisomers!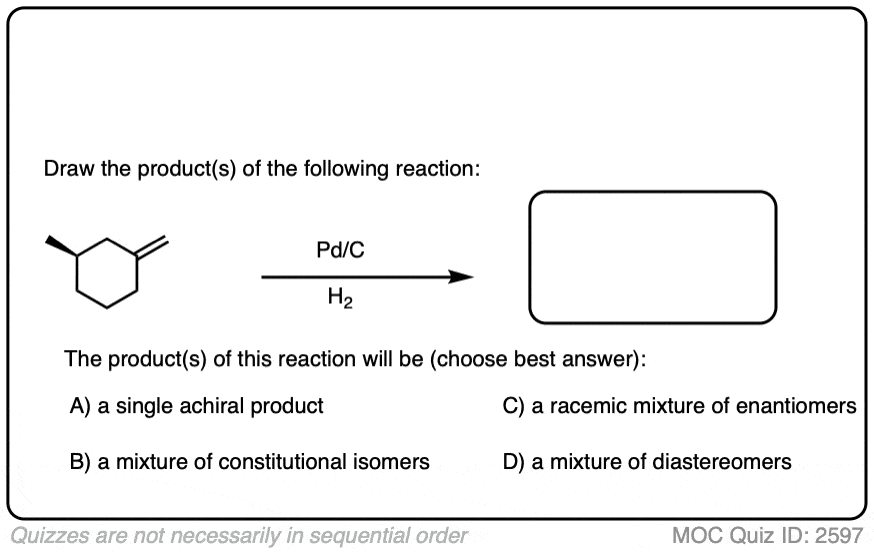 Click to Flip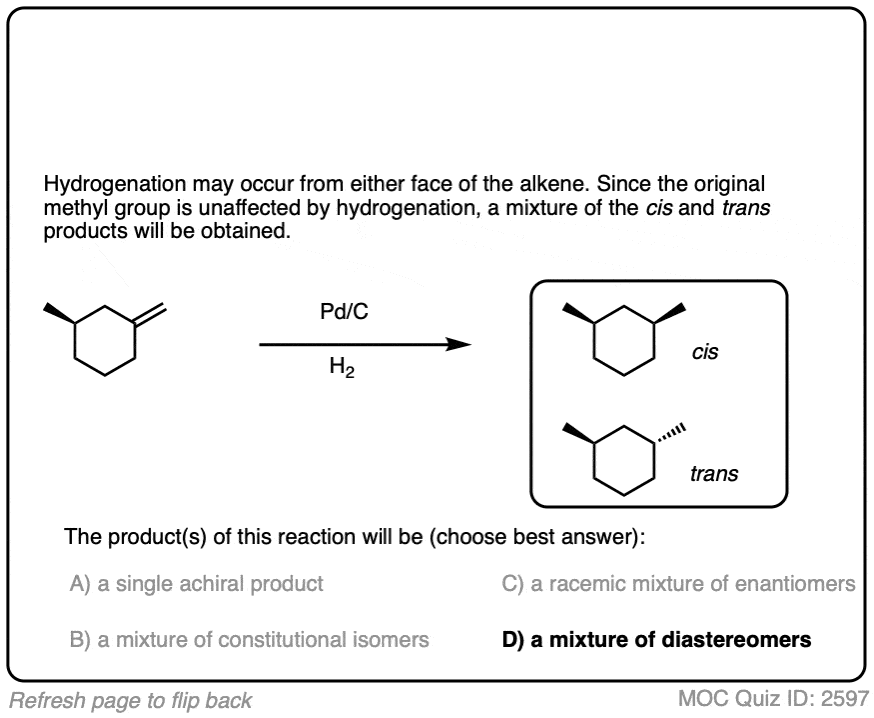 Here is another example in this vein: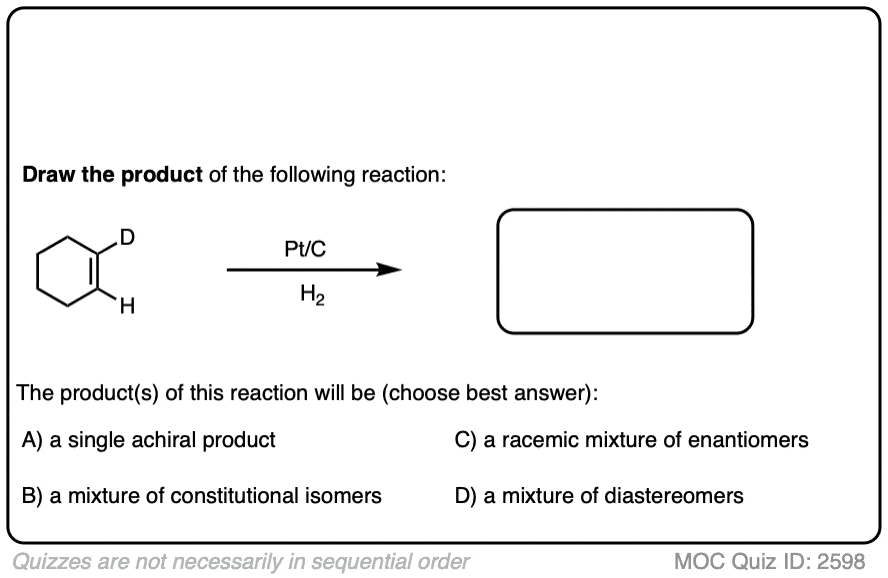 Click to Flip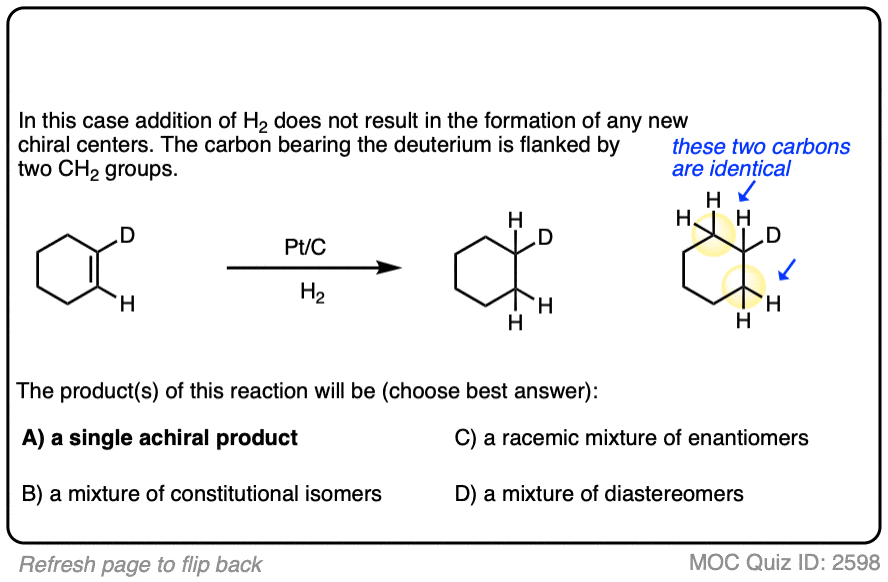 There is no simple formula for answering questions which ask you to say whether a reaction results in enantiomers, diastereomers, constitutional isomers, and so on since it is highly dependent on the structure of the starting alkene. My advice is just to apply the pattern of bonds formed/bonds broken to each reaction and then analyze the relationship between any molecules that form. (See article: Enantiomers, Diastereomers, or The Same? Two Methods for Solving Problems)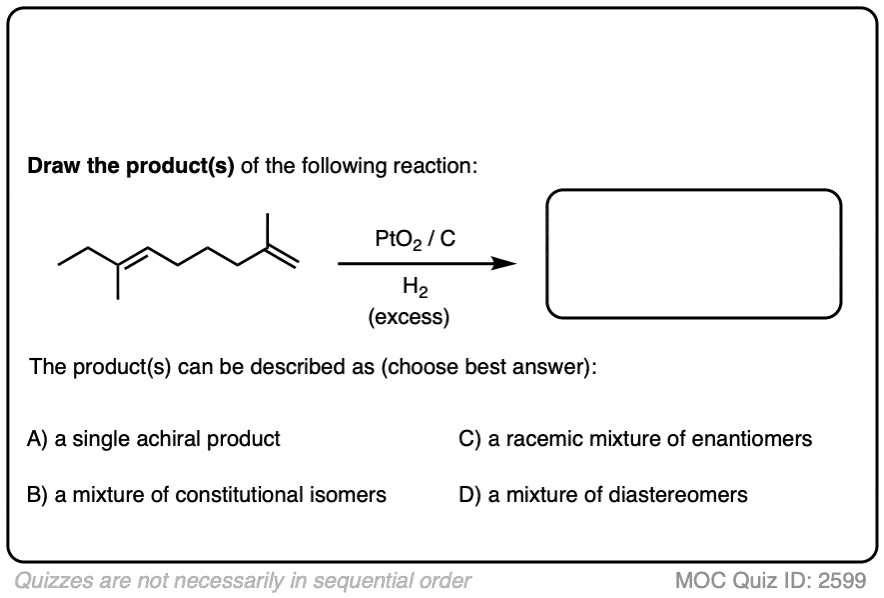 Click to Flip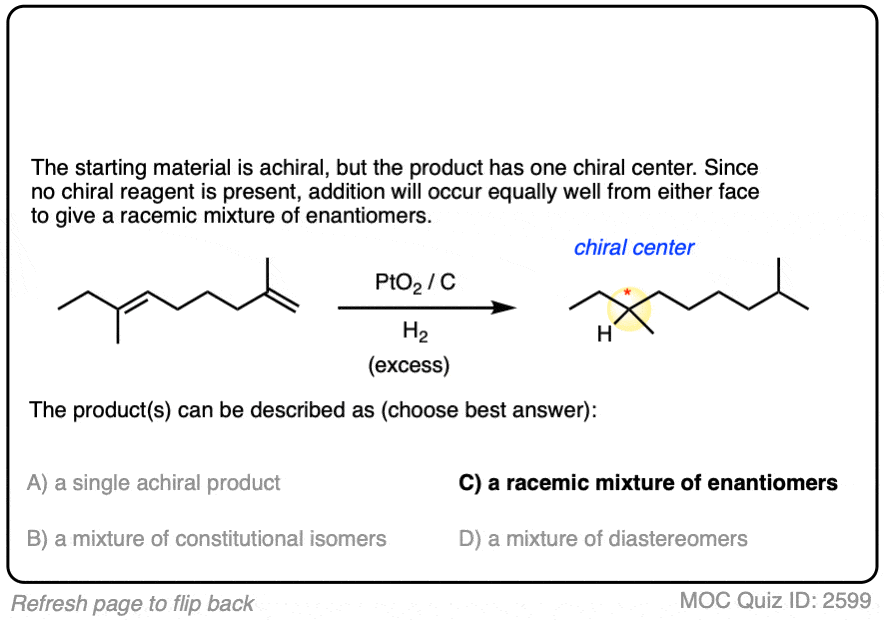 3. Hydrogenation Is Stereoselective for Syn Addition
Hydrogenation is generally a stereoselective reaction where the two C-H bonds form on the same face of the alkene.
This is known as syn addition (in contrast to anti addition where the two new bonds form on opposite faces of the alkene).
For example, the major product in the hydrogenation of 1,2-dimethylcyclohexene is cis-1,2-dimethylcyclohexane.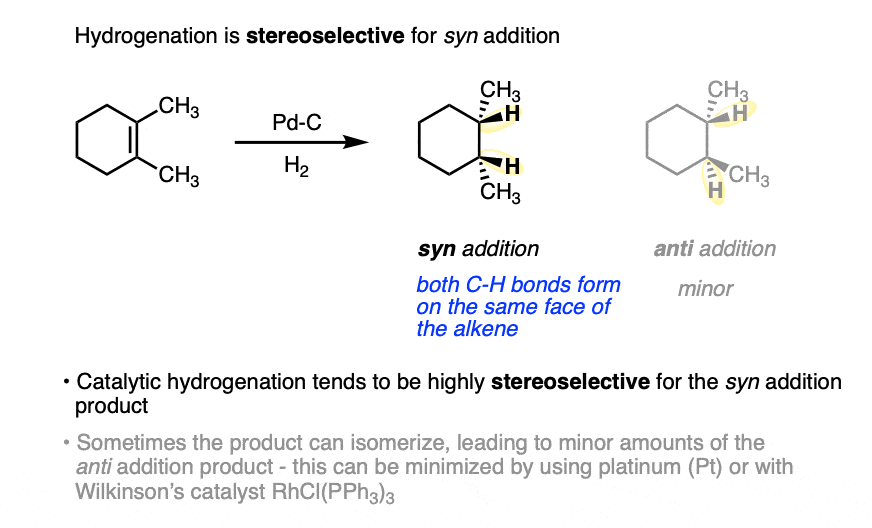 In general, catalytic hydrogenation is highly stereoselective for syn addition. [Note 4]
In practice, particularly with Pd (and less so with Pt) a significant amount of double bond migration can occur before hydrogenation is completed. A related process is responsible for the formation of trans fats in partial hydrogenation of vegetable oils, for example. [Note 5]
Deuterium (D2) can be used in place of hydrogen to give isotopically labelled products (recall that deuterium is the heavy isotope of hydrogen). The reaction is otherwise identical in all respects, including a preference for syn addition.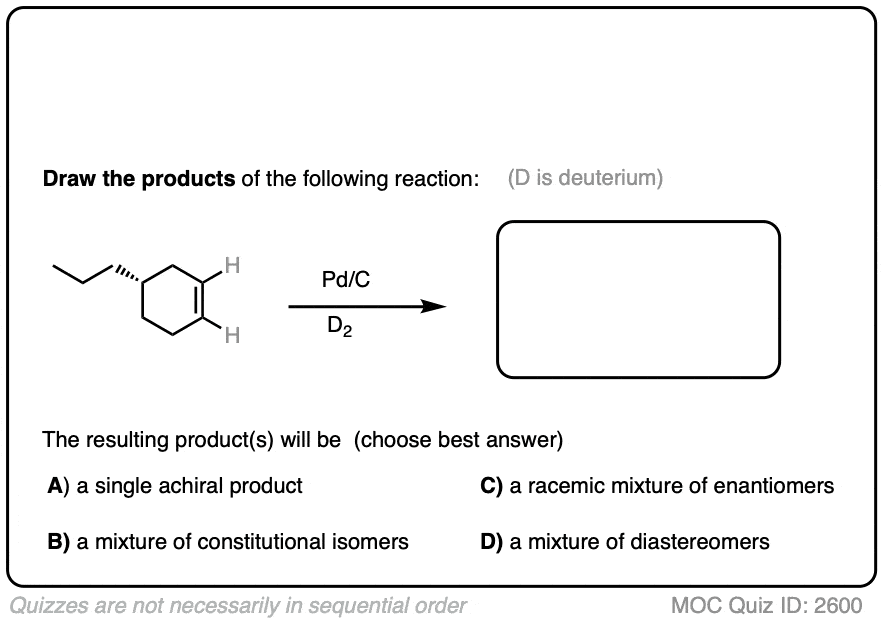 Click to Flip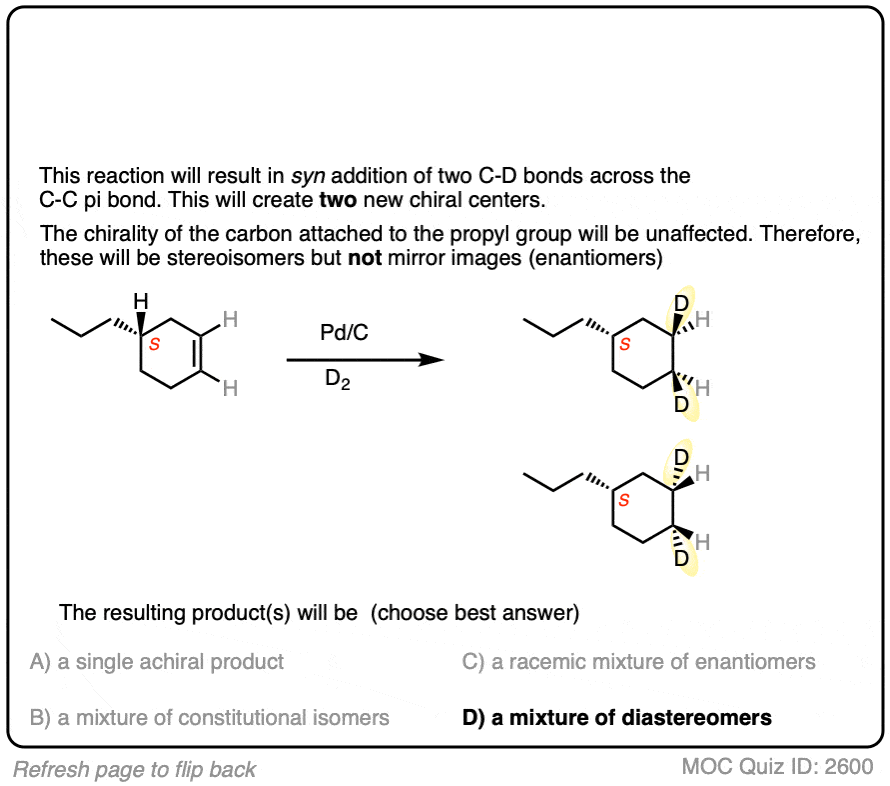 See if you can work backwards from the final product to the original alkene starting material: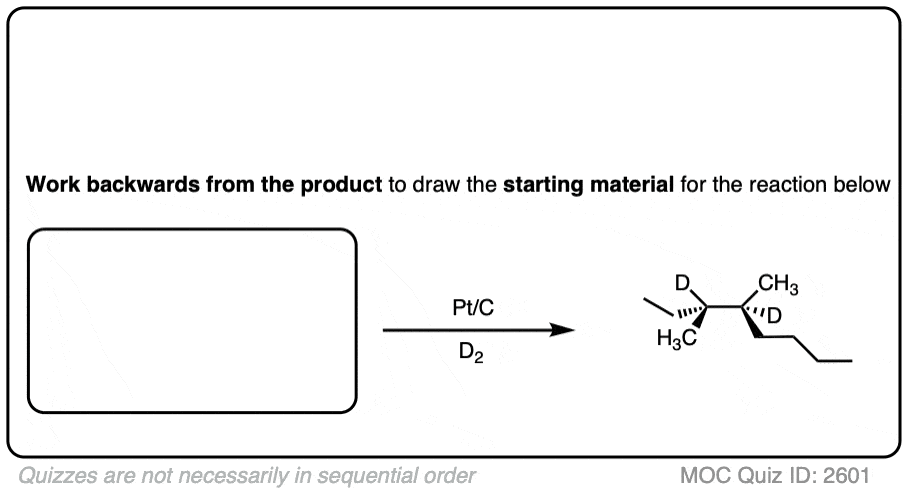 Click to Flip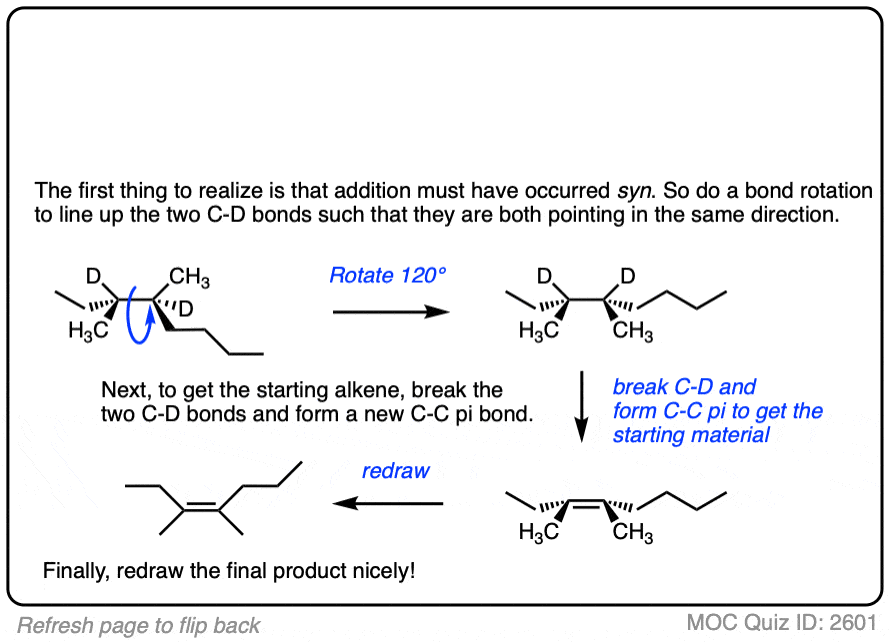 Be alert that in some molecules, the two faces of the alkene are not equally accessible to reagents. In these cases the less hindered side of the alkene will end up bound to the metal.
For example in the bicyclic molecule below, the top face is more accessible since it is only blocked by a one carbon (CH2) bridge, whereas bottom approach is blocked by a two-carbon bridge.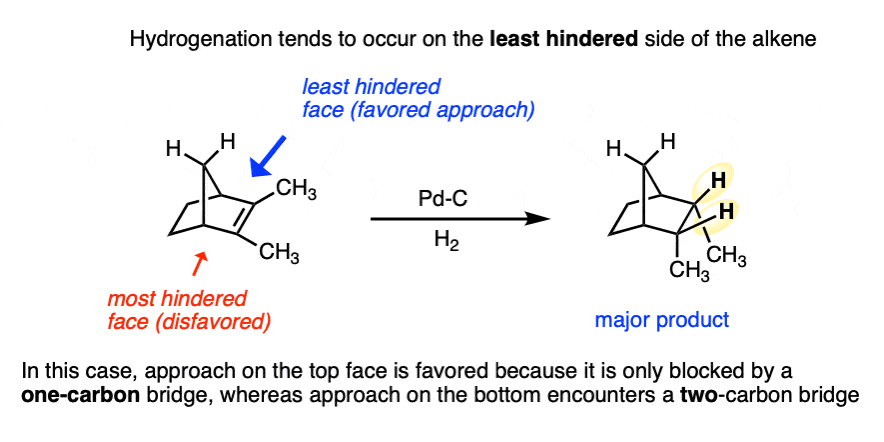 4. Catalytic Hydrogenation – A Rough Mechanism
The mechanism of catalytic hydrogenation is unusual for us in that it's not a typical arrow-pushing mechanism.
It happens on a metal surface and all the specific details of how hydrogenation happens on that metal surface haven't been completely worked out.[Note 6]
As Wolfgang Pauli said; "God made the bulk; the surface was invented by the devil". 
Furthermore, it involves some mechanisms of transition metals that aren't really taught fully in introductory organic chemistry classes.
The first two steps of catalytic hydrogenation involve coordination of the alkene and of H2 to the metal surface.
The starting alkene (or alkyne, or other starting material) is typically adsorbed on the surface of the metal through its pi-bond.
When hydrogen gas (H2) is introduced to the metal, it is converted into metal hydrides that reside on the surface. (

Note 7

)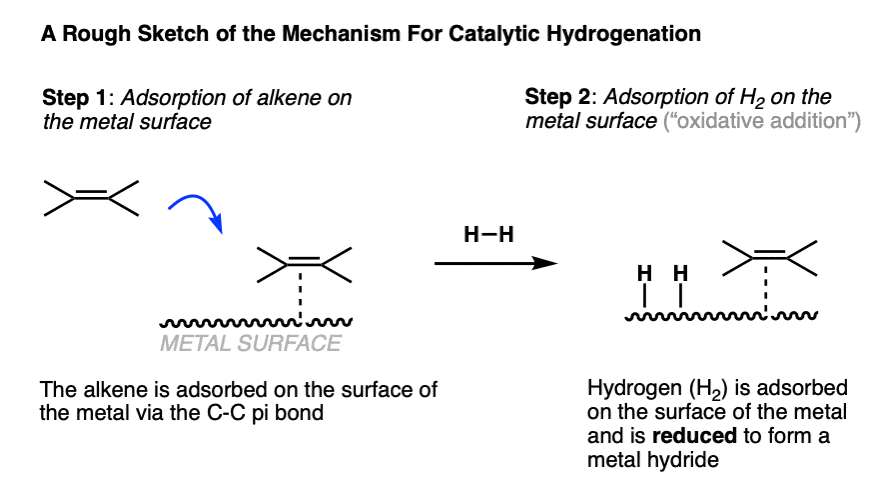 With the hydride and alkene in close proximity, a C-H bond forms and the C-C pi bond breaks, resulting in a metal-carbon bond. (

Note 8

)
Finally, the second carbon-hydrogen bond forms, resulting in an alkane. [

Note 9

] Without any pi bond, the molecule dissociates.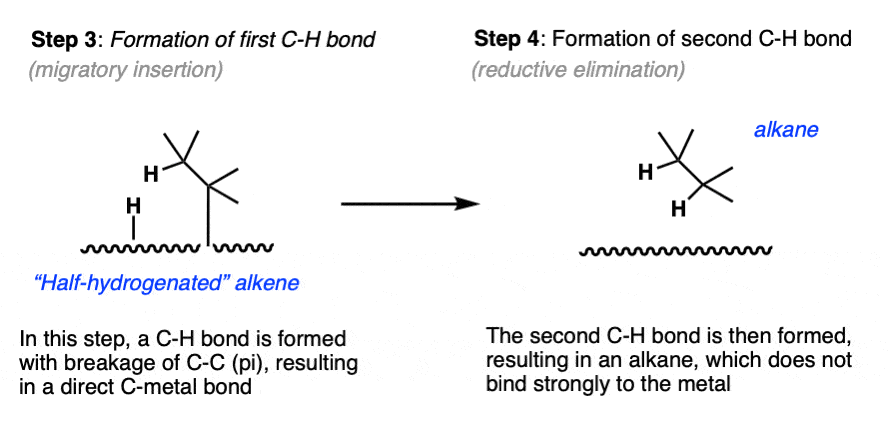 Note the two atoms of H2 are not introduced at exactly the same time!
5. Alkenes vs. Alkynes vs. C=O and Other Functional Groups
Alkynes are even more reactive towards hydrogenation than alkenes, and can typically be reduced to alkenes without affecting the other alkenes in the molecule.
The best way to do this is generally with Lindlar's Catalyst (See article – Lindlar's catalyst) or with sodium in ammonia, both of which only reduce alkynes. 
It can also be done with Pd, usually something like barium sulfate. BaSO4.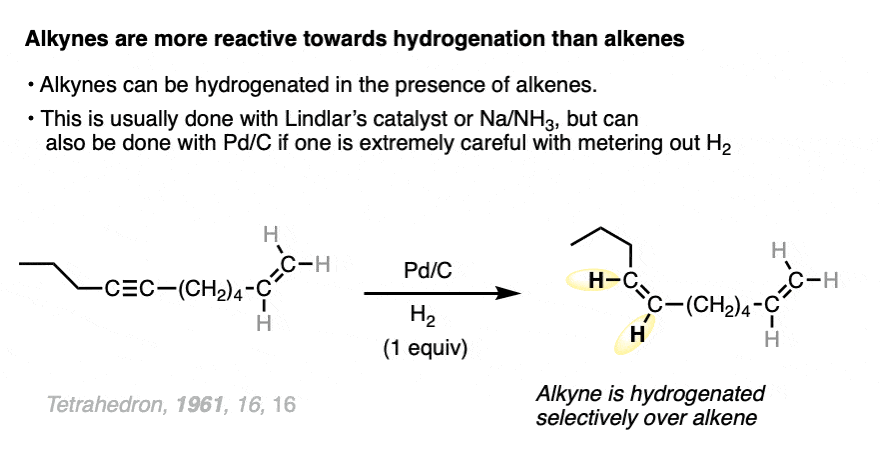 When two or more alkenes are present on the same molecule, it can be possible to hydrogenate one alkene without reducing the other if care is taken to introduce only one mole of H2.
It's usually the least substituted alkene that is hydrogenated first, because it's more accessible to the metal catalyst.
Ketones and aldehydes are even less reactive toward catalytic hydrogenation than are alkenes or alkynes. It's very possible to hydrogenate a double bond without aldehyde or ketone being affected.

When pushed, ketones can be converted to alcohols (C-OH) or even alkanes (CH2) ; this topic usually comes up when we cover the reactions of aromatic compounds.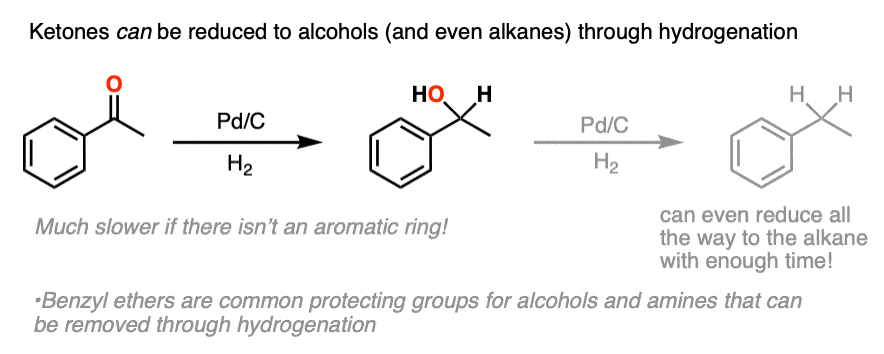 Catalytic hydrogenation can also be used to convert nitro groups and nitriles to amines (although to be fair this is typically covered much later in the course!)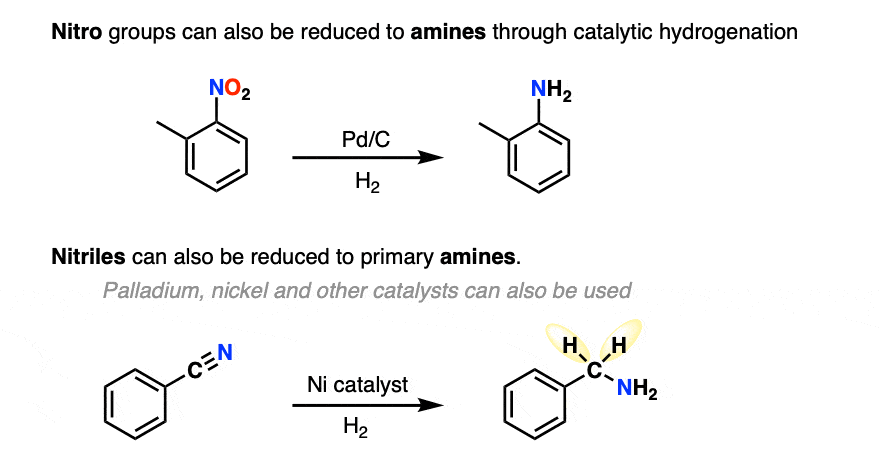 6. Homogeneous Catalysis With Wilkinson's Catalyst
An example of a homogeneous hydrogenation catalyst is Wilkinson's catalyst, RhCl(PPh3)3 . One advantage of carrying out hydrogenations with Wilkinson's catalyst is a lack of the scrambling that can sometimes occur with Pd.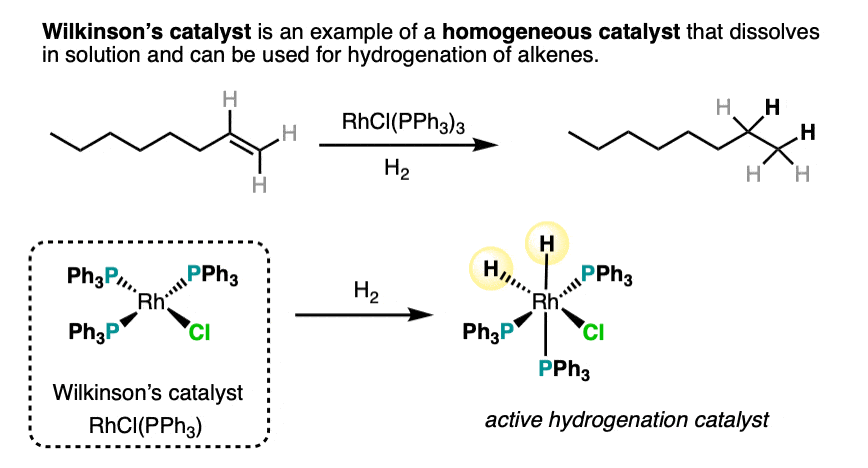 The reactions of transition metal catalysts such as Wilkinson's catalyst are generally beyond what we cover in introductory organic chemistry as they involve mechanisms such as oxidative addition, migratory insertion, reductive elimination and others that are not necessarily difficult to learn, but require a fair amount of background in inorganic chemistry to understand.
For advanced students: these notes from Prof. M.C. White (UIUC) are a truly excellent place to start. Wilkinson's Catalyst
7. Summary
[summary]
---
Notes
Note 1. [Revolutionary since unsaturated fats (such as butter) undergo oxidation in air and become rancid. Removing the double bond via hydrogenation makes fats much less susceptible to spoilage.
F1-allylic position
Note 2. [Important safety concerns; don't add finely divided metal catalyst to a flask containing hydrogen and oxygen, fires can result. Also, keep metal hydrides wet and don't leave out in the presence of oxygen.
This is from filtration of Raney Nickel. Source: Named Reactions In Organic Chemistry Youtube Channel
Note 3. [Really good "which catalyst should you use" treatment here (page 43). Useful table of relative reactivities here:]
[F2-relative reactivity]
Note 4. [Often selective for cis addition, but not always – gives mostly trans with tetrasub decalin; improved with Pt. ]
[F3-tetrasub decalin]
Note 5. [Isomerization of half-hydrogenated product can cause problems. Double bond migration. Helped by using Pt. ]
Note 6. [The first rough proposal for catalytic hydrogenation was published in 1934 and this has largely stood the test of time. More modern techniques have been helpful for quantifying mechanism, since Pd can vary across vendors]
Note 7. [This step is called "oxidative addition".]
Note 8. [This step is called, "migratory insertion".]
Note 9. [This step is called, "reductive elimination".]
---
Quiz Yourself!
[which alkene liberates the most energy]
---
(Advanced) References and Further Reading
A useful reference for this article has been Hydrogenation Methods by Rylander (1985). Available for loan on the Internet Archive, here. Aldrichimica Acta has a good summary on which catalyst to use for which reaction. Page 43
Modern Synthetic Reactions  [link] by H.O. House has a useful first chapter overview.