Home / Reaction Maps Now Available
Blog
Reaction Maps Now Available
Last updated: September 23rd, 2022 |
New study guide for Master Organic Chemistry released today. Reaction Maps!
15 page PDF with 27 individual "Reaction Maps" based on key functional groups from Org 1 / Org 2
Covers alkanes, alkenes, alkynes, alkyl halides, alcohols, ethers, epoxides, Grignard reagents, organometallics, aromatic compounds, aldehydes, ketones, carboxylic acids, esters, acid halides, anhydrides, enols, enolates, nitriles, amines, dienes and rearrangements.
A 60-page non-shrunk version is available upon request if you purchase (some testers found the 15-page version too small).
Page 1 (Index and Alkanes) sample page HERE (PDF).
Perfect if you're working on synthesis or just trying to put all the reactions you learn into perspective.
Might be overwhelming if you're just getting started with organic chemistry. But probably very useful once you're deep into Org 2.
What is it missing? Carbohydrates, just because they're difficult to put in a "map" type format.
$15 currently.
What's "Reaction Maps?"
You're probably familiar with the basic idea: start with a functional group, and draw a little "web" of all the reactions that branch out from it, like this: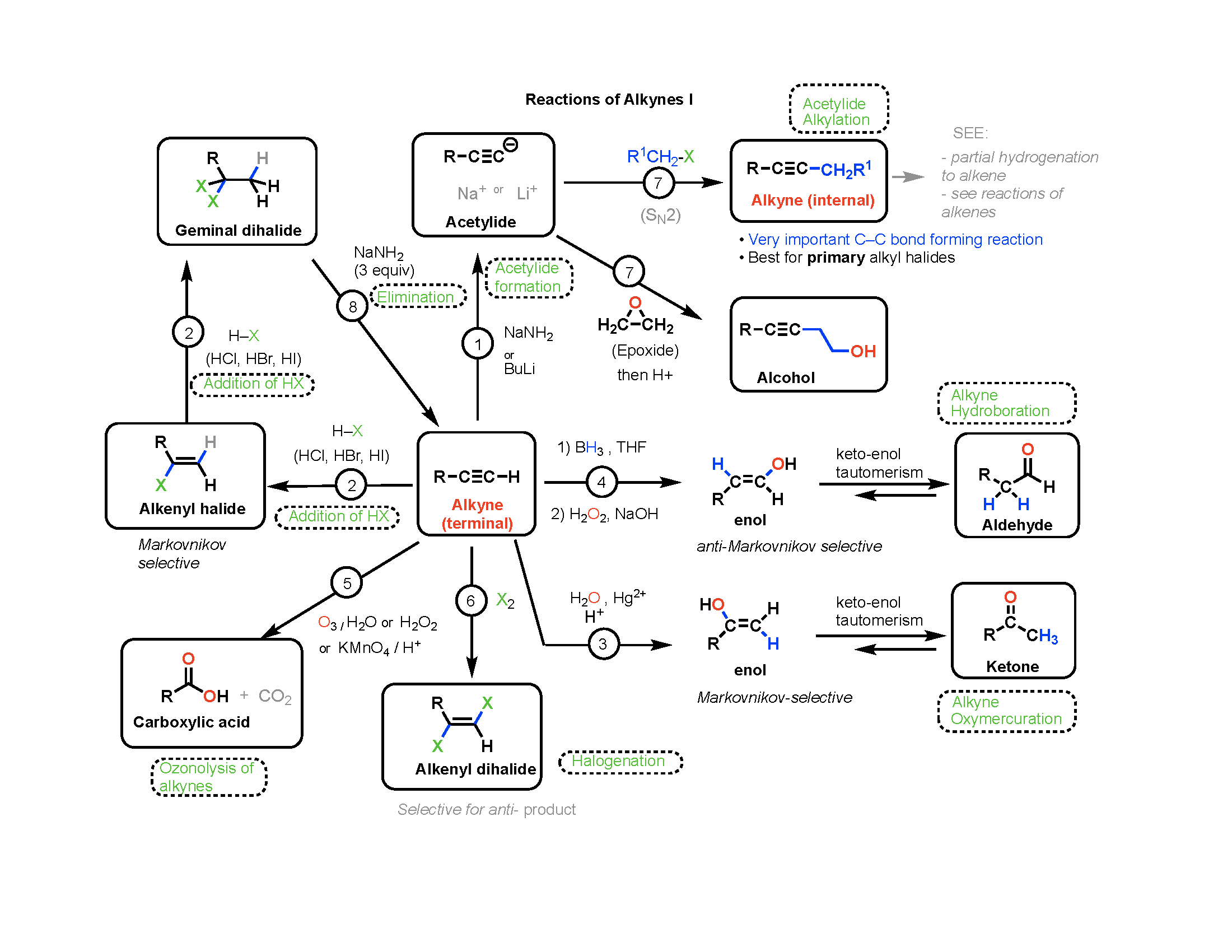 The Reaction Maps PDF has 27 of these maps. Since the reactions in the map are a little big generic, there are specific examples for the reactions in each map in the section below.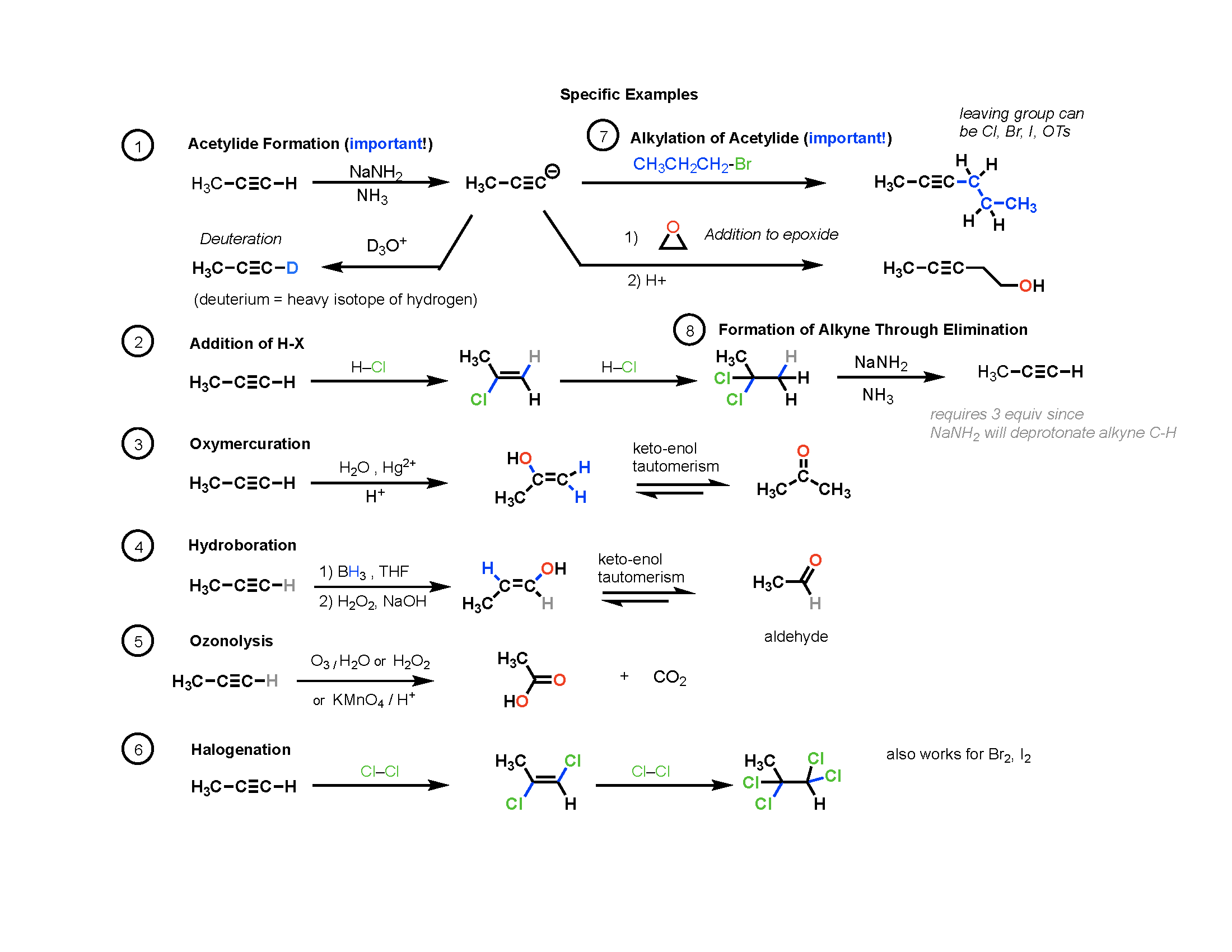 Reaction Maps is a 15 page full color PDF.
It's actually 60 pages shrunk 50% to make it manageable for printing and studying.
Some people get eye strain with the compressed version, so it's been designed in a 4-quadrant format allowing it to be expanded 200% without any pages cutting off.
(A 60-page non-compressed version is also available upon request (support@masterorganicchemistry.com) when you purchase Reaction Maps. )
The Reaction Map PDF also contains active links to mechanisms for each reaction (although you'll need an MOC Membership to access the Reaction Guide pages).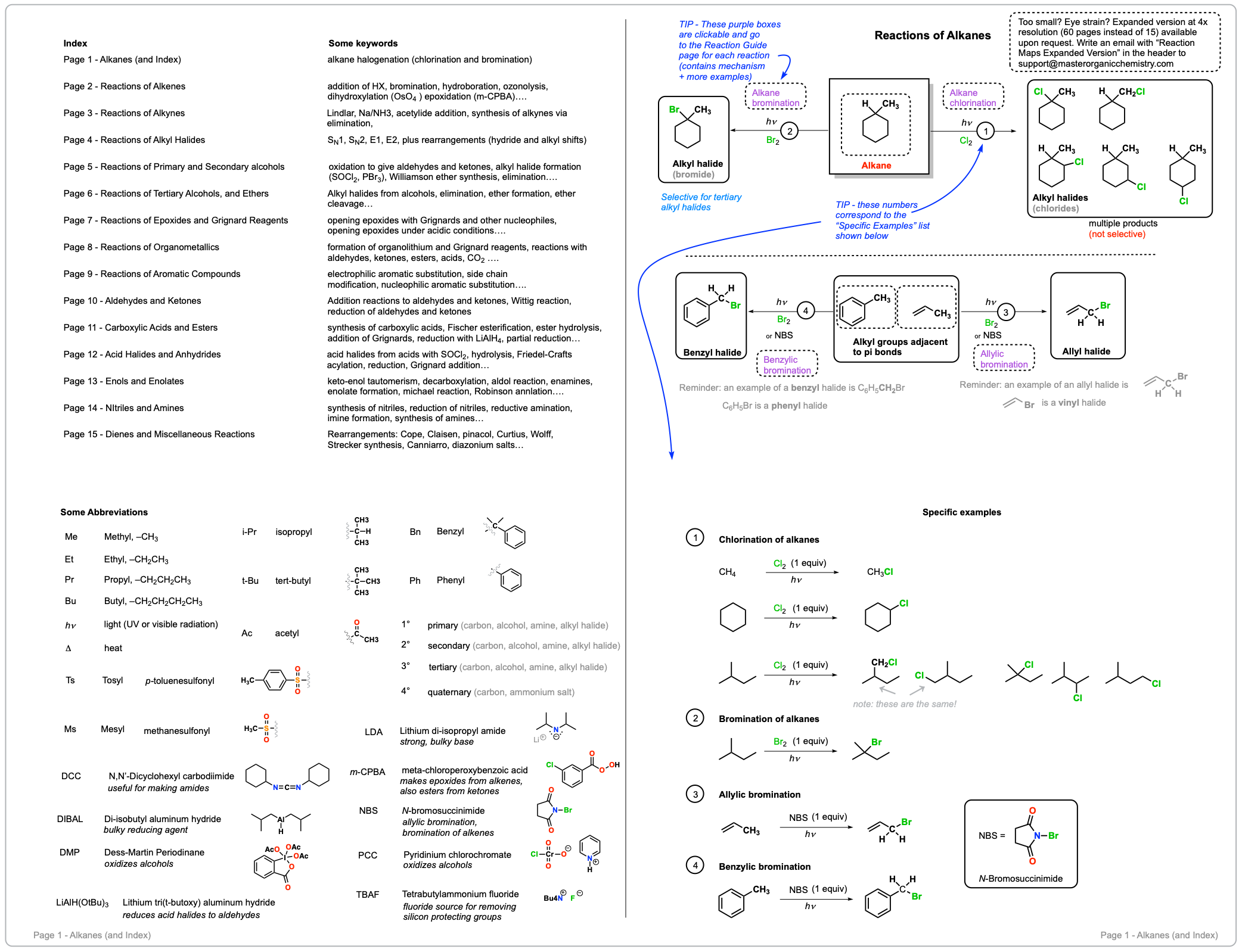 Hope you find it useful. Thanks to everyone to provided feedback for the draft version, and to Patryk Wiśniewski for both suggesting and collaborating on this project.