Home / Goodwill Notoriously Absent In Miramax, MOC Lawsuit
Blog
Goodwill Notoriously Absent In Miramax, MOC Lawsuit
Last updated: September 12th, 2022 |
Special to MOC from Variety
HOLLYWOOD, CA – Mirimax Entertainment announced today that they are suing educational organic chemistry website Master Organic Chemistry for an undisclosed amount in damages, citing copyright infringement. The issue at stake is the alleged similarity between the brief scene of Matt Damon drawing the molecule ibogamine in the Oscar-winning 1997 film, "Good Will Hunting" and the cover image on the Master Organic Chemistry blog: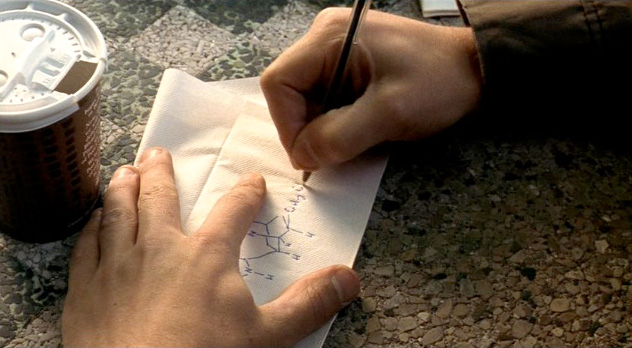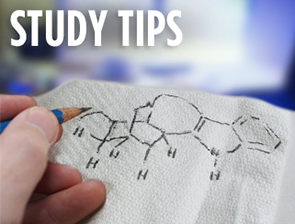 Miramax VP of intellectual property decried the "naked greed"  of the blog's author,  whom it alleges was trying to "capitalize on the inordinate attention this scene has received from organic chemists, as it represents the only two seconds in all of cinema where a big-name Hollywood star actually bothers drawing out a reasonably complicated organic molecule".
Through a spokesman,  the blog's author denied the accusations, calling the allegations "hogwash" and  stating the similarity between the structures was "pure coincidence" listing a host of key differences. "The molecule is flipped, the author is left-handed, it's in pencil, not pen, the sheet isn't folded, there's no coffee, CH2CH3 is depicted as a line diagram, and it is done on a magical floating napkin instead of on one of the chessboards at the Harvard Square Au Bon Pain."
Miramax estimates that damages from copyright infringement are estimated to be in the tens, perhaps dozens of dollars.
[UPDATE, 9:11 AM PST] Reports are emerging that the lawsuit is being settled out of court. In lieu of cash for damages, Miramax will receive the $37.49 remaining on an Applebee's gift card as well as distribution rights to MOC's extensive library of dumpster cat pictures and videos.
[update #2] #aprilfools