Aldehydes and Ketones
Imines and Enamines
Last updated: May 23rd, 2021 |
Imines and Enamines
Imines are the nitrogen analogues of aldehydes and ketones, containing a C=N bond instead of a C=O bond. They are formed through the dehydration reaction of an aldehyde or ketone with an amine. Imines derived from aldehydes are sometimes called aldimines, imines derived from ketones are sometimes called ketimines. Enamines are the nitrogen analogues of enols.
In this post we go into the synthesis of imines and enamines and the mechanism of imine formation.
---
(part 5 of  a series on the reactions of neutral nucleophiles with carbonyl compounds)
Imines and Enamines
I'm in love with the organic chemistry of nitrogen – alkaloids, in particular. To my mind,  imines are just about one of the most beautiful functional groups there are.  I'd love to give you the full scoop on all the amazing things imines can do, but  today we're going to keep it really simple: we're going to talk about the mechanisms involved in their formation.
What are imines again? Well, they look like this:

That's an imine on the left. To its right are its chemical cousins: oximes and hydrazones. What they all have in common is a C=N double bond, and they are all formed by the same process. Let's talk about how that C=N is made.
The reaction starts by stirring an aldehyde or ketone in solution with a little bit of acid.[note 1] You might recall that acid makes carbonyl carbons more electrophilic – it binds to the carbonyl oxygen and weakens the C=O bond. Now comes the exciting part. Upon addition of an amine, the carbonyl carbon (an electrophile) is attacked by the amine nitrogen (a nucleophile) and there is a 1,2-addition. The next step is a proton transfer. This serves two purposes. First of all, the OH is protonated to give OH2(+), which is a tremendously better leaving group. Secondly, proton transfer frees up the lone pair on the amine nitrogen.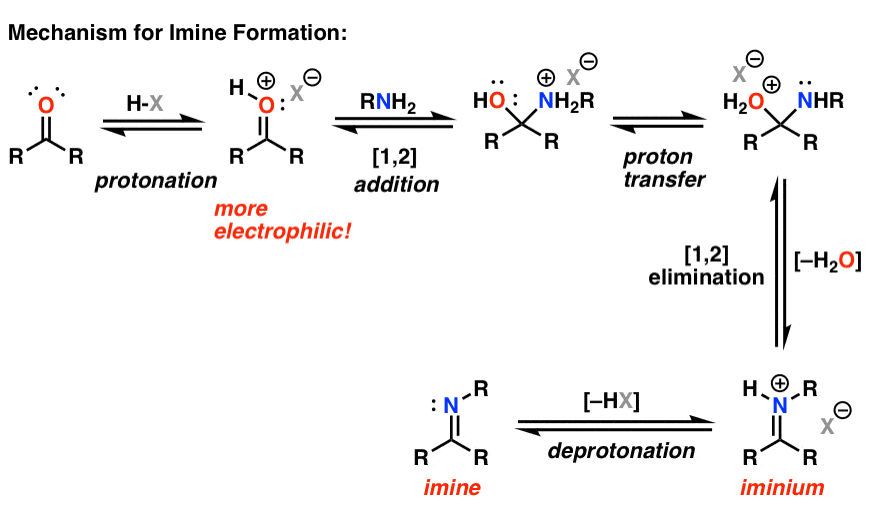 Finding itself free again, the amine lone pair now descends upon the neighboring carbon like a horned owl swooping down on a moonlit field mouse, expelling the OH2(+) as a neutral water molecule. The final step is a simple deprotonation of the resulting positively charged imine (iminium, we call it – most positively charged organic molecules end with -ium), resulting in our neutral product, the imine. In practice, this reaction is usually run with a dessicant like magnesium sulfate to soak up the water that is formed along the way. That's Le Chatelier's principle at work again: you'll notice that the reaction is an equilibrium.  If you take your imine and then dissolve it water,  you can get back the original aldehyde/ketone plus the amine.
So breaking down the mechanistic sequence, we get: protonation/1,2-addition/proton transfer/1,2-elimination / deprotonation. If you look at it hard enough, it might seem familiar: that's the exact 5-step sequence for the formation of an ester from a cartboxylic acid, the hydrolysis of an ester, and the hydrolysis of an amide. that we talked about last time. Behold: underneath those four seemingly different reactions you will find unity in their mechanism.
By the way, the reactions that form oximes and hydrazones proceed exactly the same way. The main difference is that  hydroxylamine and hydrazines are more nucleophilic than amines (not on the exam: the alpha effect) and the products are more stable. In your teaching labs, you may have had to characterize an aldehyde or ketone by forming a hydrazone and taking the melting point. In particular, the hydrazones formed by 2,4-dinitrophenylhydrazine (DNPH) are a brilliant funky red color and are often highly crystalline, which provides another method for analysis.
Now up to this point you might have noticed that the imine we were dealing with was a primary amine: connected to only one carbon. What happens when we are dealing with a secondary amine?  Well, they form the C=N bond too,  but there's a key difference: you can't deprotonate them at the end, since they have two N-C bonds (this is also called an iminium, by the way) Somehow you have to make this compound neutral. What do you do?

Here's how you do it: deprotonate the alpha carbon. The resulting chemical species is called an enamine.  Enamines behave a lot like their chemical cousins, enols: they are nucleophilic at the alpha carbon and react with electrophiles. The key difference is that they are actually a lot more reactive. This makes then very useful chemical intermediates. Here's an example of an enamine in action,  a process first demonstrated  in detail by Professor Gilbert Stork of Columbia back in 1963. Sometimes these are called Stork enamine reactions.

Note here that at the end of the reaction there is another deprotonation to give you back the neutral enamine. If you need to get your ketone back, they will react with aqueous acid: you go to the iminium, which then hydrolyzes through the reverse of the mechanism that I drew for imine hydrolysis.
Further reading: check out some of the amazing advances that have been discovered in the catalytic chemistry of enamines over the past 10 years or so.
---
Notes
[note 1] – the acid is not an absolute requirement for this reaction, particularly with imine formation from aldehydes. However, acid does accelerate the reaction, provided that the pH is not so low that the amine is protonated.
---
Quiz Yourself!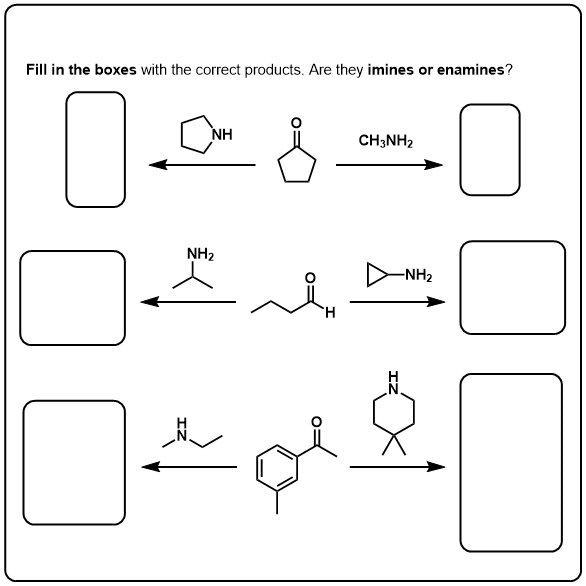 Click to Flip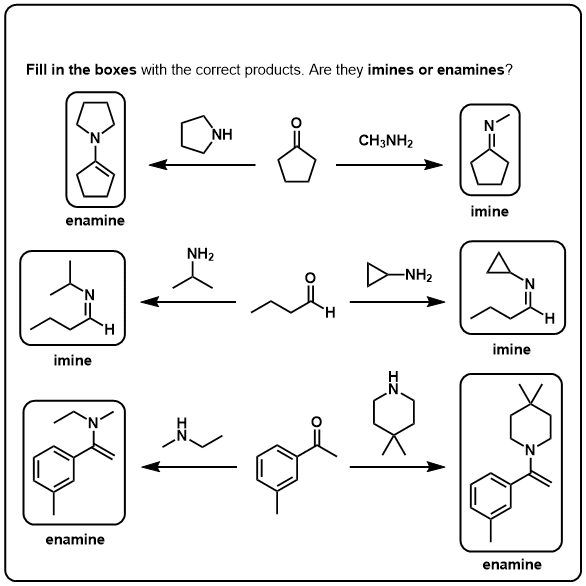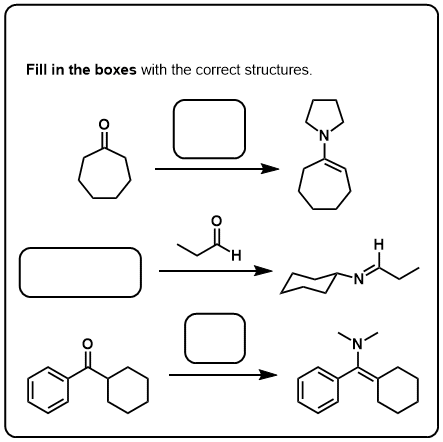 Click to Flip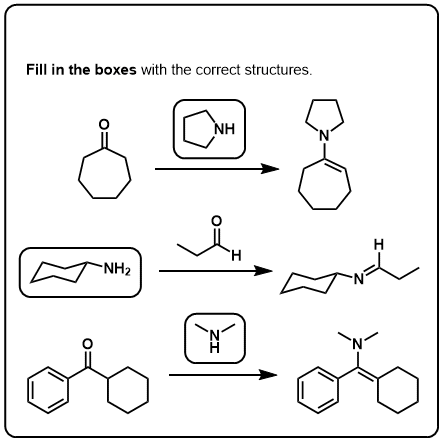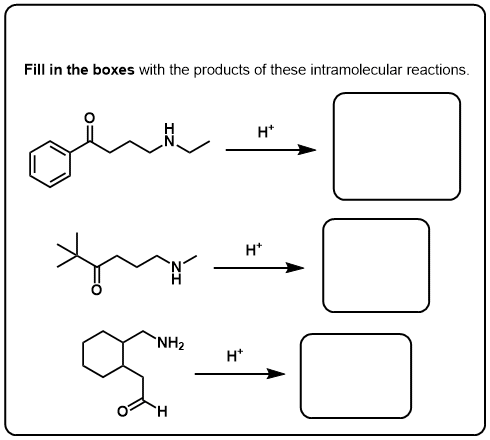 Click to Flip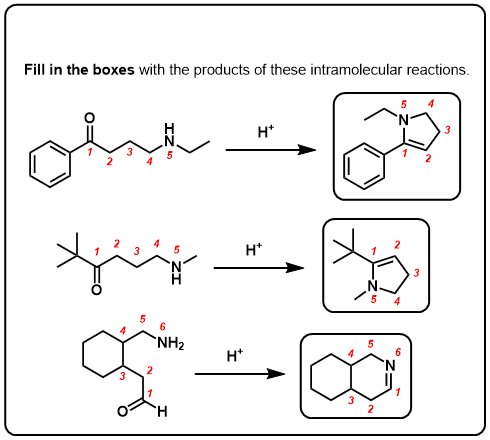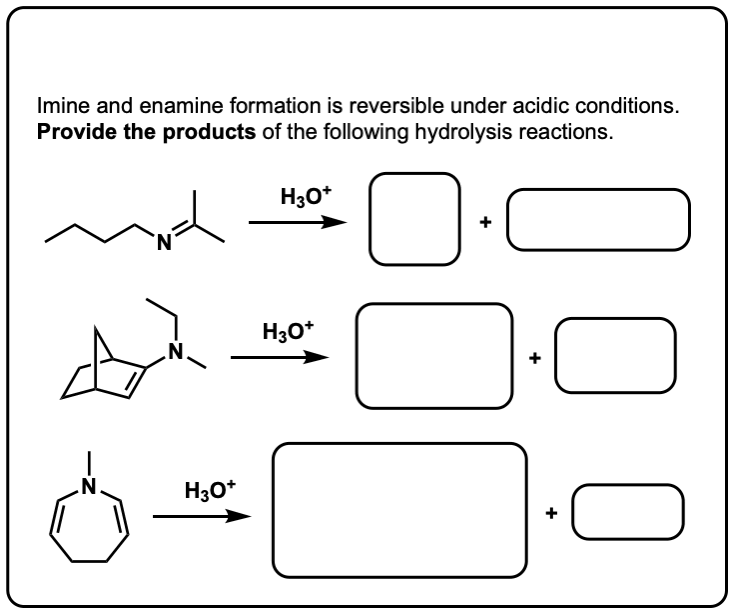 Click to Flip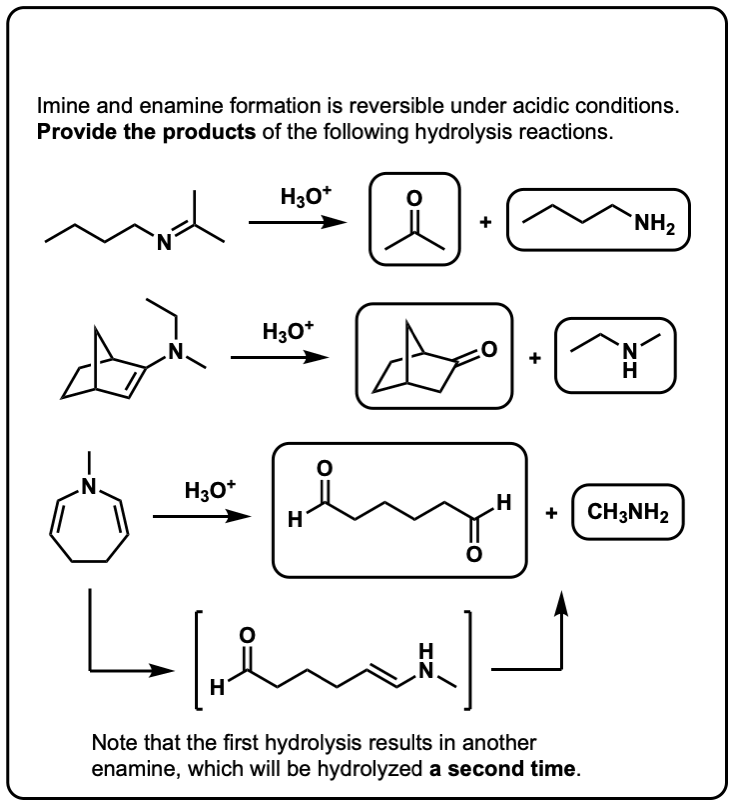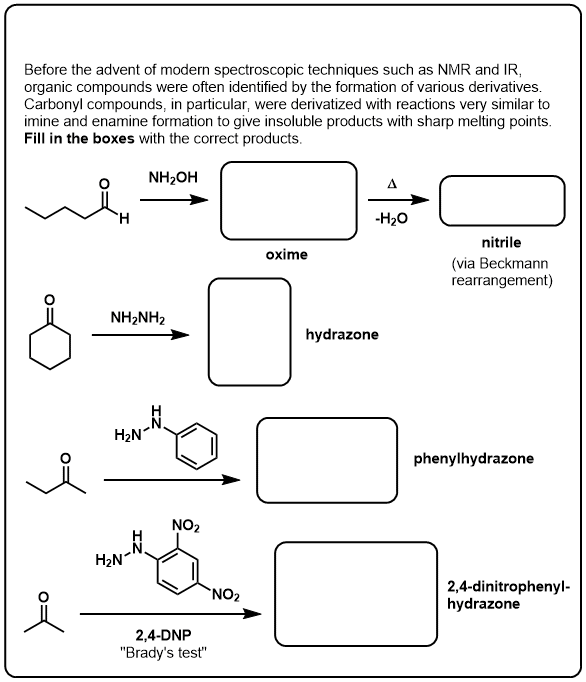 Click to Flip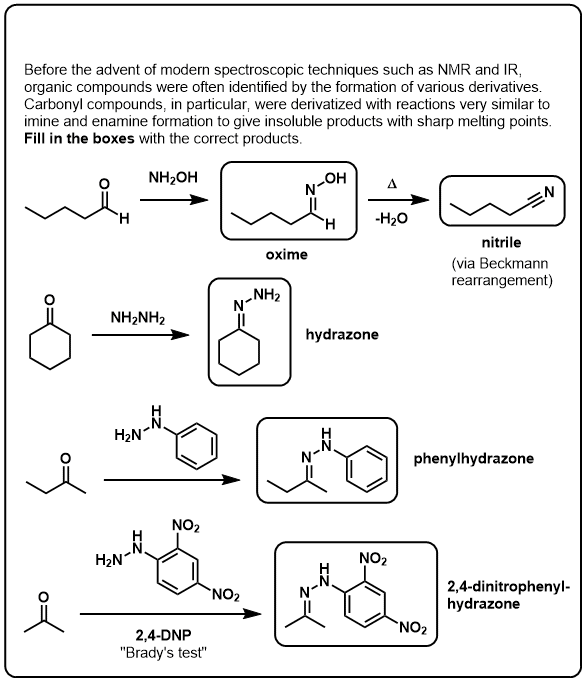 ---
(Advanced) References and Further Reading
Imine formation from ketones (ketimine synthesis):
Ueber das Auftreten von Stereoisomerie bei nicht oximartigen Stickstoffverbindungen
A. Hantzsch, Friedrich Kraft
Chem. Ber. 1891; 24 (2): 3511-3528
DOI: 10.1002/cber.189102402218
The paper describing the first synthesis of a imine derived from a ketone (ketimine), back in 1891.
PREPARATION OF KETIMINES AND THE CORRESPONDING SECONDARY AMINES
DOUGLAS G. NORTON, VERNON E. HAURY, FRANK C. DAVIS, LLOYD J. MITCHELL, and SEAVER A. BALLARD
J. Org. Chem., 1954, 19 (7), 1054-1066
DOI: 10.1021/jo01372a010
An old but useful paper that describes a straightforward synthesis of ketimines from ketones and amines, using acid catalysis and apparatus to remove water (e.g. using a Dean-Stark trap and azeotroping the water with benzene or toluene).
Stable carbonium ions. L. Protonated imines
George A. Olah and Paul. Kreienbuehl
Journal of the American Chemical Society 1967, 89 (18), 4756-4759
DOI: 10.1021/ja00994a033
This paper, by the Nobel Laureate Prof. George Olah, is on NMR studies on the protonation of imines in superacids. The experimental section has details on the synthesis of the imines studied.
Synthesis of sterically hindered imines
Brian E. Love and Jianhua Ren
The Journal of Organic Chemistry 1993, 58 (20), 5556-5557
DOI: 1021/jo00072a051
A convenient synthesis of sterically hindered imines, using tetraethyl orthosilicate (Si(OEt)4) as the dehydrating agent, since it generates a nonacidic byproduct.Enamine formation:
Ueber die Einwirkung des Ammoniaks auf Acetessigester
Norman Collie
Just. Liebig. Ann. Chem. 1884, 226 (3), 294-322
DOI: 10.1002/jlac.18842260306
This paper demonstrates that vinylamine reactivity had been known as early as 1884!
Über die Einwirkung von Ammoniak und Ammoniak‐Derivaten auf o‐Acetylaceto‐phenole
Georg Wittig, Hermann Blumenthal
Ber. 1927, 60 (5), 1085-1094
DOI: 10.1002/cber.19270600515
Nobel Laureate Prof. G. Wittig coined the term 'enamine' as a nitrogen analog of enol in this paper.
Über einfache Enamine mit tertiär gebundenem Stickstoff
Mannich, H. Davidsen
Chem. Ber. 1936 69 (9), 2106-2112
DOI: 10.1002/cber19360690921
Enamine preparation was first made practical by Mannich in this publication
A NEW SYNTHESIS OF 2-ALKYL AND 2-ACYL KETONES
Gilbert Stork, Ross Terrell, and Jacob Szmuszkovicz
Journal of the American Chemical Society 1954 76 (7), 2029-2030
DOI: 1021/ja01636a103
First paper by Prof. Stork on a new method for a-subsitution of ketones via enamines.
The Enamine Alkylation and Acylation of Carbonyl Compounds
Stork, A. Brizzolara, H. Landesman, J. Szmuszkovicz, and R. Terrell
Journal of the American Chemical Society 1963 85 (2), 207-222
DOI: 10.1021/ja00885a021
Another classic paper by Prof. Stork on the formation of enamines and their utility in organic synthesis for a-substitution of aldehydes and ketones.
A versatile new enamine synthesis
William Andrew White and Harold Weingarten
The Journal of Organic Chemistry 1967, 32 (1), 213-214
DOI: 1021/jo01277a052
A short communication that describes a method for synthesizing enamines using TiCl4 as a dehydrating agent.
Improved Titanium Tetrachloride Procedure for Enamine Synthesis. II. Scope of the Reaction.
Carlson, Rolf; Nilsson, Åsa
Acta Chemica Scandinavica 1984, 38b, 49-53
DOI: 3891/acta.chem.scand.38b-0049
Another paper describing the use of TiCl4 as a Lewis Acid and dehydrating agent for enamine synthesis.
2,2-(TRIMETHYLENEDITHIO)CYCLOHEXANONE
R. B. Woodward, I. J. Pachter, and M. L. Scheinbaum
Org. Synth. 1974, 54, 39
DOI: 10.15227/orgsyn.054.0039
The first step in this procedure, submitted by the legendary organic chemist Prof. Robert Burns Woodward (Harvard), is an enamine synthesis.
CYCLODECANONE
D. Burpitt and J. G. Thweatt
Org. Synth. 1968, 48, 56
DOI: 10.15227/orgsyn.048.0056
The first step in this procedure from Organic Syntheses is an enamine synthesis.
Comparison of the tautomerization and hydrolysis of some secondary and tertiary enamines
Brian Capon and Zhen Ping Wu
The Journal of Organic Chemistry 1990, 55 (8), 2317-2324
DOI: 1021/jo00295a017
A study examining the stability in solution of various enamines.